Twitter

Instagram

Facebook | QLD | NSW | VIC | TAS | SA | WA | NT | NZ
---
Record heat turns to potentially severe thunderstorms for northeast NSW and southeast QLD
13 March 2019
Record March heat is giving way to potentially severe thunderstorms over southeast Queensland and northeast NSW over the next few days as a southeasterly change pumps moisture into a low pressure trough lying over the region.
Temperatures have skyrocketed the last few days as an unseasonably hot airmass lies over the region, and westerly winds pushing much closer to the coast than usual for this time of the year. Gatton has eclipsed 40 degrees three days in a row (breaking its previous March record on three consecutive days), including reaching 41.1 degrees on Tuesday.
Amberley also saw a new March record on Tuesday, reaching 41.3 degrees, while Brisbane has reached the mid 30s on three consecutive days, including 37.7 degrees on Tuesday, making it the hottest March day since 2007. Casino hit 39.6 degrees on the same day, also a March record.
Thankfully the heat will break up over the next few days, as cloudiness increases over the region and the risk of rain and thunderstorms become progressively higher.
With the increased moisture from the southeasterly change today, severe thunderstorms are expected to fire up across the region tomorrow, particularly over the ranges where thunderstorms may become severe, bringing the risk of damaging winds, large hail and heavy rainfall. Most coastal areas are likely to miss out.
Thunderstorms will become more widespread on Friday as instability increases further, with coastal areas also likely to be affected. Thunderstorms will bring the risk of frequent cloud-to-ground lightning, as well as heavy rainfall, damaging winds and large hail.
Over the weekend, thunderstorms and rain areas have potential to bring the best rain in months to the region, with potential for 24 hours in excess of 100mm in some places, although thee remains uncertainty with where the heaviest falls will be at this stage.
Image 1: Severe Thunderstorm Probability Chart - SE/QLD & NE/NSW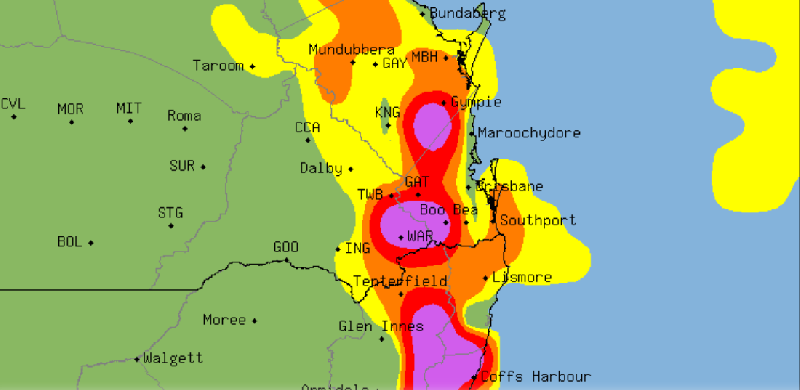 ---