Twitter

Instagram

Facebook | QLD | NSW | VIC | TAS | SA | WA | NT | NZ
---
Tropical Cyclone Trevor forms off the north Queensland coast
18 March 2019
Tropical Cyclone Trevor was officially named in the early hours of this morning, and is expected to intensify before making landfall later tomorrow, bringing the risk of destructive winds and flooding to the Cape York Peninsula.
Trevor, currently a Category one system, was located 340 kilometres north of Cooktown at 10 am AEST and was moving west-southwest.
The system will continue to move in a similar direction and intensity gradually, likely reaching category 2 intensity by later tonight or early tomorrow morning, before making landfall late tomorrow.
A Cyclone Warning is current between Orford Ness and Cape Flattery, including Coen and Lockhart River, with a Cyclone Watch extending to Cape York and Cape Tribulation, including Cooktown.
In Trevor's path, heavy rainfall with falls in excess of 300mm are likely, bringing the risk of flooding, while destructive wind gusts in excess of 125km/h are possible near the centre.
Meanwhile, ahead of the change and trough, unseasonably hot March weather is affecting parts of eastern Australia, with records falling in areas. Yesterday, Grafton reached 39.4 degrees, a record for March (in more than 100 years of records), and is predicted to hit 38 degrees again today.
Abnormally high tides are also possible, with the risk of indundation of low-lying areas as the cyclone crosses tomorrow.
After crossing Cape York Peninsula, Trevor is likely to move into the Gulf of Carpentaria again and reintensify. While it is difficult to predict a cyclone's path several days in advance, current indications are it may make landfall again over the Northern Territory later this week.
Image 1: BoM TC Trevor Track Map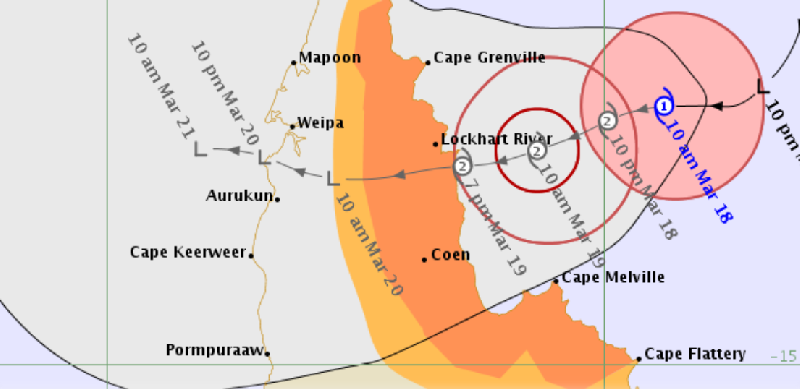 ---