Twitter

Instagram

Facebook | QLD | NSW | VIC | TAS | SA | WA | NT | NZ
---
Cold front blasts through southeastern Australia, record heat ahead of it
25 March 2019
Cold, windy and wet conditions across Australia's south are contrasting record March heat across eastern Australia as an intense cold front affects the region.
The vigorous cold front, that is associated with a deep low over the Southern Ocean, brought damaging wind gusts to Victoria and Tasmania last night, leading to power outages across the states.
While the highest gusts were typically recorded in more exposed areas, some notable wind gusts included: * 131km/h at Maatsuyker Island (TAS) * 124km/h at Wilsons Promontory (VIC) * 122km/h at Scotts Peak (TAS) * 117km/h at Mount Wellington (TAS) * 115km/h at Mount Hotham (VIC) * 95km/h at Devonport (TAS)
Thunderstorms and showers also accompanied the change, with parts of western Tasmania and northeast Victoria receiving moderate falls. Whilst a very isolated fall, Mount Hotham (upper site) recorded 116mm in the 24 hours to 9am today, its heaviest March total on record.
Winds are remaining strong across exposed parts of Victoria and through much of Tasmania today, with a Severe Weather Warning for 90-100km/h gusts in effect for today in these areas.
Meanwhile, ahead of the change and trough, unseasonably hot March weather is affecting parts of eastern Australia, with records falling in areas. Yesterday, Grafton reached 39.4 degrees, a record for March (in more than 100 years of records), and is predicted to hit 38 degrees again today.
Brisbane is on track for its third consecutive day in the mid 30s, and is comfortably on track to record its hottest March on record, along with many other parts of eastern Australia.
Thankfully, cooler and wetter conditions are expected for much of this week in many areas.
More settled conditions are expected across Victoria and Tasmania from tomorrow, before another front arrives late Friday or Saturday.
Image 1: BoM PME Rainfall Map VIC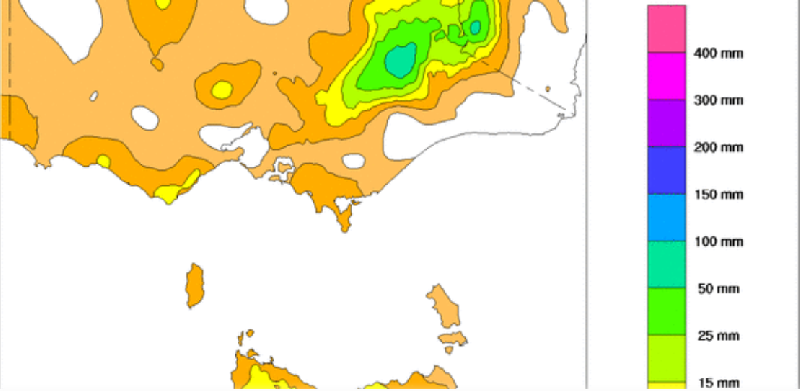 ---