Twitter

Instagram

Facebook | QLD | NSW | VIC | TAS | SA | WA | NT | NZ
---
Widespread rain spreading across Queensland
26 March 2019
The remnants of Ex-Tropical Cyclone Trevor are drifting across Queensland, and are expected to generate widespread heavy rainfall across parts of the state over the next several days, especially the parched interior.
Heavy rainfall has already drenched the state's far west, with some areas receiving the best rain in years. Notable falls in the 24 hours to 9am today included 135mm in Urandangi, 135mm at Stonehenge and 176mm at Roxborough Downs, prompting minor flood warnings across the region.
Heavy rainfall and associated thunderstorms are expected to continue across Queensland over the next several days, with the focus of the heaviest falls over the west of the state today, before gradually spreading east.
Central areas of the state are likely to receive the best falls, with widespread totals of 50-150mm likely stretching from Boulia in the west to Rockhampton in the east, with some areas possibly receiving in excess of 300mm over a few days.
Some of this rain will also spread into southeast Queensland, where many parts will see falls of 50-to-100mm, although areas of the Sunshine Coast could see totals of 150-to-250mm.
This rain is great news as it will be reaching some areas that received little if any rain during the north Queensland floods. Likewise, thick cloud will put a significant lid on record March heat that has been affecting the state, with some areas currently receiving a hotter March than they did January.
The final day of significant rain and thunderstorms will be Saturday, before a strong cold front causes clearing of most areas except northeast Queensland by Sunday.
Image 1: BoM PME Rainfall Map QLD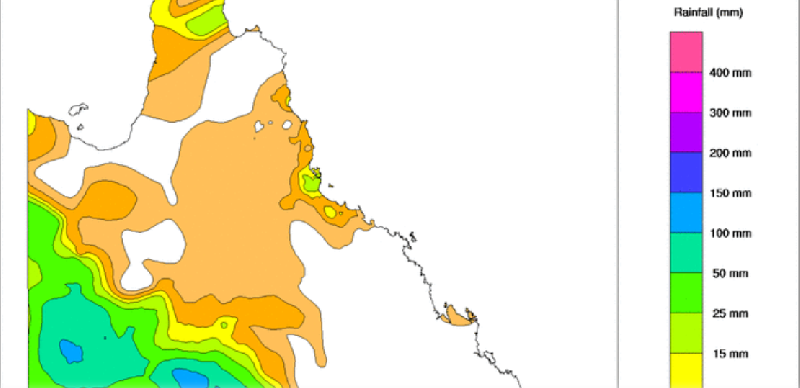 ---