Twitter

Instagram

Facebook | QLD | NSW | VIC | TAS | SA | WA | NT | NZ
---
Hot start to October for SA, before widespread rain and a cool change
Thursday 1st October 2020
Hot conditions with severe to extreme fire danger is likely to affect parts of South Australia over the first few days of October, before a cool change and widespread rain arrives later on Saturday and into Sunday.
A low pressure trough is moving into the west of the state today from Western Australia, and is directing hot and dry northerly winds sourced from northwestern Australia over the region.
Tomorrow, the hottest part of the airmass will affect western areas, whilst northerly winds will become fresh and gusty with gusts reaching 60-70km/h in some areas, causing very high to severe fire danger stretching across the state's west to the Mount Lofty Ranges, with fire danger reaching extreme over some western areas. Nullarbor is forecast to hit 39 degrees (15 degrees above average), Streaky Bay 37 degrees and Ceduna and Wudinna 35 degrees. Further east, Cleve is forecast to reach 33 degrees, Port Augusta 34 degrees, Murray Bridge 33 degrees and Adelaide 30 degrees.
On Saturday, the hot airmass will shift a little further east and north, as a southerly change starts to push into coastal regions. Those ahead of the change will remain hot, with Renmark expected to reach 36 degrees, Port Pirie & Hawker 34 degrees, Port Augusta 37 degrees, and Coober Pedy & Tarcoola 39 degrees. Adelaide will reach the high 20s. Fire danger is also likely to reach very high to severe ahead of the change as wind gusts reach 50-70km/h.
Image 1: OCF Forecast maximum temperatures for Saturday 3 October, 2020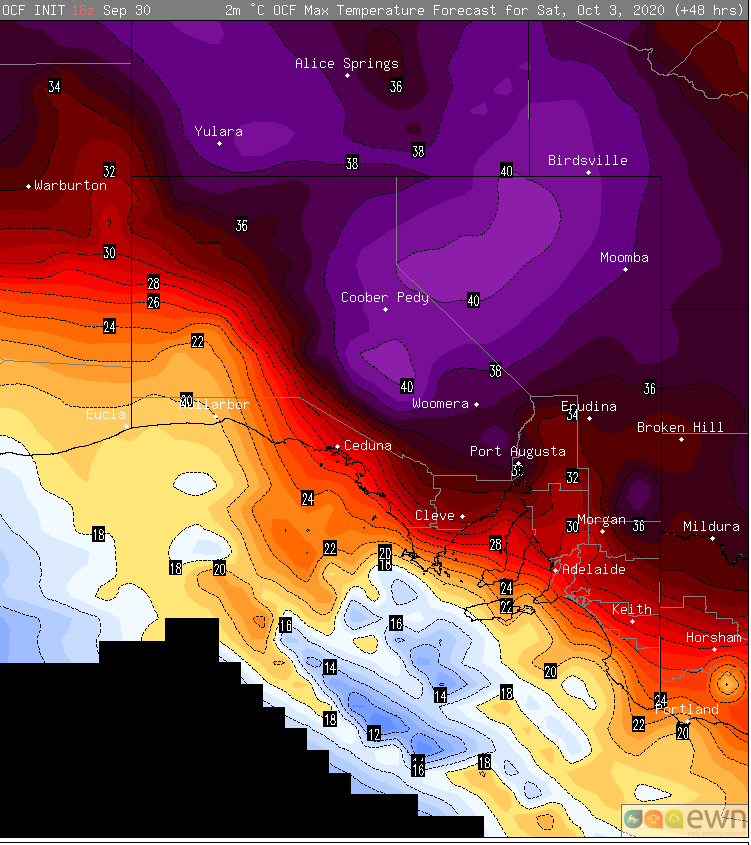 Thunderstorms will develop over western areas during Saturday afternoon and evening, and spread east and turn into a widespread band of rain, stretching from the state's northwest to southeast. Within this band, widespread falls of 10-20mm are likely, although some coastal areas and parts of the Mount Lofty Ranges could see falls of 30-40mm. Temperatures will also be significantly cooler, only reaching into the mid to high teens in the wake of the change.
Rain will shift into the northeast of the state on Monday. Beyond this, there is significant model uncertainty, however there are some indications of follow up rain mid to late next week.
Image 2: Accumulated precipitation across the next 4 days from the GFS Model (Source: Weatherwatch Metcentre)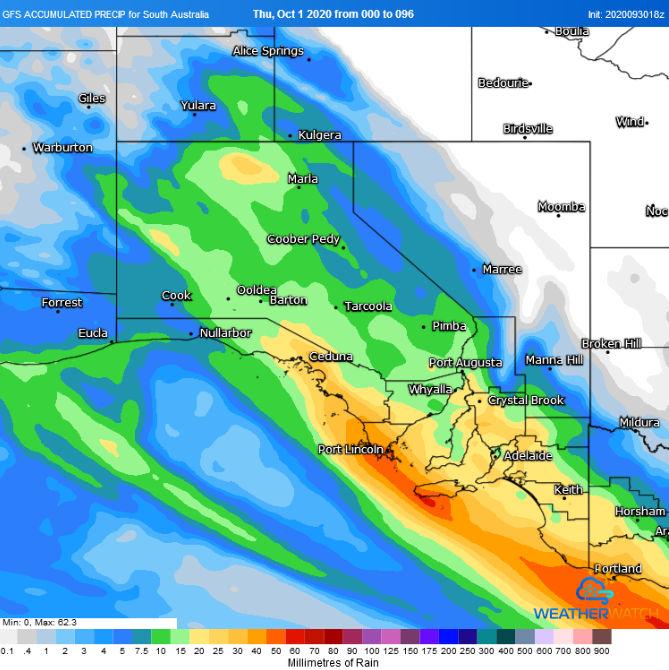 ---