Twitter

Instagram

Facebook | QLD | NSW | VIC | TAS | SA | WA | NT | NZ
---
Large multi-day storm outbreak for Central and eastern Australia
Monday 19th October 2020
Central and eastern Australia is set to see a large storm outbreak over the next 7 days, as a series of upper troughs traverse Australia.
After yesterday's thunderstorm activity across eastern Western Australia, Queensland and NSW, another round of storms is expected to develop across the Southern Interior of WA, during Monday afternoon and evening. A few severe storms may develop with locally damaging winds and hail.
Whilst individual storm days during this week will differ due to ongoing morning activity and cloud cover, widespread thunderstorm activity is expected to increase throughout the week with severe activity possible on each day.
A southerly change moved through northeastern NSW and South East Queensland this morning, with southeast winds expected to shift northeast and develop an RCT (Ridge Cradled Trough) on Tuesday into the Darling Downs and southern Wide Bay region. This will produce a few isolated storms during the afternoon hours and will begin a large stretch of thunderstorm days across inland Queensland.
During Wednesday, this trough will retreat west slightly and interact with an upper system moving across southern Queensland to generate further instability and thunderstorm activity. One or two storms may become severe and produce damaging winds, locally heavy falls and hail. Similar conditions will persist into Thursday, although increasing shear may favour a few more organised storms during the afternoon and evening hours with all severe threats possible.
Across central Australia, a complex low and trough will develop and steadily move east, with showers, thunderstorms and patchy rain periods likely across central and southern parts of the NT and northern SA on Wednesday, with activity increasing during Thursday as tropical moisture is dragged south into this developing system. Damaging wind gusts in the form of microbursts will be possible with storms across this region, particularly during Thursday as instability increases throughout the day.
Image 1: GFS instability Wednesday and Thursday. Images via WeatherWatch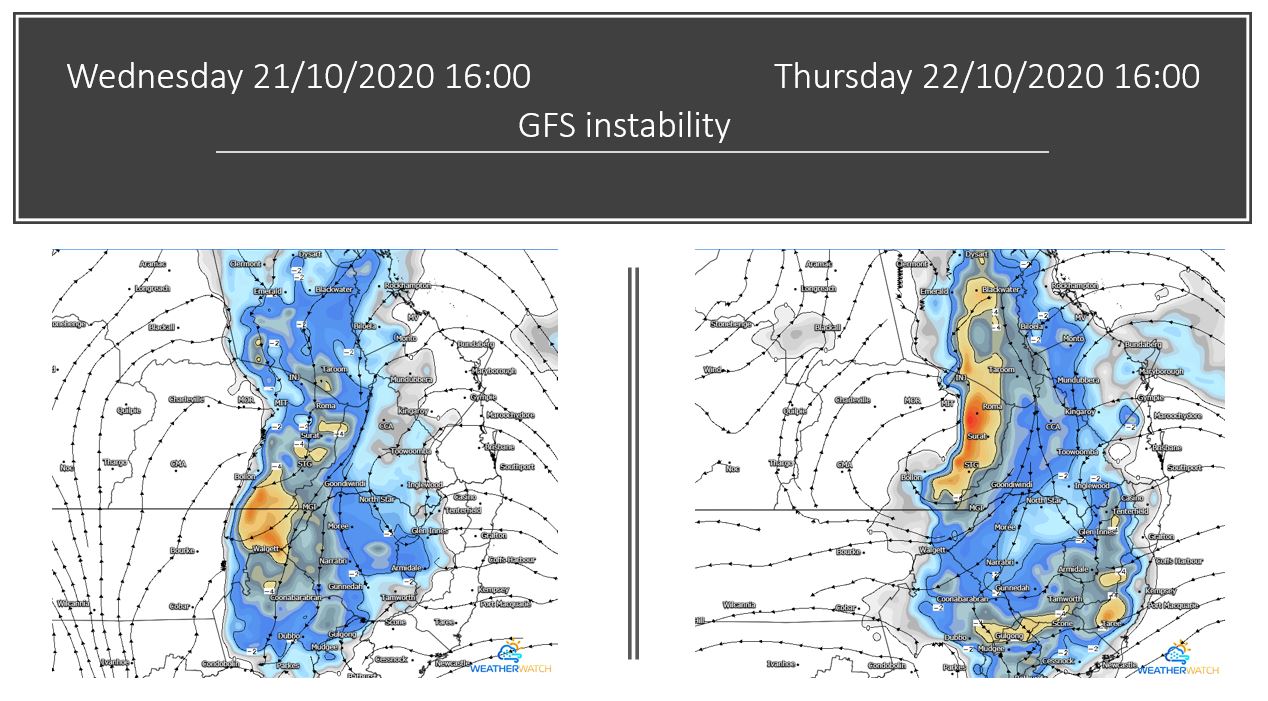 On Friday, the large system across central Australia will progress east, with a large band of thunderstorm activity likely to extend from the Top End in the NT into southern part of South Australia, with several thunderstorms likely to be severe across central Australia with damaging winds, large hail and heavy rainfall. Further east, storm activity will continue across central and southern Queensland, NSW and northern Victoria, with locally heavy falls, damaging winds and hail possible.
During Saturday, the complex low and trough will shift east into western NSW and merge with the trough across inland NSW and QLD, with widespread instability and thunderstorm activity continuing from the Gulf of Carpentaria all the way south into central Victoria. Locally heavy falls, damaging wind and the threat of hail will exist with some storm activity.
Image 2: GFS instability Friday, Saturday and Sunday. Images via WeatherWatch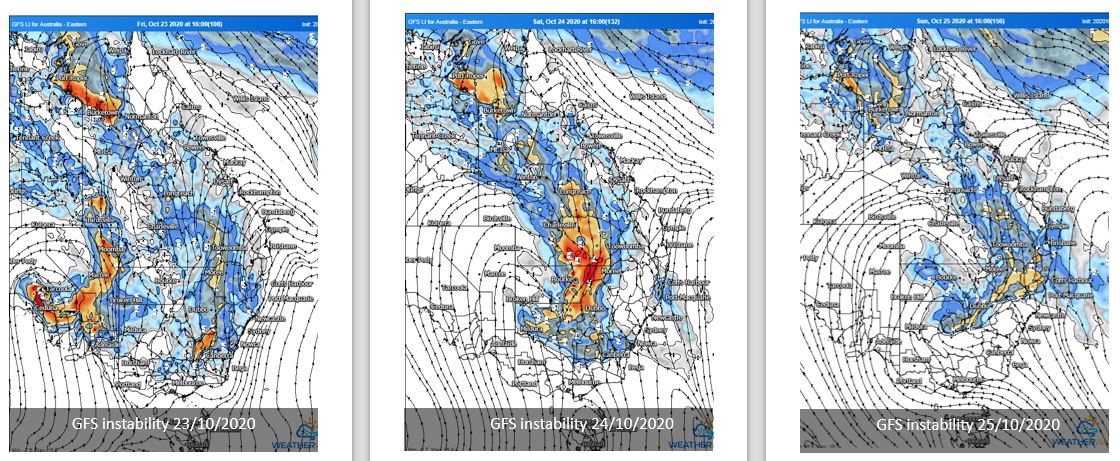 This system will continue to progress east from Sunday into Monday before clearing off the coast late Tuesday, ahead of another developing system in central Australia. This follow-up system is likely to produce a renewed threat of storm activity across QLD, NSW, SA and the NT into next week.
Image 3: Rainfall totals next 8 days. Image via Bureau of Meteorology.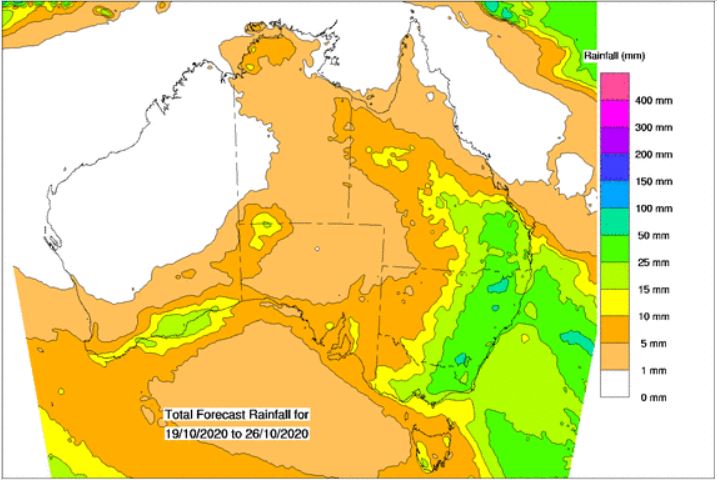 ---