Twitter

Instagram

Facebook | QLD | NSW | VIC | TAS | SA | WA | NT | NZ
---
Heavy rain and severe thunderstorms spreading across southeast Australia
Friday 23rd October 2020
A dynamic weather pattern is unfolding across the southeast of Australia as a complex low pressure system and trough spread across the region, generating widespread rain and potential for severe thunderstorms over the next few days.
With a La Nina event underway, the system is being fed by humid onshore winds due to stronger than normal trade winds, pumping the system full of moisture which is also being amplified by cooling upper level temperatures.
Near the low pressure system, severe thunderstorms lashed South Australia last night with wind gusts reaching 124km/h at Woomera and 108km/h at Marree, with thunderstorms continuing across the state today. These thunderstorms bring the risk of heavy rainfall leading to flash flooding, large hail and damaging wind gusts above 90km/h, with localised gusts above 125km/h possible. Heavy rainfall is also possible, with a flood watch current for Northern Agricultural areas and southern parts of the Pastoral districts, with potential for falls of 20-60mm and isolated totals above 100mm. This activity will clear the state early tomorrow morning.
Thunderstorms are also affecting New South Wales today, with many locations west of the Great Diving Range and in the state's south (including the coast) likely to see storms. Severe thunderstorms are also possible today, mainly in the state's west and south where wind shear is stronger. Thunderstorms and rain will continue across most of the state on Saturday, with heavy rain and damaging winds the main threat in storms (with one or two storms possibly bringing the threat of large hail). This activity will contract to the east of the state on Sunday. Widespread totals of 10-30mm are likely, with heavier falls of 30-70mm on the Great Dividing Range, with falls in excess of 70mm possible over the state's southern slopes and ranges.
In Victoria, thunderstorms will be most widespread across the north and east, although more isolated activity may also affect southern parts including Melbourne. Whilst not being affected as much by thunderstorms (compared to SA and NSW), rain will be widespread across the state, with the lightest falls over western areas and the heaviest in the northeast. This rain will spread across the state today and peak overnight and into Saturday morning as it moves into the east of the state. Widespread falls of 10-35mm are likely, with falls in excess of 70-80mm likely over the northeast of the state. A flood watch for minor flooding is current for northeast VIC, Central VIC and Gippsland.
Much cooler conditions are likely in the system's wake, with Melbourne only expected to reach 14 degrees on Sunday, and Sydney 19 degrees. Cooler conditions will persist into early next week before gradually warming.
Image 1: Cloud to ground lightning strikes across the last 24 hours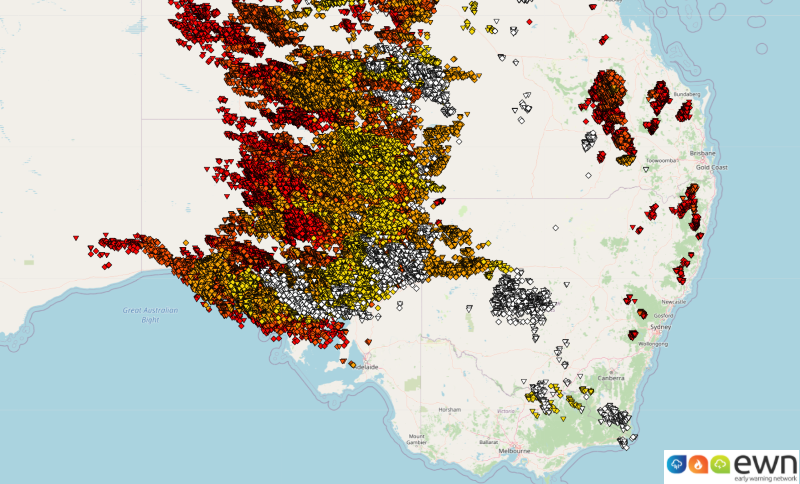 Image 2: Forecast accumulated rainfall across the next 72 hours (Source: Weatherwatch Metcentre)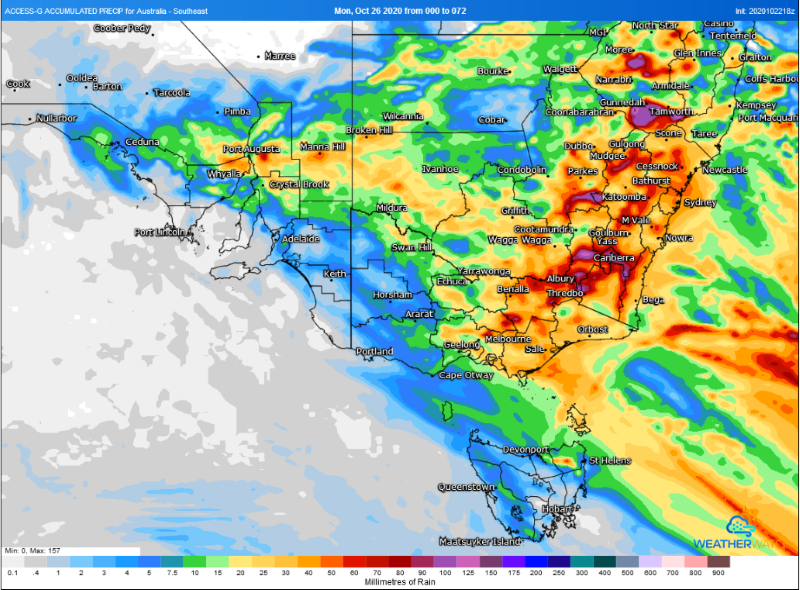 Image 3: Meteye thunderstorm possiblity map (Source: Bureau of Meteorology)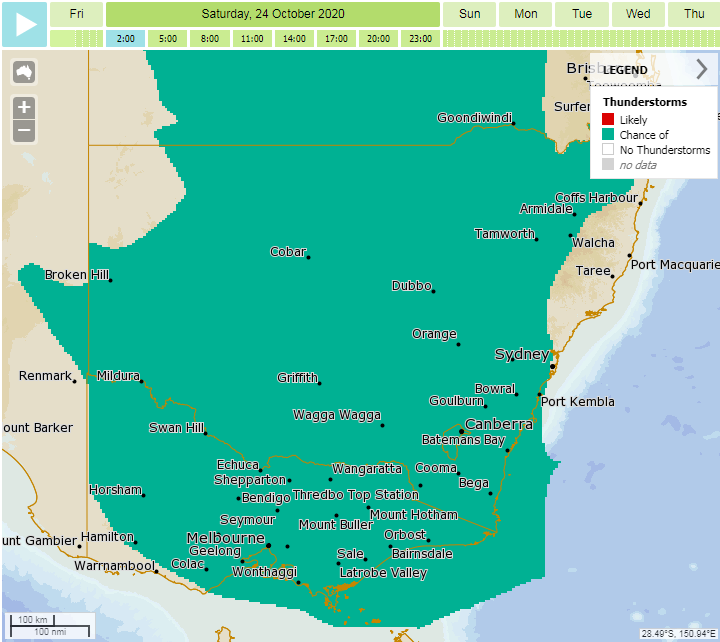 ---