Twitter

Instagram

Facebook | QLD | NSW | VIC | TAS | SA | WA | NT | NZ
---
October 2020: Warm and wet across Australia, severe storms lash the east
Tuesday 3rd November 2020
October 2020 was a warm and wet month across Australia, with most states and territories seeing healthy falls throughout the month, before giant hail lashed the east at the end of the month.
After a La Nina was officially declared on the 29th September by the Bureau of Meteorology, this was the first month of the year under La Nina conditions, with rainfall patterns resembling a typical La Nina pattern.
Rainfall was 35% above average for the nation as a whole, with every state and territory except Western Australia recording above average rainfall. The high rainfall was particularly pronounced over South Australia, parts of the Northern Territory, southwest New South Wales, eastern Victoria, southeast New South Wales and eastern Tasmania where rainfall was very much above average. In a stark contrast, rainfall was very much below average for southwest Western Australia, where some places had their driest October on record.
Temperatures were warmer than average for the month, although significantly cooler than September which was the second warmest on record. The national mean temperature (maximum and minimum temperatures combined) for October was 1.05 degrees above average, with minimum temperatures particularly warmer than average due to enhanced cloud cover. For Victoria, minimum temperatures were the third highest on record (1.62 degrees above average).
The final week of the month saw widespread severe thunderstorms across eastern Australia. Large hail was the standout feature, with reports of hail reaching at least golf ball size on the 24th, 25th, 27th, 28th, 29th and 31st. The 31st was particularly destructive as thunderstorms hit more populated areas, with hail reaching up to 9cm in northeast NSW and up to 14cm in southeast QLD (on the 31st), amongst the largest hail on record in Australia.
November is expected to see similar conditions to October, with temperatures remaining above average and an increased chance of wetter than average conditions.
Image 1: Temperature deciles across Australia for October 2020 (Source: Bureau of Meteorology)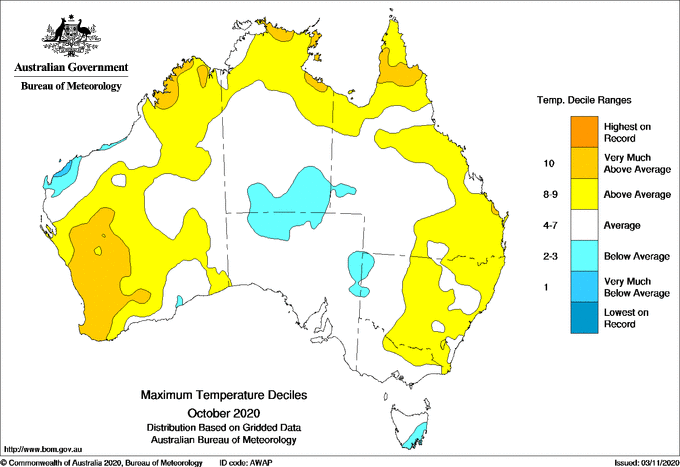 Image 2: Rainfall deciles across Australia for October 2020 (Source: Bureau of Meteorology)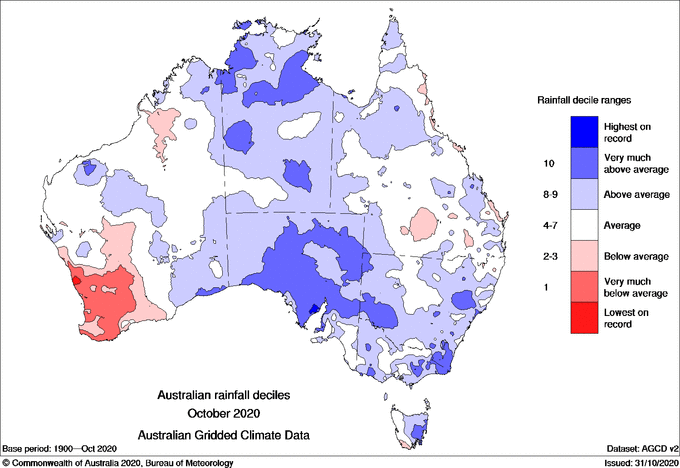 Image 3: Rainfall outlook for November (Source: Bureau of Meteorology)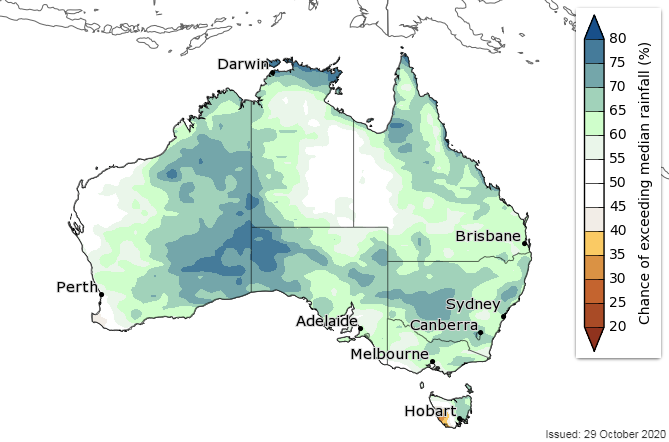 ---