Twitter

Instagram

Facebook | QLD | NSW | VIC | TAS | SA | WA | NT | NZ
---
Heatwave conditions gripping northern Australia
Thursday 5th November 2020
Northern Australia is sweltering in unusually hot conditions for this time of the year as temperatures soar into the mid 40s in some areas, with the stifling conditions expected to continue for at least the next ten days.
A lack of rain and cloud cover has allowed heat to rapidly build across the past week, causing temperatures to soar with temperatures rising three to eight degrees above average. The Bureau of Meteorology's heatwave map indicates many parts of the nation's north will experience severe to extreme heatwave conditions.
Darwin is expected to see a string of 35 degree days (average 33 degrees) after an already hot start to the month, with the seabreeze taking the edge off maximum temperatures further inland. This may not seem like a huge difference from the mean, however significant variations from the average maximum are uncommon in the city with the record average maximum in Darwin for November 34.7 degrees. Those in the rural area will reach into the high 30s throughout the next week.
Tennant Creek is already running several degrees above the average this month (averaging close to 40 degrees), with the mercury expected to reach similar heights throughout the next week, and nights in the mid 20s.
Over northern Western Australia, the month started a little cooler however the heat is expected to grip many parts of the region today. Port Hedland will reach into the low to mid 40s today and low 40s tomorrow, before reaching the high 30s for the remainder of the next week. Marble Bar will average between 41 and 43 degres throughout the next week (record for November 42.4 degrees).
The heat will begin to break down over the Top End towards mid November as moisture builds and showers and thunderstorms redevelop. However, the heat over Western Australia is likely to continue and even intensify.
Image 1: Bureau of Meteorology heatwave forecast map for the next three days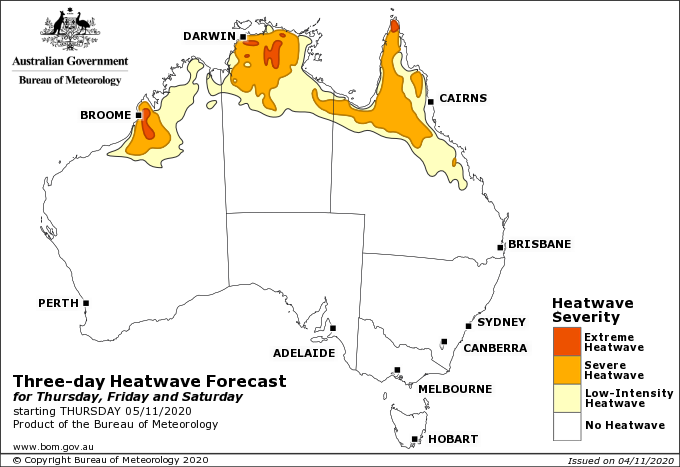 Image 2: OCF Forecast Maximum temperatures on Sunday 8th November, 2020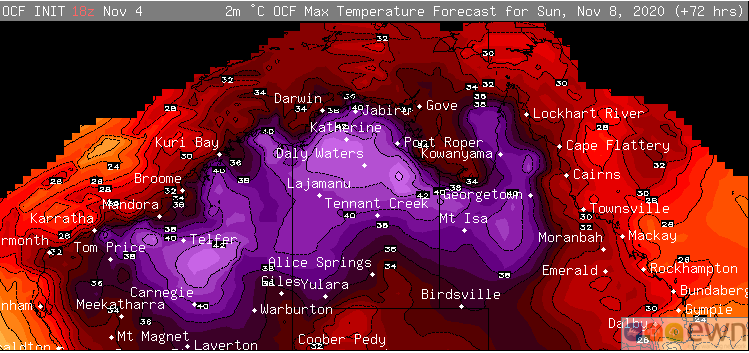 ---