Twitter

Instagram

Facebook | QLD | NSW | VIC | TAS | SA | WA | NT | NZ
---
Severe thunderstorms and heavy falls across central Queensland
Sunday 8th November 2020
Another bout of severe weather impacted Queensland on Saturday afternoon, with severe thunderstorms firing up across the Central Highlands and Coalfields and heavy falls exceeding 100mm developing across parts of the Central Coast and Whitsunday region.
Just after 4pm Saturday afternoon, a severe thunderstorm warning was issued, with several intense splitting supercells developing in and around the Emerald region. This warning was soon upgraded to included destructive winds, as a powerful right moving supercell headed in a southeasterly direction towards Comet.
There were reports of a roof torn off a house north of Emerald, with winds reported above the 100km/h range in Comet, along with hail in the 3-5cm range (golf balls sized).
Further northeast, the Mackay region and surrounds received heavy falls overnight as a southeasterly wind change continued to move north, with several locations scoring rainfall totals well in excess of 100mm in the 24 hours to 9am Sunday morning.
Sarina (Maguire Road) topped the rainfall totals with 164mm, with Sandy Creek Eton registering 153mm, Mount Jukes 140mm, Mt Vince East 126mm, Pleystowe Sugar Mill 122mm, Dumbelton Rocks 116mm, Homebush 120mm and Mackay 42mm.
An inland trough will retreat further west on Sunday, with the potential for another round of severe thunderstorms across central and western Queensland this afternoon and evening.
Image 1: 24 hour rainfall totals to 9am 8/11/2020. Image via EWN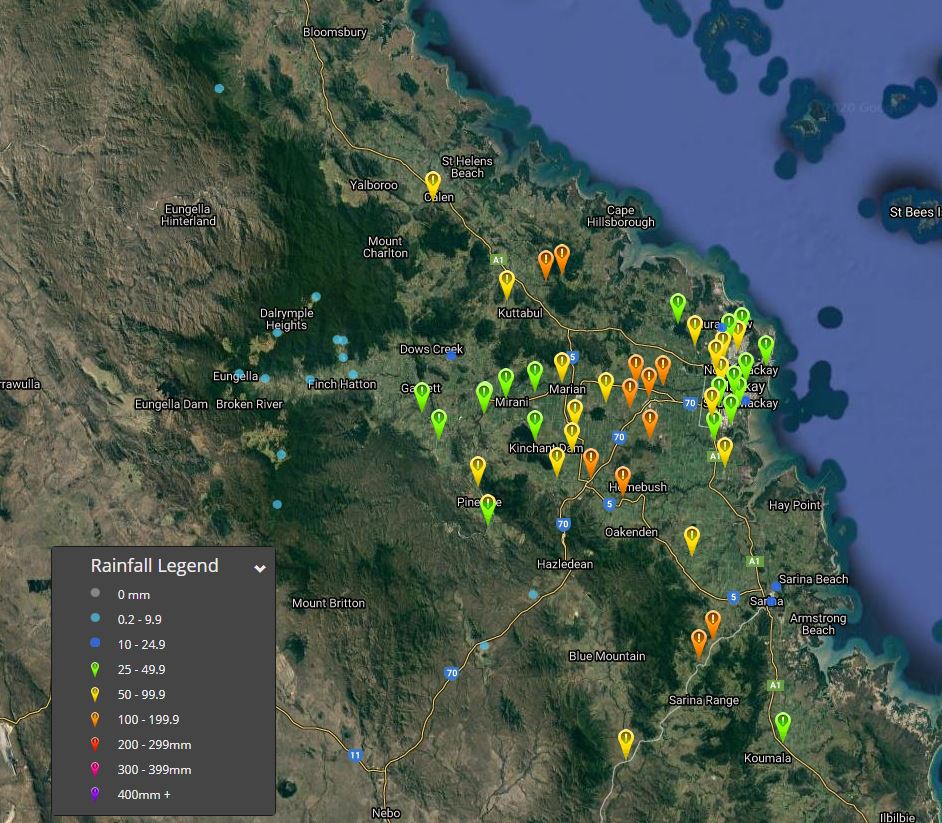 ---