Twitter

Instagram

Facebook | QLD | NSW | VIC | TAS | SA | WA | NT | NZ
---
Heavy rain drenches Victoria and the ACT as widespread rain and storms hit southeast Australia
Monday 23rd November 2020
Rain and thunderstorms swept across southeastern Australia last night, producing widespread rain and a spectacular lightning show across Victoria, southern New South Wales and the ACT.
A broad trough fed off humid onshore winds as it moved into the east of the nation, causing widespread rain across the nation's southeast, with some of these containing heavy rain and strong winds.
Whilst not every part of Victoria saw heavy rain, it was still impressively widespread with almost all of the state recording at least some rainfall in the 24 hours to 9am today. The rain was heaviest in the south of the state, with the Melbourne area and Central district particularly wet where there were widespread falls of 20-40mm, and isolated heavier totals.
Moorabbin Airport (southeast of Melbourne city) had its wettest November day on record and wettest day since February 2011, registering 63.2mm to 9am today. Warburton (to the east of the city) had 64mm to 9am today, the wettest November day since 1978. The city itself had 30.2mm, which wasn't statistically significant, but was the city's first decent rain in a month.
Whilst the interior will remain unusually hot throughout the entire end of the month, notably hot days are likely to affect SA tomorrow (with significant fire danger), before an extremely hot airmass develops later this month over northern and central WA and moves into southeast WA and SA on the final days of the month, with potential for maximum temperatures in the mid to high 40s.
Thunderstorms over the ACT last night produced a spectacular lightning show and dropped heavy falls over Canberra and much of the territory (except the south). Falls of 20-40mm were again commonplace, including Canberra airport that recorded 30mm to 9am, and another 12.4mm since 9am as another band of storms moved through.
Thunderstorms continued this morning over Victoria's east and pushed into southern NSW and the ACT, causing further heavy rain (43mm at Basin Creek and 34mm at Mount Elizabeth) as well as strong winds in some places. Wind gusts reached 107km/h at Yarrawonga this morning, 87km/h at Albury, 95km/h at Cabramurra and 93km/h at Mount Ginini as the line moved through.
For the remainder of the day, the line of storms will progress east across the state, with most areas except the far west, northwest and northeast likely to see activity. Damaging winds and locally heavy falls remain the highest threat. Thunderstorms will contract into northeast NSW and southeast QLD tomorrow where the threat of isolated severe activity remains.
Image 1: Rainfall totals in the 24 hours to 9am today across Victoria and southern NSW, showing a peak across southern Victoria and the ACT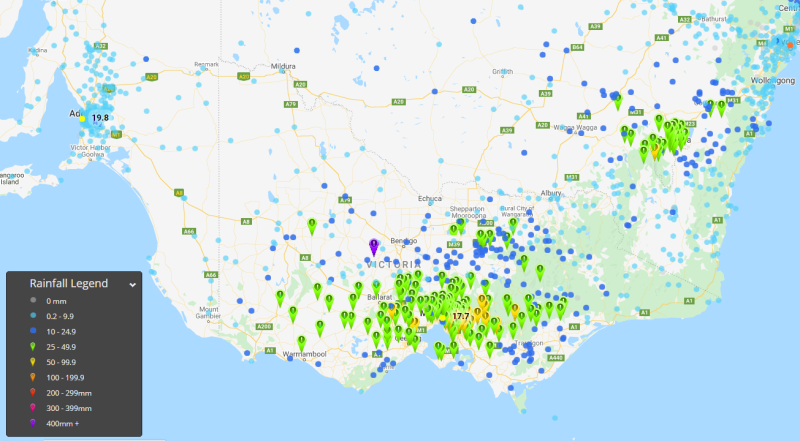 Image 2: Lightning recorded across southeast Australia between 8pm Sunday 22 November and 11am Monday 23 November, 2020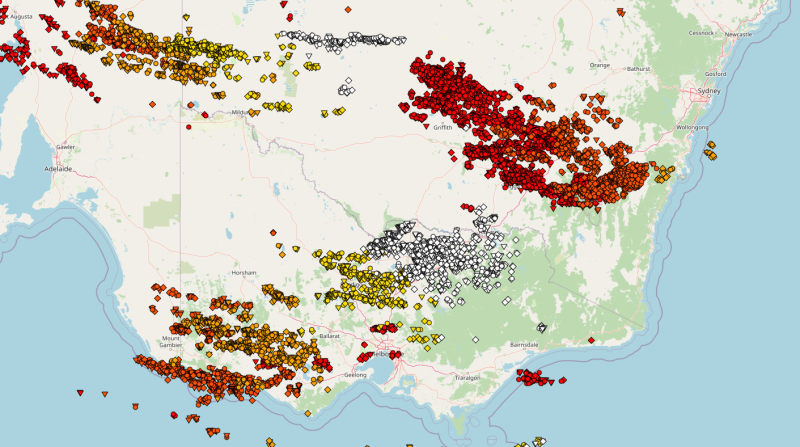 Image 3: NSW Thunderstorm threat map for Monday 23 November (Source: Bureau of Meteorology)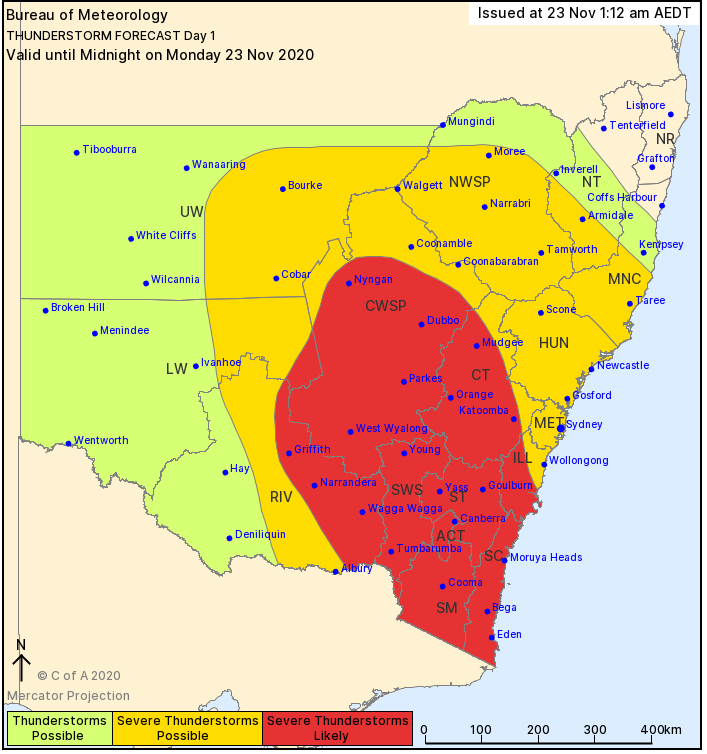 ---