Twitter

Instagram

Facebook | QLD | NSW | VIC | TAS | SA | WA | NT | NZ
---
Severe heatwave to grip South Australia
Tuesday 24th November 2020
An intense band of heat is set to grip southeastern Australia to finish off November, with South Australia likely to feel the brunt of it as temperatures soar into the mid 40s in some areas.
November has been unusually hot across large parts of the country as persistent upper level ridging keep the continent cloud free and cold fronts south of the mainland. This has allowed heat to build gradually over the last few weeks, with no cold fronts to 'flush it out' or cloud to reduce its intensity, with the airmass now becoming extremely hot.
The heatwave will begin tomorrow across the state, particularly over western areas where temperatures will rise into the mid to high 30s (Nullarbor 39 degrees, Ceduna 36 degrees, Port Augusta 36 degrees), with Adelaide reaching 33 degrees.
A weak southerly change will keep coastal areas cooler on Thursday (generally in the low to mid 30s), however it will get hotter over inland parts of the state (Coober Pedy 39 degrees, Oodnadatta & Port Augusta 39 degrees, Hawker 38 degrees).
The heatwave will reach its peak on Friday over western and coastal areas, and Saturday for the remainder of the state, when November records are expected to be challenged. Adelaide and other parts of the southeast (away from the coast) can expect to see both days in the 40s, with Friday expected to be a little hotter at this stage as a cooler change begins to push into western and coastal areas on Saturday (and the timing of this change will greatly affect how hot it will get).
Hawker can expect to reach 43 degrees on Saturday, Woomera 45-46 degrees and Port Augusta 46-47 degrees (challenging their November records), Coober Pedy 45 degrees and Oodnadatta 46 degrees. A hot night is also expected to separate both Friday and Saturday, with minimum temperatures staying in the mid to high 20s for many areas.
A cooler change will push through from the west and south on Saturday, and reach the northeast of the state on Sunday, although maximum temperatures will still remain in the mid to high 30s (and even low 40s) in these areas as the hot airmass lingers.
Fire danger is not expected to be extreme on most days due to light winds, however the cooler change on Saturday which may be associated with gusts to 80km/h is likely to increase fire danger. Fire danger may also remain elevated into Sunday despite a cooler airmass as southerly winds remain fresh to strong and gusty.
A stronger cool change will push through later on Monday or Tuesday, bringing much needed relief.
Image 1: Heatwave forecast from Thursday to Saturday across Australia, sourced from Bureau of Meteorology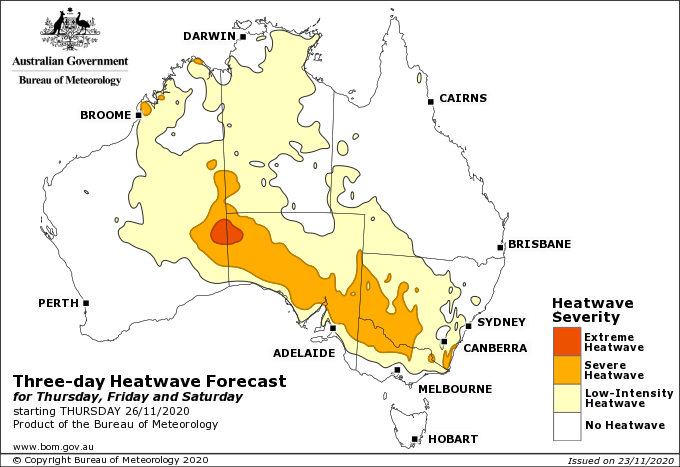 Image 2: OCF Forecast Maximum temperatures for Friday 27th November, 2020 (Source: BSCH Stormcast)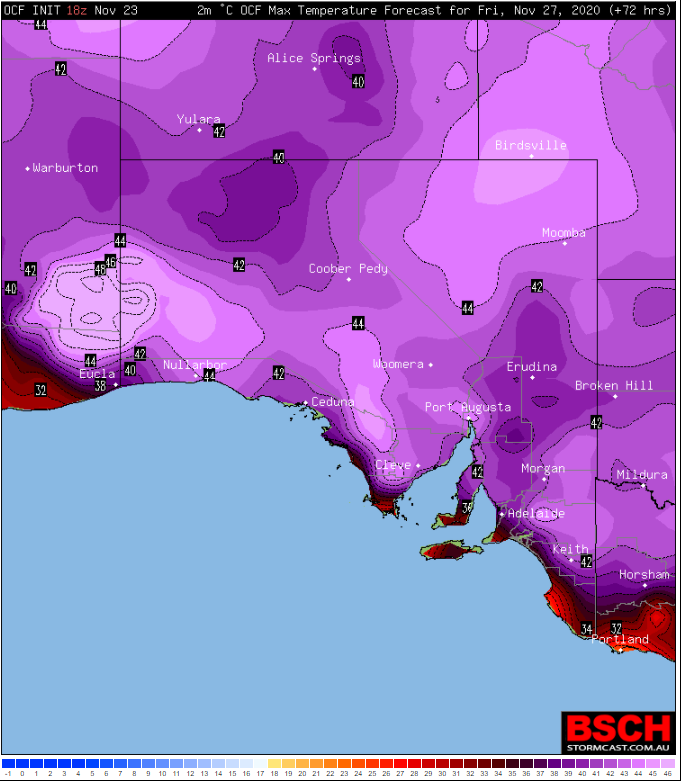 Image 3: OCF Forecast Maximum temperatures for Saturday 28th November, 2020 (Source: BSCH Stormcast)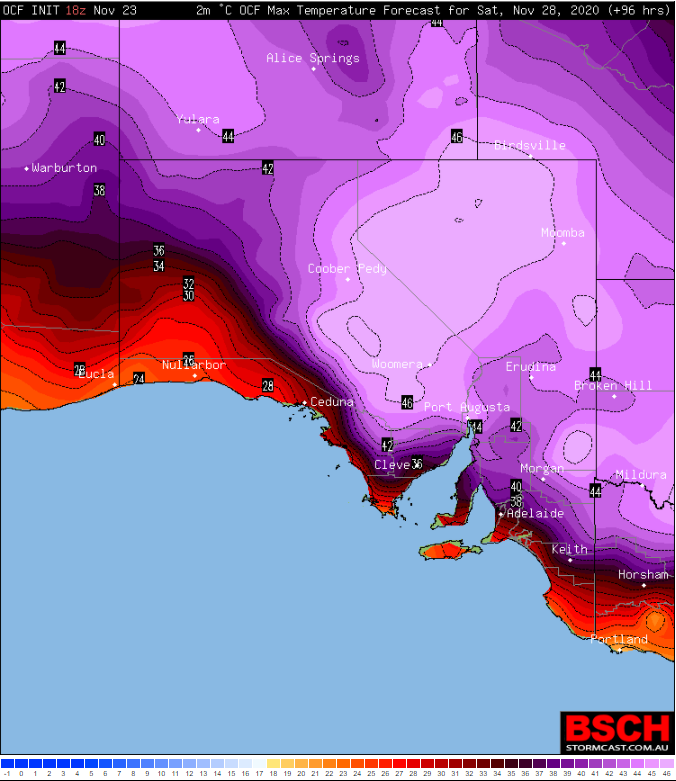 ---