Twitter

Instagram

Facebook | QLD | NSW | VIC | TAS | SA | WA | NT | NZ
---
Northern NSW coast, far Southern QLD coast to be drenched by flooding rain with strong winds. Moderate to heavy rainfall elsewhere in Southeast QLD and Northeast NSW.
Friday, 11th December 2020
A dramatic turnaround from the very dry conditions that have prevailed in these regions until now is about to unfold thanks to a coastal low forecast to develop in a deepening trough as well as an upper low.
The existing showers and patchy rain areas in these areas are set to become heavier along the northern New South Wales coast on Saturday. These heavier falls are then expected to spread further up over parts of southeast Queensland on Sunday and Monday as the surface trough with the embedded intensifying low comes ashore onto the Southern Queensland coast, though heavy rain may back off at times. Very heavy falls are expected to occur on the southern side of this low, most likely along the northern New South Wales coast and far southern Queensland coast. However the northern limit of these very heavy falls may change depending on exactly where the low crosses.
While rain amounts elsewhere in southeast Queensland and northeast New South Wales are likely to be lower especially north of where the surface low crosses as well as further inland, moderate to heavy rainfall is still likely in much of these remaining areas from showers and rain areas with localised embedded storms.
On average rainfall between today and Tuesday is expected to accumulate to 150 to 250mm along the Northern New South Wales coast and Southern coastal fringe of Queensland with possible locally higher amounts up to 300mm or greater. 50 to 150mm is expected on average along and east of the ranges in most of the remainder of southeast Queensland and northeast New South Wales. 10 to 50mm is expected further inland in areas like the central Darling Downs in Queensland and parts of the Northwest Slopes and Plains in New South Wales. Significant flash flooding and up to moderate flooding of some rivers is likely near the northern New South Wales coast and far southern Queensland coast. Some flash flooding is also likely in other parts of southeast Queensland and northeast New South Wales, mainly east of the ranges.
Strong wind gusts in the order of 60 to 80km/h are also likely to develop later on Sunday along the southern Queensland coast and Moreton Bay islands as well as the ranges inland of the coast. Localised brief gusts closer to 100km/h or stronger are possible along some of the most exposed parts of the coast and islands. These strong winds should then spread further down along parts of the New South Wales coast and adjacent ranges on Monday. These winds may result in downed branches and powerlines in some of these areas.
Dangerous surf is also expected to develop along the exposed southern Queensland coast on Sunday before spreading down along the northern New South Wales coast on Monday. Abnormally high tides will also exacerbate coastal erosion especially on Sunday morning's high tide.
While Tuesday may see the more widespread rain areas breaking up, scattered showers, storms and possibly some local rain areas are expected to persist in the warm moisture laden northeasterly flow.
Image 1: EC ensemble forecast total rainfall between today and Tuesday (Source: weather.us)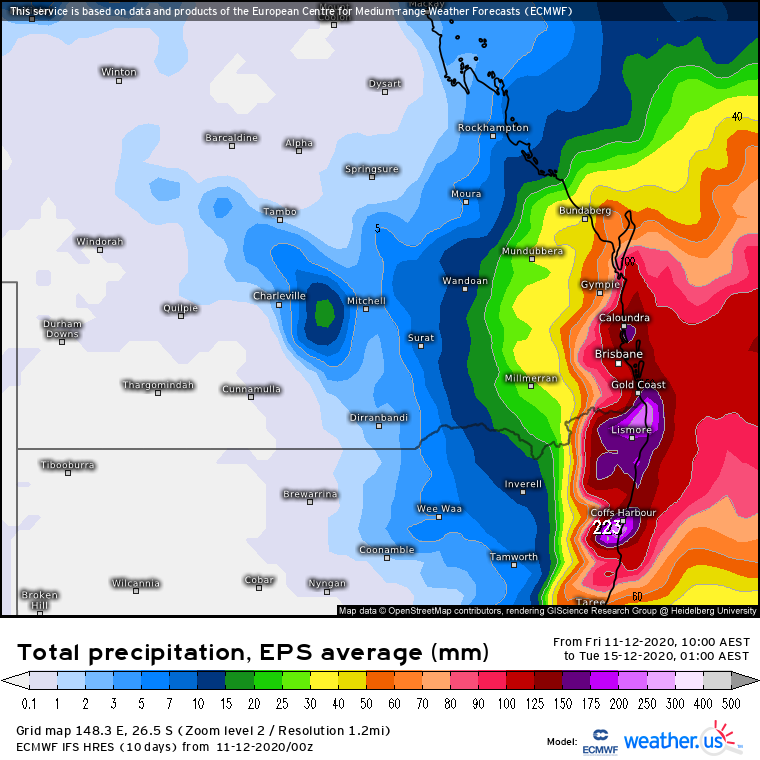 Image 2: EC model wind gusts for 8am Monday (Source: Windy.com)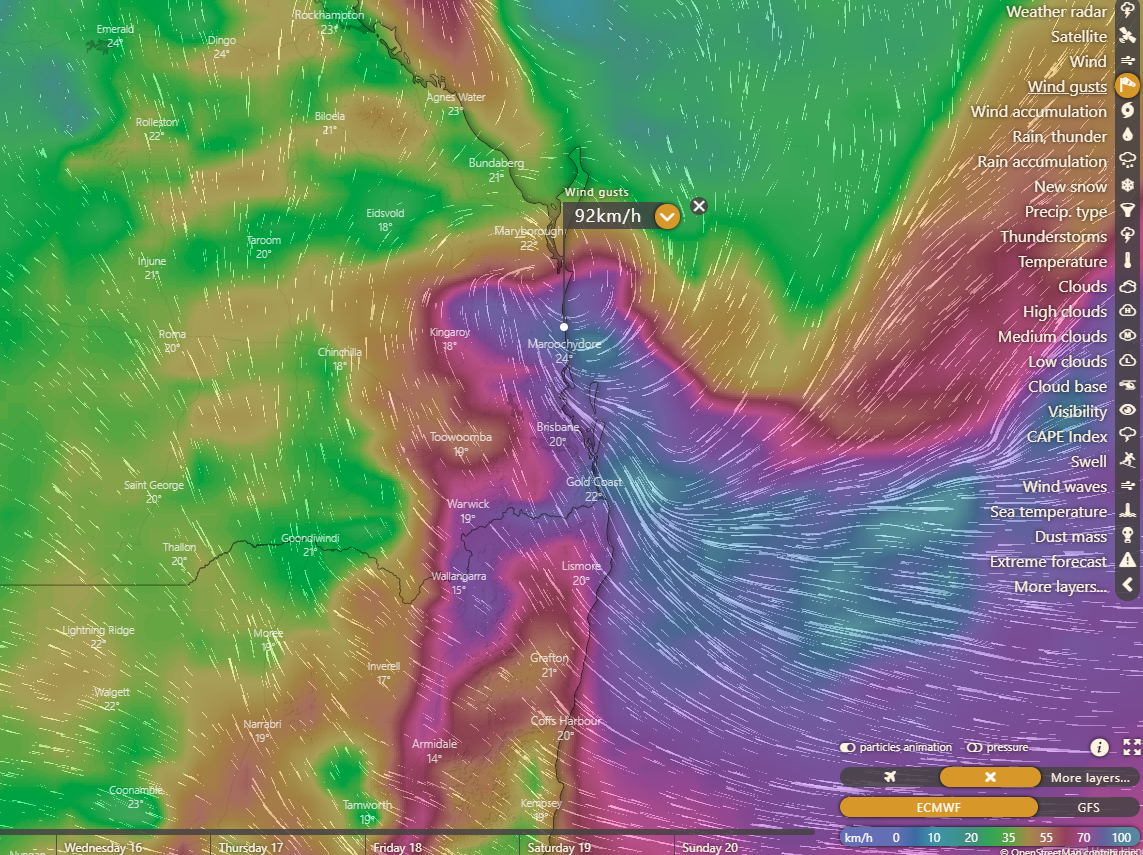 ---