Twitter

Instagram

Facebook | QLD | NSW | VIC | TAS | SA | WA | NT | NZ
---
Heavy December rainfall impacts multiple states and Territories
Wednesday 22nd December 2020
An impressive northwest cloud band stemming from a tropical low across Northwestern Australia has delivered impressive rainfall totals across multiple states and Territories over the last several days, with some locations registering their highest December totals on record.
Tamworth, in NSW recorded its highest daily since February 2012 and its highest total for the site since it opened in 1993, picking up an impressive 92mm to 9am Tuesday 22nd December. Further widespread rainfall was recorded across NSW over the past 24 hours, as tropical moisture streamed across the state. Narrabri picked up 54mm, Boggabri 98mm, Gunnedah 72mm, Upper Horton 74mm and Port Macquarie 71mm. These heavy falls caused flash flooding across central-inland parts of NSW with riverine flooding also expected, with numerous wet days leading into this event.
Further north into QLD, Mt Isa picked up 115mm to 9am this morning, with Camooweal picking up 116.4mm, making these totals their highest daily rainfall totals for December. Other notable totals include, Glen Idol 61mm, Carters Bore 95mm, Cliffdale AL 58mm.
Across the Northern Territory and Western Australia, a tropical low continues to produce heavy rain across central parts of the NT and extreme Eastern regions of WA. Pine Hill in the NT registered 81mm to 9am this morning, with Rabbit Flat 77mm, Vaughan Springs 58mm, Territory Grape 73mm, Dum-In-Mirrie 54mm and Cullen River 62mm. In WA, Billiluna picked up 70mm, Halls Creek AP 28mm and Ruby Plains 44mm.
During Wednesday, further showers, storms and rain periods will continue to cause moderate to locally heavy falls possible. Another 40-80mm can be expected for central parts of the NT, with isolated falls exceeding 100mm likely leading to further flash flooding and riverine flooding.
Further south in Tasmania and Victoria, a broad area of low pressure continues to produce scattered showers, rain periods and isolated thunderstorms. Nullawarre in Southwestern Victoria topped the rainfall totals to 9am this morning with 71mm with Cape Nelson picking up 45mm, Portland AP 40mm, Port Fairly 38mm, Springvale 31mm and Frankston 31mm.
In Tasmania, a severe weather warning remains current for heavy rainfall leading to flash flooding and riverine flooding with St Patricks Head scoring 87mm to 9am this morning, Gray 85mm, St Helens 59mm, Eddystone 59mm, Mathinna 56mm. A flood watch remains in place for creeks and streams across Northeastern Tasmania today.
Image 1: Australian rainfall totals, 24hrs to 9am 22/12/2020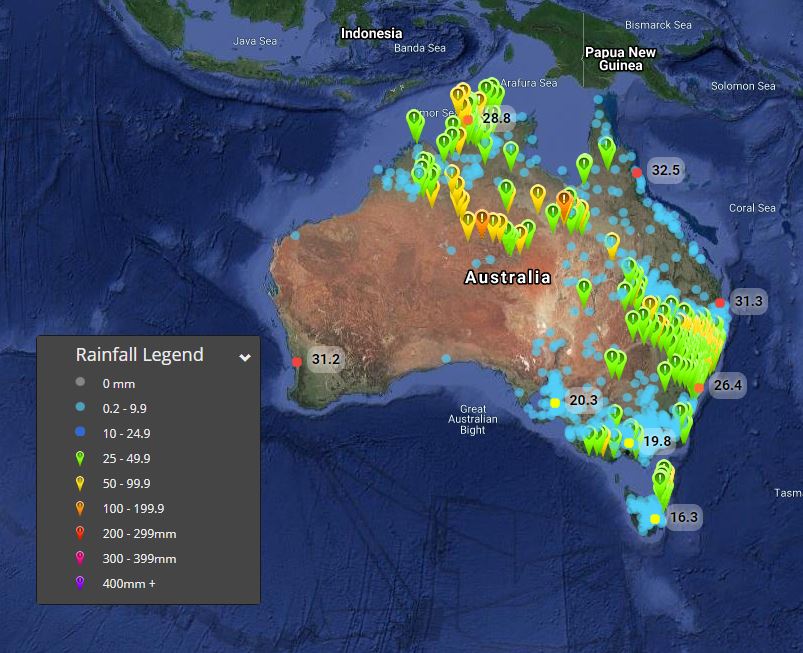 ---