Twitter

Instagram

Facebook | QLD | NSW | VIC | TAS | SA | WA | NT | NZ
---
Intense rainstorms bring flash flooding to parts of coastal and inland Southeast Queensland
Tuesday, 19th January 2021
An inland trough was the catalyst for severe thunderstorm activity, which tracked across the south-east during the afternoon, and impacted parts of the Sunshine Coast later in the evening. Dangerous flash flooding was the result of intense rainfall through parts of the southeast last night with streets becoming rivers, submerging some vehicles and inundating residential properties in some locations, with Alexandra Hills bearing the brunt of the localised heavy rainfall. The situation deteriorated further when the line of thunderstorms become more stationary along the coastal fringe.
Alexandra Hills received 191mm in 24 hours to 9:00am this morning with 155mm of the rainfall falling between 4:30pm to 7:30pm last night, and 74mm within a 30 minute period. Further south at Beenleigh, 105mm on heavy rainfall fell in an hour between 6:00pm to 7:00pm.
Severe thunderstorms were also warned for damaging to locally destructive winds along with the heavy rain threat of dangerous flash flooding. Two people were rescued trapped in flood waters at Sheldon in the Redlands around 7:00pm with a person also rescued from the roof of a vehicle on Springacre Road at Thornlands last night.
The Redland City Council has also established a self-serve sandbagging station from 8:00am this morning in the locations of Cleveland, North Stradbroke Island, Russell Island and Macleay Island.
The following locations received >100mm on rainfall within a 24 hour period to 9:00am this morning, January 19th, 2021. 191mm Alexandra Hills, 149mm Karragarra Island, 144mm Mount Cotton, 138mm Carneys Creek, 137mm North Stradbroke, 134mm Norwell, 132mm Kerkin Road Alert, 119mm Cape Moreton, 116mm Mount Tamborine, 113mm Ormiston, 112mm Steiglitz Wharf, 109mm Elimbah, 105mm Wongawallan, 104 Woodford, 101mm Moreton Island and 100mm Highvale.
There is the slight risk of isolated tending scattered showers, thunderstorms and rain areas today again through parts of the southeast and southern inland QLD, particularly during the afternoon and evening. One or two thunderstorms may become severe for the threats of localised strong to damaging winds and heavy rainfall, however the risk is considerably lower than what we?ve observed over the past 24 hours.
Isolated thunderstorms are also possible today through parts of northern NSW during the afternoon and evening with one or two thunderstorms likely to become severe for the elements of damaging winds and heavy rainfall. A southerly change is currently advancing up the northeast coastal districts of the state and is forecast to be situated close to the QLD/NSW border during the late afternoon bringing cooler conditions in it?s wake for northern NSW.
Image 1: 24 hour rainfall totals >100mm from 9:00am Monday, 18th January 2021 to 9:00am Tuesday, 19th January, 2021.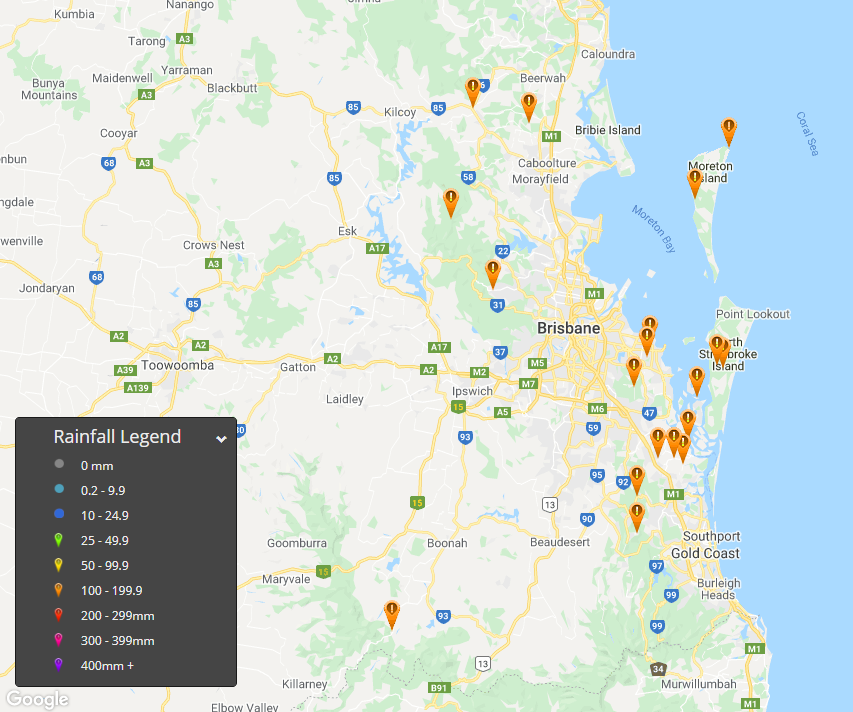 ---