Twitter

Instagram

Facebook | QLD | NSW | VIC | TAS | SA | WA | NT | NZ
---
Western Australia on Cyclone Watch, with Lucas expected to form later this week
Wednesday 20th January 2021
At 8:57am Western Standard Time, the Bureau of Meteorology issued the first Tropical Cyclone Advice for Tropical Low 08U with a cyclone watch issued between Bidyadanga in the Kimberley to Roebourne in the Pilbara.
This low is expected to continue drifting in a southwesterly direction over the next 24-48 hours whilst slowly strengthening. Late Thursday and into Friday, Tropical Cyclone Lucas is expected to be born, before shifting its track to a south southeasterly direction towards the Pilbara Coast whilst potentially intensifying into a severe category 3 system.
At this time, Lucas is forecast to cross the coast as a category 3 system. Should this occur, destructive wind gusts of 165-224km/h will likely develop along with the threat of extremely heavy rainfall and a significant storm surge for coastal communities. However, there are still inconsistencies regarding the speed of this system and its strength, with some disagreement later into the outlook.
Thankfully, this part of Australia is well prepared and accustomed severe tropical cyclones.
Image 1: Bureau of Metorology Tropical Cyclone Threat Map. Valid 20/01/2021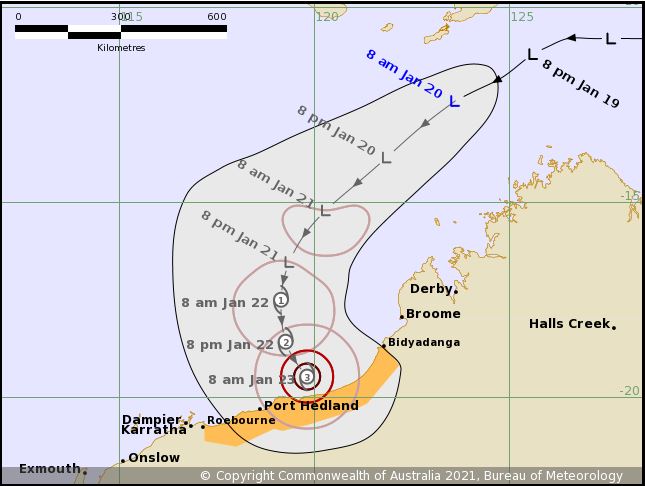 ---