Twitter

Instagram

Facebook | QLD | NSW | VIC | TAS | SA | WA | NT | NZ
---
Australia registers fourth warmest October on record
9th November 2018
October was yet another warm month across Australia, continuing the trend seen so far this year, with much of the country seeing much warmer than average conditions.
Across Australia as a whole, mean temperatures were 1.83 degrees above average (when combining both maximum and minimum temperatures), with night time temperatures contributing strongly to this (second warmest on record across Australia). However daytime temperatures were still 1.84 degrees above average, the ninth warmest on record.
This may come as a surprise to some parts of the country, with those in eastern NSW and southeast QLD seeing cooler than average daytime temperatures, particularly early in the month where some had their coolest start to the month in a few decades.
Whilst the warm trend continued, October finally bucked the trend of drier than average conditions, with rainfall 11% above average across the nation. For parts of NSW and Queensland, this helped significantly in drought relief, although was not enough to break the drought.
Some isolated parts of New South Wales, Queensland and Western Australia even recorded their wettest October on record. However, those in the south of the country missed out, with Tasmania seeing its third driest October on record.
Warmer than average conditions are expected to continue into November
Image 1: National Mean Temperature Deciles - November 9th, 2018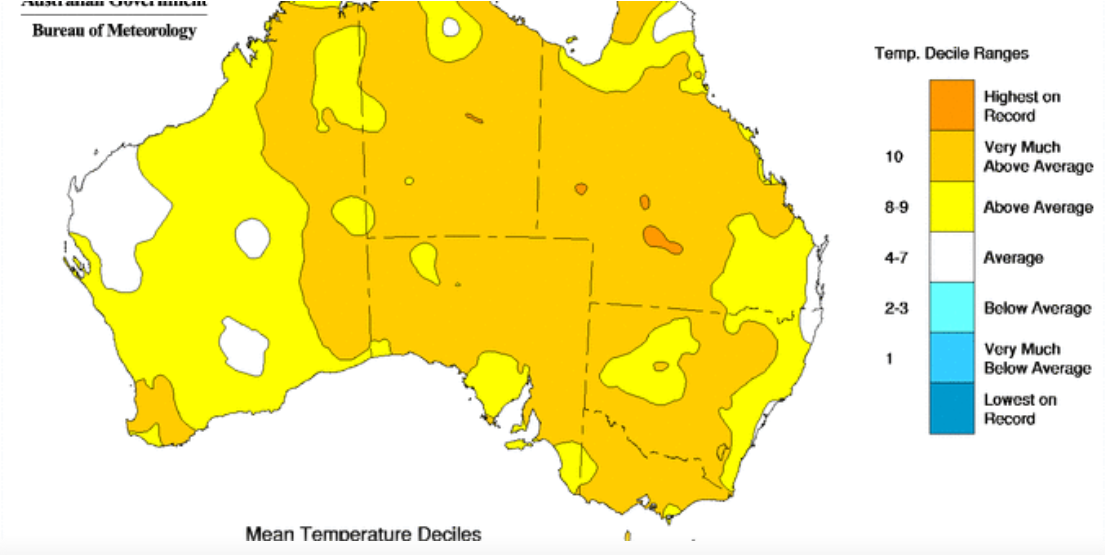 ---