Twitter

Instagram

Facebook | QLD | NSW | VIC | TAS | SA | WA | NT | NZ
---
Thundery night for the Top End
15th November 2018
The latter part of the 'Build up' is in full swing across the Top End, with oppressive conditions during the day and night often breaking to showers and thunderstorms, bringing relief.
Yesterday was such a day as the mercury reached 35 degrees in Darwin, with humidity making it feel 2-3 degrees hotter, and temperatures remaining around 30 degrees late into the evening and humidity around 80 percent.
However, the oppressive conditions finally gave way to thunderstorms just after 10:30 pm local time, with multiple thunderstorms affecting the region throughout the night and into the morning.
The thunderstorms brought a spectacular lightning show and the heaviest rain in months to some areas, with Darwin airport's 73.2mm to 9am the biggest fall since January (including 32mm between 4am and 5am) and nearby Berrimah collecting 105mm.
Gusty winds were also recorded, reaching 60-70km/h at some stations across the Top End.
Early morning thunderstorms are again a good chance for the Top End tonight.
Image 1: 24 hour rainfall totals - Darwin - November 15th, 2018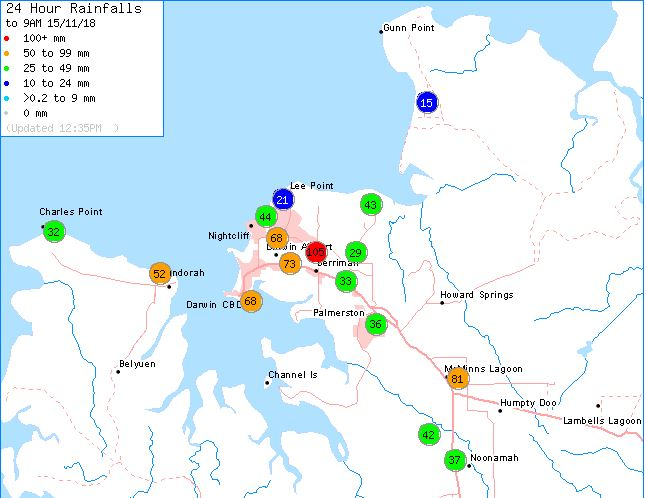 ---