Twitter

Instagram

Facebook | QLD | NSW | VIC | TAS | SA | WA | NT | NZ
---
Queensland Heatwave: Record temperatures, fires and dust to impact state
24th November 2018
Record November heat, strong winds and dust are set to impact parts of Queensland over the next week as a highly unusual weather pattern for this late in spring affects the state.
A winter-like setup is causing strong, dry and gusty westerly winds to extend well north for this time of the year, with humidity levels well below average across the state. November is typically a time of year where humidity gets increasingly higher across the state, fueling thunderstorms and rain. However, moisture levels are more typical of August than late November, although temperatures will be more typical of summer.
Gusty winds reaching 70-80km/h are set to whip up across many areas (especially the southern and central inland) tomorrow as a trough crosses the state, bringing another bout of dust across the state, with the thickest dust likely across the southern and central inland
Temperatures are also expected to reach the mid 30s to low 40s, and combining with the strong winds and low moisture levels, Severe Fire Danger is expected in the Capricornia, Central Highlands and Coalfields, Central West and Maranoa and Warrego forecast districts. The strong winds will encourage spot fires, which may spread any grass fires into more forested areas.
Rockhampton is set to see its first 40 degree day in November since 2004, with a maximum of 40 degrees expected. Moranbah and Longreach are forecast to hit 42 degrees, while Mackay will push into the mid 30s for the second consecutive day.
The longevity of the heat will mean some areas will set records for consecutive hot days for the month, as well average monthly November temperatures, with individual hot days less likely. However, individual day records were already broken today, with Mackay Airport reaching 37.8 degrees.
Rockhampton is expected to reach at least 39 degrees for the next four days, unprecedented in November, while Mackay is forecast to reach at least 35 degrees from Sunday through until at least next Friday, after exceeding this the last two days.
Not every day will see extreme fire conditions thankfully, with winds set to ease on Monday. However gusty winds will bring elevated fire danger again on Tuesday and particularly on Wednesday, which has potential for worse fire conditions than Sunday due to the risk of dry thunderstorms sparking fires.
Image 1: Dust Mass via Windyty - November 24th, 2018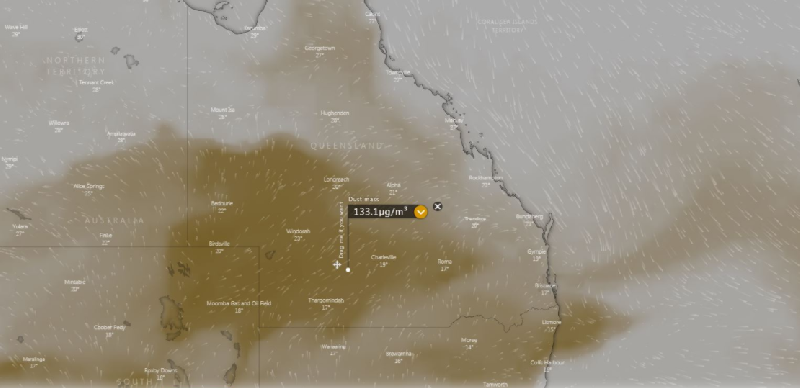 ---