Twitter

Instagram

Facebook | QLD | NSW | VIC | TAS | SA | WA | NT | NZ
---
Wild Wednesday Eastern Australia lashed by floods fires and severe thunderstorms
29th November 2018
Large swathes of eastern Australia were hit by wild weather yesterday as a low pressure system affected the region, bringing record heat and catastrophic bushfire conditions in Queensland, and floods and severe winds in New South Wales, with both states also feeling the brunt of severe thunderstorms.
A complex low pressure system over NSW fueled the wild weather, with heavy rain and strong winds in its vicinity and to its south. Sydney CBD was drenched in almost 100mm of rain in just three hours between 6am and 9am EDT leading to an eventual 24 hour total of 105.6mm, its wettest November day in more than three decades.
Similarly heavy falls were recorded stretching from the Illawarra to the Hunter, with widespread totals of 40-to-90mm recorded in the 24 hours to 9am today. More exposed areas and those under thunderstorms experienced even higher totals, with notable totals including 189mm at Beaumont (west of Kiama), 124mm at Katoomba and 123mm at Mardi Dam (near Lake Macquarie). These totals lead to minor riverine flooding and flash flooding across the region.
The strongest winds were confined to the coast, particularly exposed areas, with gusts reaching 96km/h at Wattamolla, and 80km/h at Sydney Airport and Nobbys Head (Newcastle).
Numerous severe thunderstorms developed near the low and on the trough stretching from its northern flank. Large amounts of small hail was recorded in the Hunter district as several severe thunderstorms crossed the region. In northeast NSW, hail ranging from golf to tennis ball size was reported in the Byron Bay area, while Point Lookout off Stradbroke Island reported hailstones of a similar size.
Unfortunately, strong westerly winds wrapped around the northern side of this low, and combined with a hot airmass sourced from northwest Australia, bringing unprecedented heat and bushfire conditions to central and northern QLD. Onshore winds typically keep the hottest temperatures well inland at this time of the year in this part of the world, however with westerly winds strong enough to reach the coast, records were smashed by huge margins.
Cairns Racecourse exceeded 40 degrees four consecutive days in a row, including 43.6c on both Monday and Tuesday, smashing its previous November record of 37.2 degrees, and even beat its all-time record of 43.2 degrees (January 1923). Mackay exceeded 37 degrees an unprecedented five days in a row, including setting a new record for hottest temperature on record, reaching 39.7 degrees on Monday.
Strong and dry westerly winds lead to catastrophic bushfire conditions across parts of the state yesterday, with more than 100 fires still burning, a number of which reached emergency levels. Emergency services have been so strained with the demand, that services from interstate have been called in for assistance. Rockhampton was a good example of just how nasty conditions were, with the mercury at 2pm EST yesterday sitting a 43 degrees, with wind gusts reaching 70-80km/h and relative humidity of just 10 percent.
While conditions have eased in NSW, the heatwave over QLD is expected to continue and become even more widespread from now until at least early next week. However, the good news is that winds are expected to remain relatively light compared to yesterday (reducing fire danger), with onshore winds slowly picking up and increasing moisture levels through the weekend and into early next week.
There are indications by mid next week, there will be enough moisture to cause showers, rain and storms across bushfire affected regions, helping douse fires.
Image 1: Affected locations along the East Coast of QLD - November 29th, 2018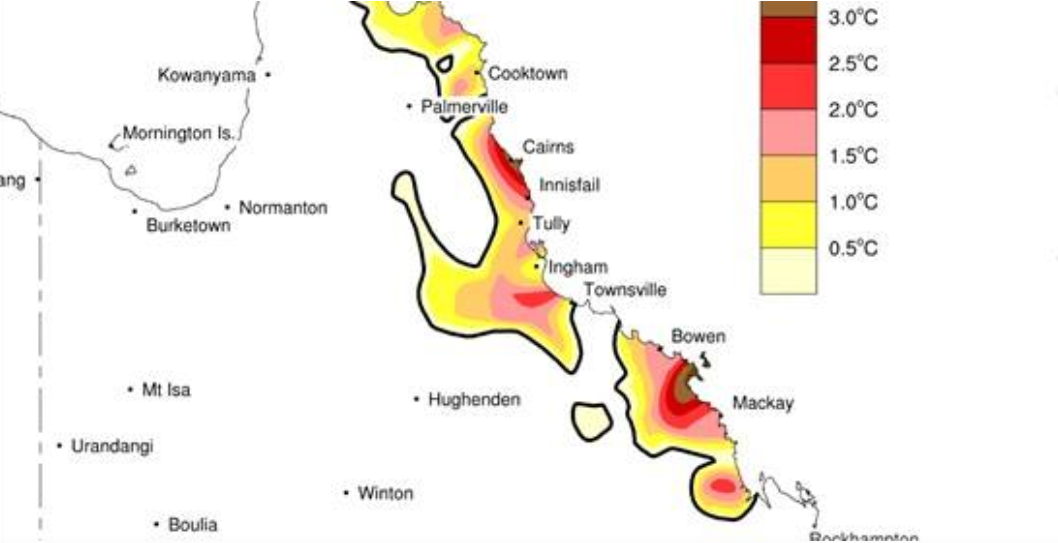 ---