Twitter

Instagram

Facebook | QLD | NSW | VIC | TAS | SA | WA | NT | NZ
---
A trying week for our neighbours across the Tasman Sea in New Zealand
Wednesday, 11th December 2019
Torrential rainfall and thunderstorms produce flooding and landslips
South Island already received more than it's December normal rainfall
Evacuation areas for the Timaru district for changing river flows expected to downgrade
300,000 Lightning Strikes recorded from severe thunderstorms on Saturday
Volcanic Eruption on White Island in the Bay of Plenty on Monday
Increase in Volcanic Activity today with tremors recorded early this morning
Earthquake 5.3 Magnitude strikes near Gisborne on Tuesday
It has been a very difficult period for New Zealand over the past days with severe thunderstorms affecting parts of the North and South Island with very heavy rainfall and strong winds. Major roads were shut down including SH1 and SH6 as the torrential rainfall gave way to slips and landslides. More than 300,000 lightning strikes hit the nation and its surrounding waters during Saturday alone according to information via the National Institute of Water and Atmospheric Research Centre. Most the South Island has already received more than it's usual rainfall amounts for the month of December.
Several tourists were stranded at a campground in Whataroa, a small township on the West Coast of New Zealand's South Island, which was cut off by landslips, flooding and river washouts. A state of emergency was declared for the Timaru District during Saturday with evacuations have being ordered by Civil Defence due to the intensity of the flooding. An extended evacuation notice was also published by the Timaru District Council on the 10th of December, 2019 for changing river flows around the Rangitata Township. This is expected to be downgraded to a "Flood Risk Zone" during today, however still highly vulnerable to flooding currently.
During Monday, New Zealand's most active cone volcano - the Whakaari / White Island volcano situated in the Bay of Plenty erupted launching thick clouds into the atmosphere up to 12,000ft in height at 2:11pm (NZDT). GeoNet, which monitors geological hazards in New Zealand, had increased the Volcanic Alert Level on Whakaari / White Island to two on 18th November, 2019. The eruption was level 4 but soon dropped back to 3 which it remains at as 11th December.
Since around 4:00 am this morning, the level of volcanic tremors has significantly increased at White Island. This has been accompanied by vigorous steaming and localised mud jetting in several of the craters created by the previous eruption. GNS Science and the National Geohazards Monitoring Centre continue to closely monitor the Whakaari/White Island for further signs of activity and/or the potential for further eruptions.
On Tuesday, a magnitude 5.3 earthquake (classified as producing strong shaking) occurred at 12.58pm (NZDT) and was situated approximately 20kms south of Gisborne (offshore) with a depth of 29kms. The quake was felt in Gisborne, Wairoa, Whakatane, Cambridge, Hunterville, Dannevirke and evening in Wellington. Even though this earthquake occurred a day after the White Island volcanic eruption, these two incidents are considered to be unrelated at this stage.
Image 1: Severe Thunderstorms - December 8th, 2019 - Lightning Tracker showing intense cold front affecting parts of New Zealand's North Island via the MetServiceNZ.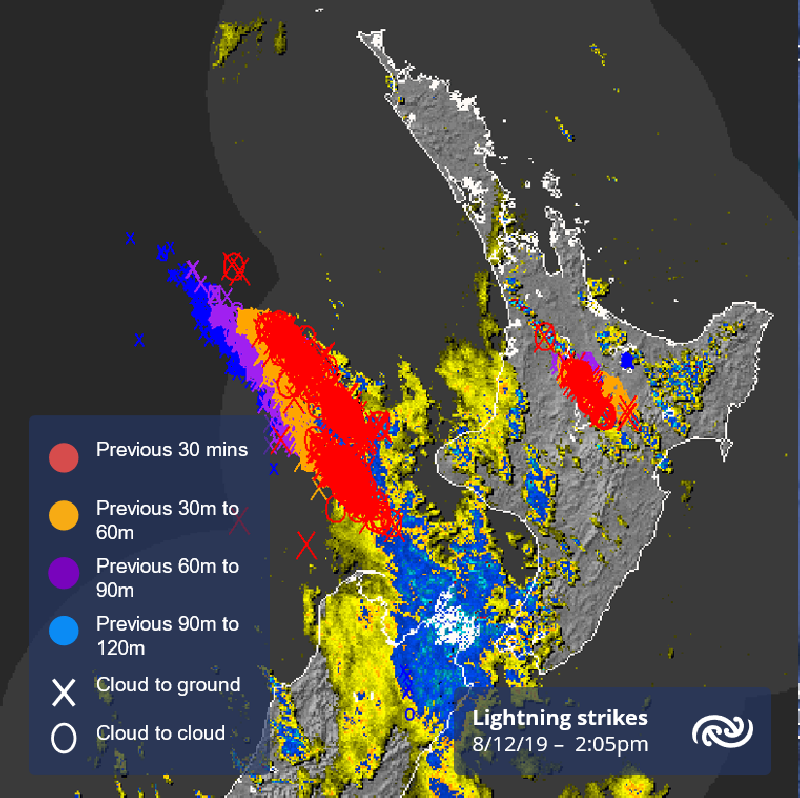 Image 2: Timaru District Council *updated* Flood Risk Map for the Rangitara River as of December 11th, 2019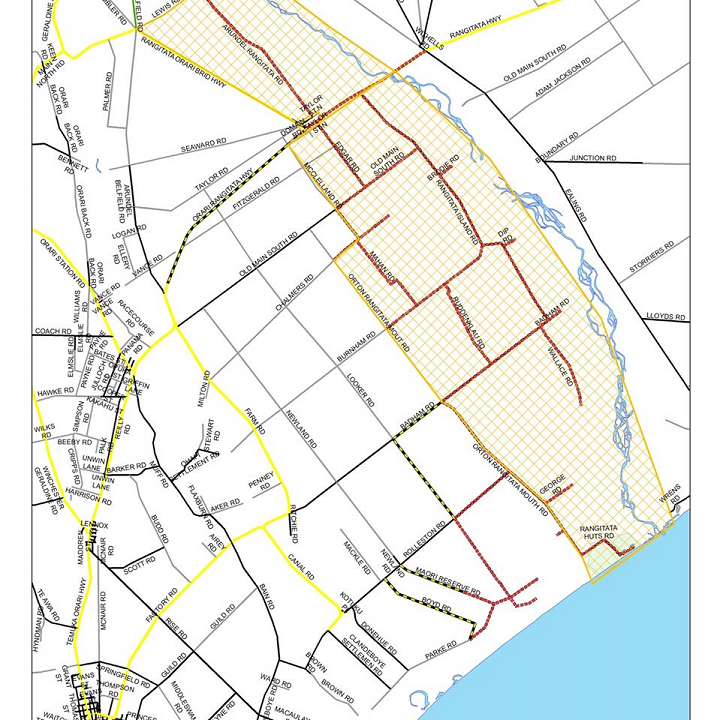 Image 3: Observed rainfall for December 2019 so far indicating up to 300% of the monthly rainfall already received via NIWA.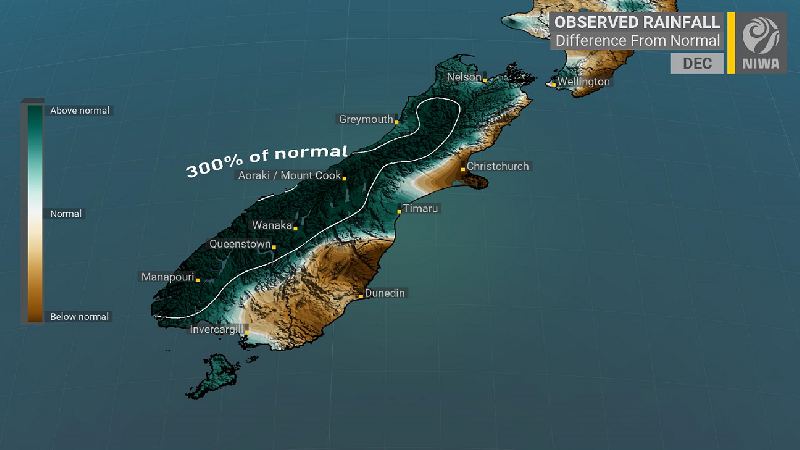 Image 4: New Volcanic tremor measured at approx. 4:00am 11th December, 2019 via GeoNet, a collaboration between the Earthquake Commission and GNS Science.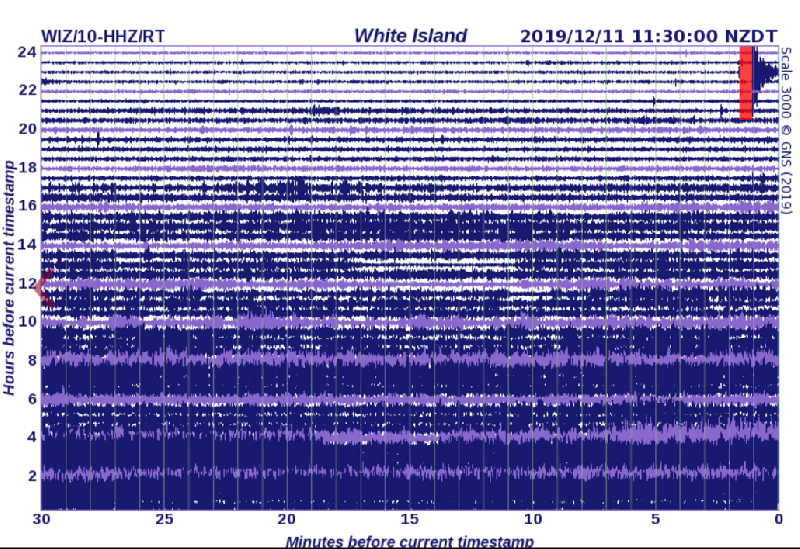 Image 5: Satellite image showing the locations, time and dates of both the volcanic eruption of the White Island Volcano and 5.3M Earthquake south of Gisbourne.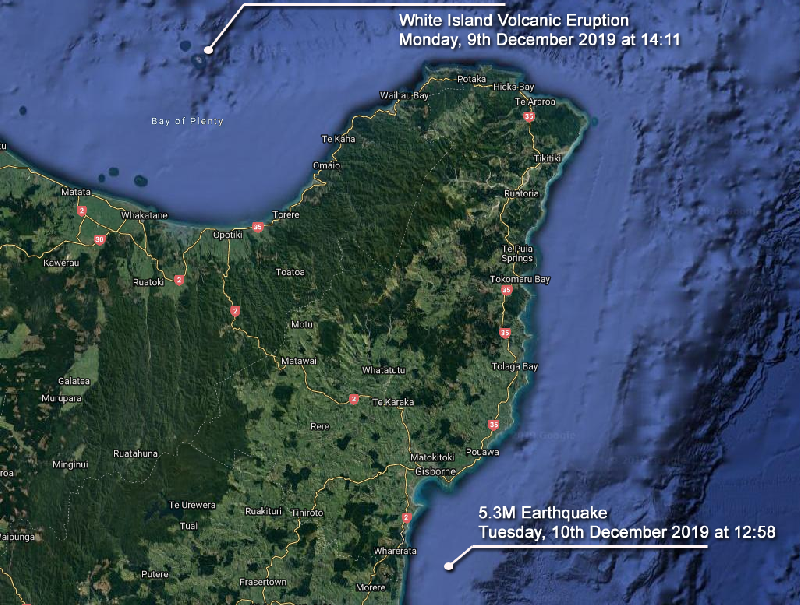 ---