Twitter

Instagram

Facebook | QLD | NSW | VIC | TAS | SA | WA | NT | NZ
---
Mercury set to approach 50c as extreme heatwave grips the nation next week
13 December 2019
An intense wave of heat is expected to grip large parts of the country next week, with records set to tumble as temperatures approach 50 degrees in some areas.
An extremely hot airmass has been affecting the north and west of the country across the last week, and is only getting hotter as a lack of cloud cover (unusual for this time of the year) and lack of frontal activity allows the airmass to intensify.
Records have already been broken over the nation's north, with a number of locations in the northern Territory setting records for consecutive hot days, including Darwin which had its 11th consecutive day above 35 degrees today. Individual records have also been smashed, with Darwin recording a new high of 37.1 degrees on Monday, whilst Jabiru broke its previous December record (39.6 degrees) eight times over, with the hottest day in the spell so far being 41.6 ddegrees.
In Perth, three consecutive days of 40 degree heat (starting today) is forecast, and if this occurs, it will be the first time on record this has occurred in the city during December.
Over the coming days, this airmass is expected to 'spread' both south and east, particularly next week when the airmass becomes extremely hot.
From about Wednesday and into the weekend, the airmass is expected to reach its peak, with widespread areas across WA, SA, the NT and inland parts of NSW and QLD expected to at least reach the mid 40s. In some parts of SA, the southern NT and SA, the mercury will reach the high 40s, with the risk the December record of 49.5 degrees being broken on one of these days, with the 50 degrees mark not out of the question. There is also the risk the country will experience its hottest day on record.
The capital cities won't be spared, with Adelaide a good chance of breaking its December record of 44.2 degrees, and at least four consecutive days of 40 degrees plus heat. Those in the far southeast will be spared the worst of it, with Melbourne and Hobart only likely to see one extremely hot day.
Sydney will see a string of hot days, although this will be tempered by seabreezes. Western Sydney will still see a few days reaching the high 30s to low-to-mid 40s.
The only saving grace with this system, is that the east coast fire zone will be spared the hottest part of the airmass, although a number of hot, and potentially windy days are still on the cards (although there is a high amount of uncertainty at this stage). Winds overall shouldn't be as strong as they have been on other fire days this year, with no strong frontal system expected.
Longer term models don't have this intense airmass vanishing, with it likely to just retreat inland by the end of next weekend. This means any further frontal systems could drag this airmass south again, and cause more heat over the New Year period.
Image 1: OCF Forecast temperature for Thursday 19th December, 2019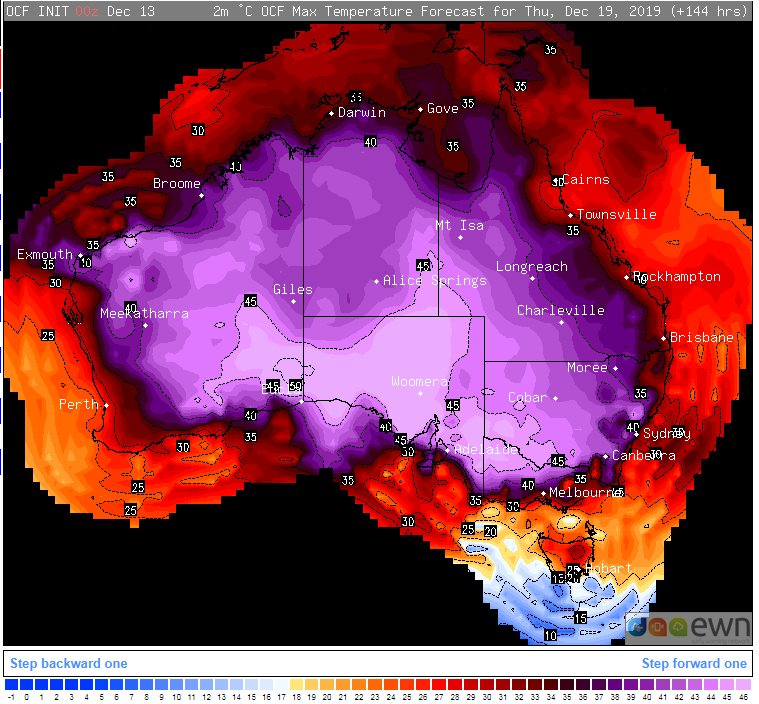 Image 2: 850 temperature forecast for Thursday 19th December, 2019 (Source: Pivotal WeatheR)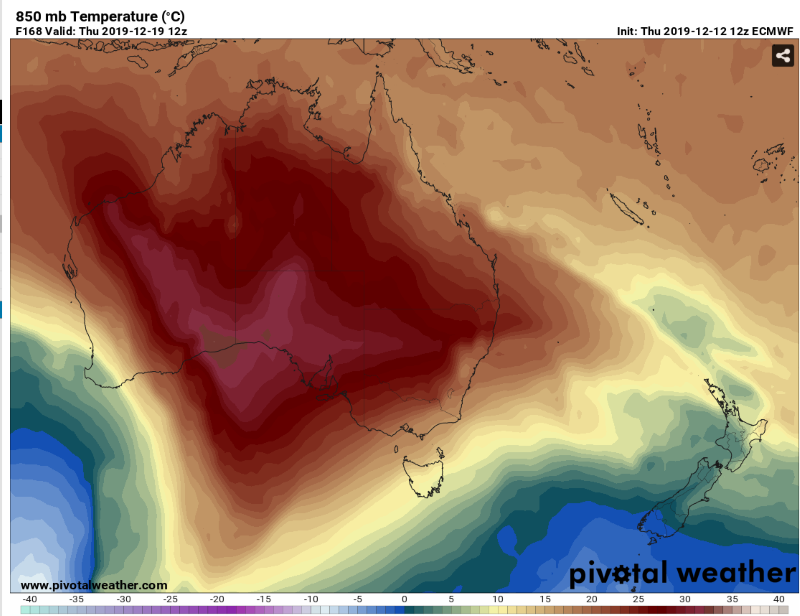 Image 3: Forecast surface temperature for Friday 20th December, 2019 (Source: Windy)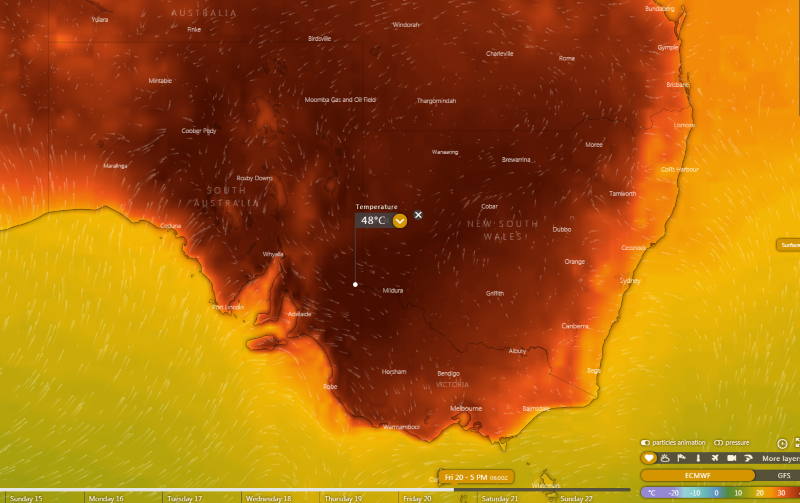 ---