Twitter

Instagram

Facebook | QLD | NSW | VIC | TAS | SA | WA | NT | NZ
---
Damaging winds, Giant Hail, Heavy rainfall and flash flooding for Brisbane, Gold and Sunshine Coasts
Sunday, 15th December 2019
Severe thunderstorms deliver damaging winds with an 107km/h gust recorded at Redcliffe
Giant hailstones of between 8cm-10cm reported at Wilsons Pocket on the Sunshine Coast
Very heavy rainfall conducive to flash flooding including 120mm in an hour at Biggera Creek Dam
Damage to homes, vehicles and structures were present due to significant hail size in the area
Severe thunderstorms including a left-moving supercell lashed southern and southwestern parts of Gympie Friday the 13th of December, 2019 delivering damaging winds and significant hail to the size of cricket balls - with reports of hail between 8cm-10cm in diameter. Very hot conditions combined with an intense upper trough created a volatile atmosphere in a conditionally unstable environment.
There was quite a strong inversion present during the morning, which essentially places a lid on convection and suppressed convective development early in the day. Usually if the strong capping is in place and then overcome, quite volatile and strong thunderstorms may ensue - and this is certainly what transpired on Friday. Low-level moisture was also a contributing factor in assisting with explosive convection, with better surface moisture present about the coastal and adjacent inland parts of the Wide Bay and Southeast Coast.
Thunderstorms initially developed south of Nanango and north of Blackbutt just prior to lunchtime, however briefly struggled in intensity. At 1:08pm, the Bureau of Meteorology issued a Severe Thunderstorm Warning for people in parts of the Wide Bay and Burnett and Southeast Coast forecast districts for damaging winds, large hail and heavy rainfall, and also added the Gold Coast due to developing thunderstorms along a slow moving northward advancing front. Damaging winds and large hail were the most likely for the Sunshine Coast, with heavy rainfall the primary threat for the Gold Coast.
Image 1: Severe Thunderstorms - Radar Image Gympie Hailstorm 1:42pm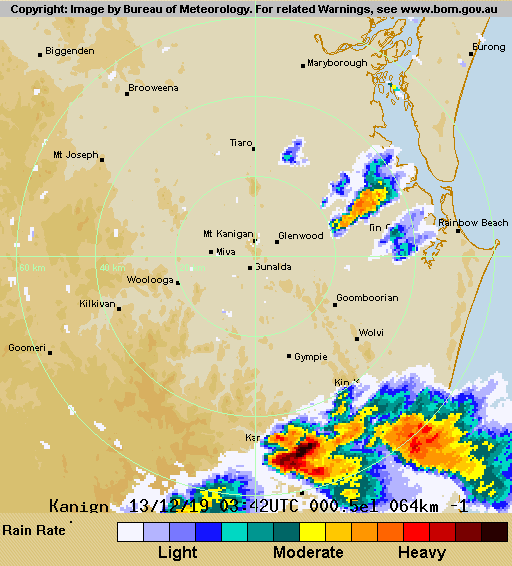 Image 2: Back of the hailcore of the Cooroy cell showing a strong downburst of cold air with large hail occuring inside the thunderstorm. Viewed from the south by Storm Chaser Andy Barber.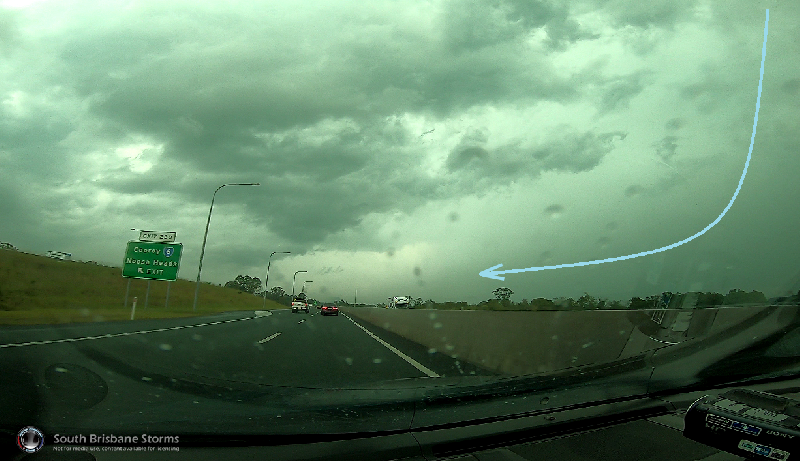 By 1:30pm, three thunderstorm cells very quickly intensified, overcoming the coastal inversion. These tracked east-northeast with the mid-to-upper level winds, towards Kandanga, Cooroy and Tewantin, posing a risk of damaging winds and large hail. By 2:07pm, Giant Hailstones (4cm+) were added into the Severe Thunderstorm Warning and it was labelled a VDS 'Very Dangerous Thunderstorm' while located near Cooran.
These storms were set to affect the area north and northwest of Noosa Heads, areas from southeast to northeast of Gympie, and Pomona - delivering large hail greater than 10cm in diameter in places. The Bureau noted confirmed hailstones of 4cm-6cms at the time. Meanwhile, 120mm of rainfall in an hour was observed associated with the slow moving northward propogating thunderstorm situated on the northern Gold Coast that contained very heavy rainfall and was producing areas of flash flooding.
Image 3: Severe Thunderstorms - Radar Image Gympie Hailstorm 2:06pm.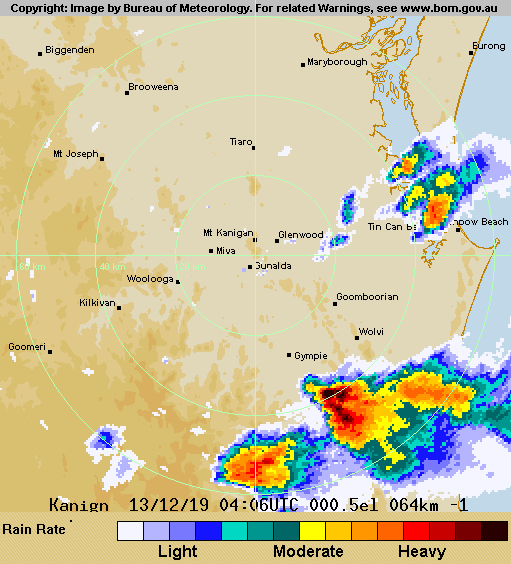 Image 4: Severe Thunderstorms - Radar Image Gympie Hailstorm 2:42pm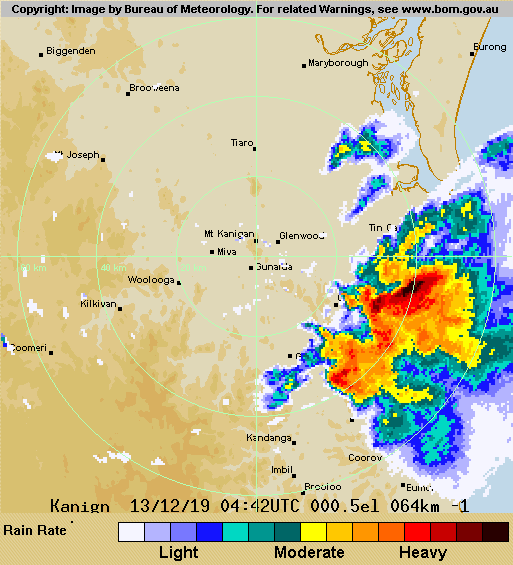 Very dangerous thunderstorms continued to move north-northeast along the coastline towards parts of Goomboorian, Toolara Forest, Double Island Point, Tin Can Bay and Rainbow Beach. At 3:33pm, hailstones of approximately 8cm-10cm were observed and reported from Wilson's Pocket, some of the largest seen in the area in recent years. The hailstorm left buildings, sheds and vehicles with significant damage due to the size of the hailstones. Severe thunderstorms also began to move off bayside areas during the mid-to-late afternoon and continued to deliver heavy rainfall, accompanied by a peak wind gust of 107km/h at Redcliffe between 5:00pm and 5:04pm as the thunderstorm moved north-northeast offshore.
---