Twitter

Instagram

Facebook | QLD | NSW | VIC | TAS | SA | WA | NT | NZ
---
Heat records tumble as South Australia and Western Australia bake in near 50° temperatures
Thursday, 19th December, 2019
Significant weather and bushfire condition summary
Heatwave conditions set to continue before the arrival of an significant frontal system tomorrow
Multiple maximum temperature records broken in both South Australia and Western Australia
Eucla, WA experiences it's hottest day in 107 years
Nullarbor, SA records Australia's 4th highest temp on record
Significant and CATASTROPHIC FIRE WEATHER conditions forecast tomorrow
Image 1: Windyty surface winds from the north with temperatures soaring over 47 degrees yesterday, Thursday, 19th December 2019 via the Bureau of Meteorology.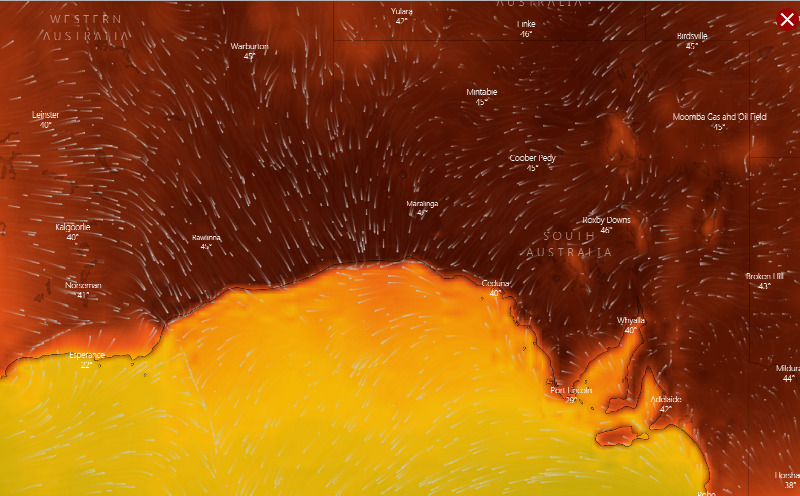 The current weather pattern situated over southern Australia will see the continuation of a very hot air mass dominate over southeastern WA and southern parts of SA before a significant frontal system sweeps across the western and southern regions of South Australia tomorrow, with winds easing slightly proceeding the frontal boundary with a moderate southerly windflow. The front will likely then move over the northeast parts of South Australia during the weekend with another high pressure system expected to anchor in the southern parts of the Great Australia Bight.
Multiple heat records have been broken today, with parts of Western Australia and South Australia enduring their hottest conditions in recorded history. A noteworthy record was for Eucla, WA where the temperature maxed out at a sizzling 49.8° at 12:24pm, beating the previous December record of 49.3° set on the 17th of December, 1912 - 107 years. Western Australia did briefly snatch the Australian December maximum temperature record off Queensland with the Eucla maximum temperature today (49.8°), however this was only held for less than 2 hours before Nullarbor in South Australia took the record off Western Australia.
Image 2: Eucla, Western Australia AWS Station all-time record data and observations recorded, Thursday, 19th December 2019 via the Bureau of Meteorology.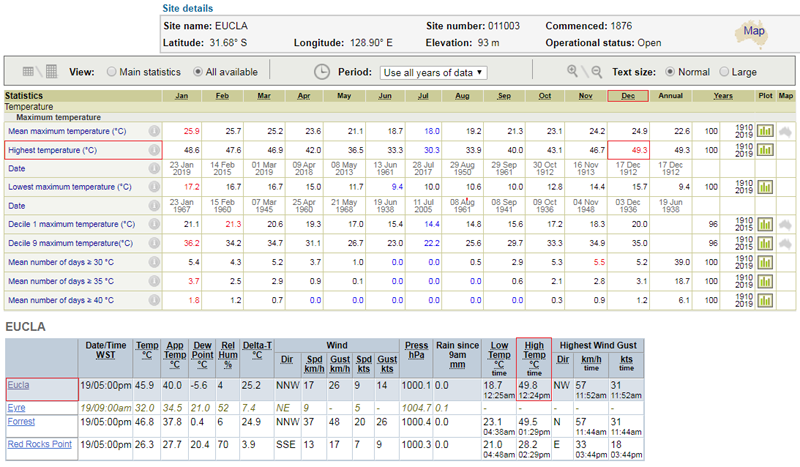 Nullarbor, SA reached a blistering 49.9° at 4:54pm this afternoon making this observation the 4th highest temperature on record in Australia. Nullarbor beat the previous all-time maximum temperature by +1.4° set back on the 2nd of January, 1990 - 29 Years. Ceduna, SA reached a maximum temperature of 48.9° at 4:26pm this afternoon beating the previous December record of 47.3° set back on the 30th of December, 1976 - 43 years. The new maximum temperature of 48.9° exceeds the all-time record for this particular station of 48.6° set on the 24th of January earlier this year.
Image 3: Nullarbor, South Australia AWS Station all-time record data and observations recorded, Thursday, 19th December 2019 via the Bureau of Meteorology.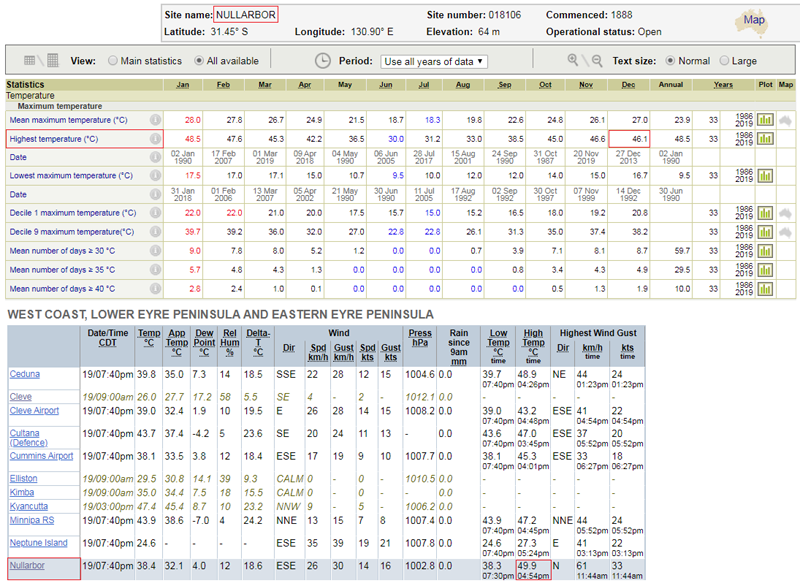 Adelaide's temperatures soared with West Terrace peaking at 45.3° with 45.2° recorded at Kent Town. The overnight ambient temperature is only expected to drop to balmy 32° overnight. The South Australian Ambulance Service has so far attended 239 heat-related incidents, with 145 patients requiring transport to hospital.
Unfortunately, tomorrow looks primed for a very dangerous day with the combination of extremely hot daytime conditions and strong to gusty winds associated with the frontal system. This has in turn elevated the fire danger to CATASTROPHIC levels for people situated within the Lower Eyre Peninsula, Mid North, Mount Lofty Ranges, Yorke Peninsula, Kangaroo Island parts of the state tomorrow ,with the Lower South East within the extreme fire danger zone. Severe fire dangers are expected to be present though the balance of the state including both the North East and North West Pastoral districts, West Coast, Adelaide Metropolitan, Riverland, Murraylands and Upper South East districts.
Catastrophic fire conditions are the WORST fire conditions for the initiation of a bushfire or a grassfire. If fire takes hold under these conditions, it will be extremely difficult to control and will take significant fire fighting resources and cooler conditions to bring the bushfire under control. Spot fires are expected well ahead of main fire fronts, which traditionally cause the rapid spread of fire with embers coming from multiple directions.
We strongly encourage anyone with friends or family within the danger areas tomorrow to stay alert and aware, and follow all bushfire and weather warnings issued by the relevant fire authorities including the Bureau of Meteorology and via the Early Warning Network. Please also keep a special eye over the elderly, and make sure to look after your pets and animals during such extreme weather conditions.
Image 4: Catastrophic, Extreme and Severe Fire Weather Warning areas for Friday for the entire of SA, 20th December 2019 via the Early Warning Network and Bureau of Meteorology.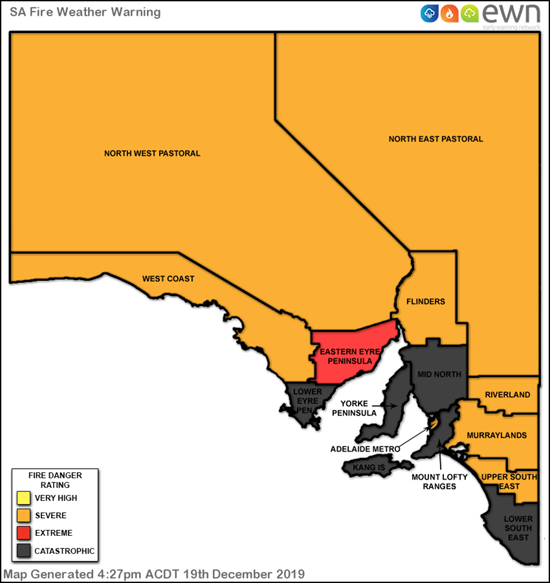 ---