Twitter

Instagram

Facebook | QLD | NSW | VIC | TAS | SA | WA | NT | NZ
---
Christmas Eve Thunderstorms brings brief reprieve to parts of SE/QLD & NE/NSW
Wednesday, December 25th, 2019
Thousands of residents in the Logan and Moreton Bay regions left without power
Long tracked thunderstorm delivering heavy rainfall up to 65mm for various locations
Thunderstorms caused disruption to QLD Rail Train services
Powerlines down at Archerfield with wind gust to 74km/h recorded at 7:32pm
Image 1: Supercell characteristics associated with Christmas Eve supercell thunderstorms as provided and observed by EWN Alerts Operator and Forecaster Ben McBurney SE of Urbenville, NSW.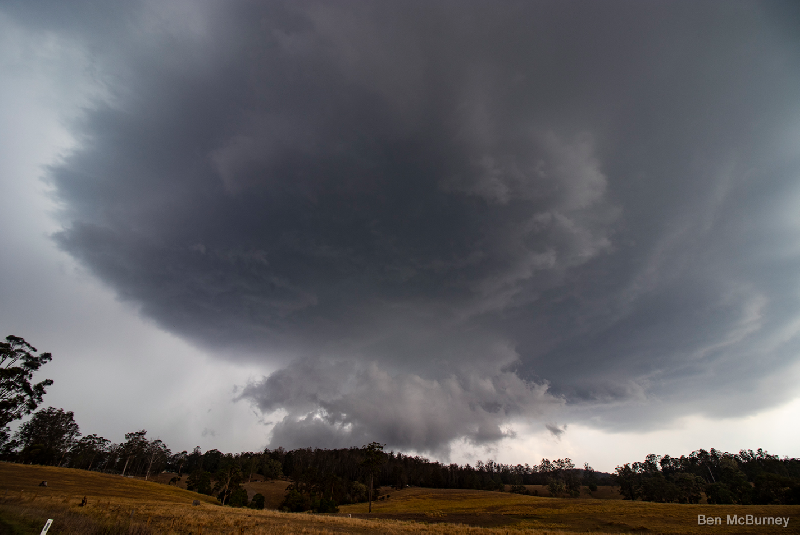 A cluster of isolated thunderstorms developed around the Armidale, Guyra and Dorrigo areas around 1:00pm and began to consolidate while drifting slowly to the northeast. At 2:50pm, the Bureau of Meteorology NSW issued a Severe Thunderstorm Warning for Large Hail and Heavy Rainfall for people situated within parts of the Mid North Coast and Northern Tablelands with activity detected near Kempsey, Dorrigo and Ebor.
By 3:00pm, two separate thunderstorms were active with the region with one complex location to the east of Glen Innes with the other situated on the ranges to the west of Coffs Harbour, NSW. Over the course of the next two hours, the severe thunderstorm to the east of Glen Innes intensified further into a significant thunderstorm and made it's way northeast through Jackadgery and up to the eastern parts of Tabulam. At 4:19pm, the Bureau of Meteorology updated their warning and included damaging winds with another warning following for parts of Lismore, Grafton, Tenterfield, Casino, Kyogle and Maclean by 5:32pm.
This thunderstorm in particular was very long tracked in nature and continued on to meet up with the QLD/NSW border by 6:30pm. At 6:30pm, severe thunderstorms were detected on the Border Ranges and were delivering most noteworthy of all, very heavy rainfall rates. At 6:32pm, the Bureau of Meteorology QLD issued a Severe Thunderstorm Warning for people in parts of the Scenic Rim and Gold Coast areas for heavy rainfall.
Image 2: EWN Lightning Tracker detailing extensive and very lightning thunderstorms detected south of Bonalbo and west of Casino, NSW on December 24th, 2019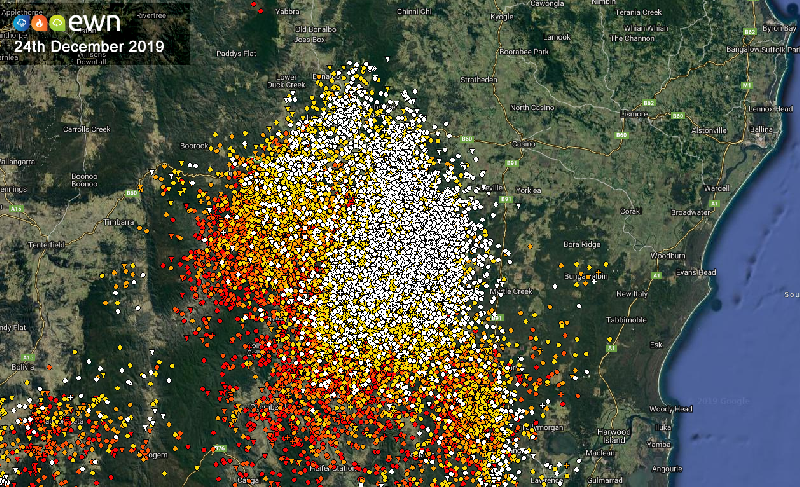 Over the course of the next hour to 7:00pm, the line of thunderstorms intensified further while moving to the northeast towards the Brisbane CBD, with a continuation of extremely high lightning rates. Many of these lightning strikes resulted in 1,200 people in the Logan City Council region to lose power with a further 1,100 within the Moreton Bay region. The power outages also had an effect on public transport with Queensland Rail suspending train services on the southside line between Kuraby and Beenleigh. Fallen powerlines were also reported just after 7:30pm at Archerfield as well as 40mm of rainfall recorded at Beechmont.
At 8:00pm the line of thunderstorms had just passed through the Brisbane CBD and was located over both the bayside and the inner northern suburbs of Brisbane, including the Brisbane Airport. At 8:04pm, the warning area had two specific thunderstorms in progress with the western cell located at Boonah and forecast to affect Laidley, and parts of Esk with the primary thunderstorm forecast to affect Strathpine, Redcliffe and Caboolture by 8:30pm with damaging winds and heavy rainfall with primary threats. At 9:30pm, the line of thunderstorms reach northern areas of the Sunshine Coast about Caloundra and Maroochydore whilst weakening and moving to the north-northeast offshore.
This significant thunderstorm was very long track over a long period of time, essentially covering a total distance of approximately 465kms from the northeast of Armidale, NSW to Maroochydore, QLD. Armidale is still very short of it's annual December average of 96.7mm.
Image 3: Severe Thunderstorm Progression from the Northern Tablelands of NSW to Brisbane City, QLD on the 24th of December, 2019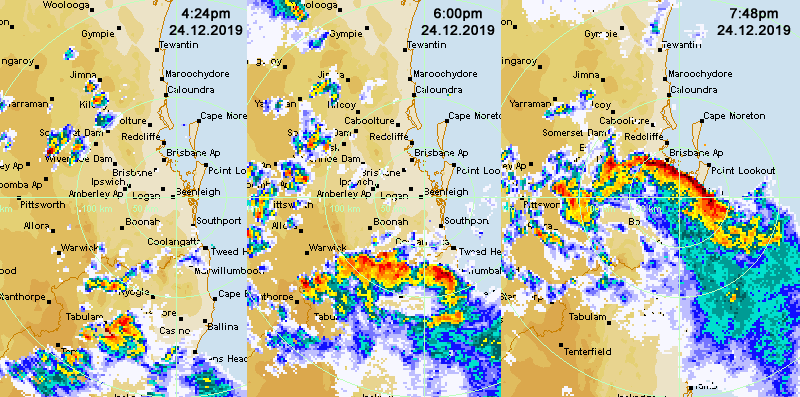 The most noteworthy element for this particular Christmas Eve event was rainfall received for locations that have been dry for some time, with the Benobble, QLD alert receiving 66mm of rainfall (24 hours to 9:00am, 25th December, 2019) with a very welcome 61mm over the Busby Flat fireground with 57mm recorded for Byron Bay, NSW.
Image 4: 24 hour Rainfall totals between 9:00am 24th December, 2019 to 9:00am on the 25th, December 2019. AMBER arrows are indicative of rainfall above 50mm via the EWN Rainfall Map.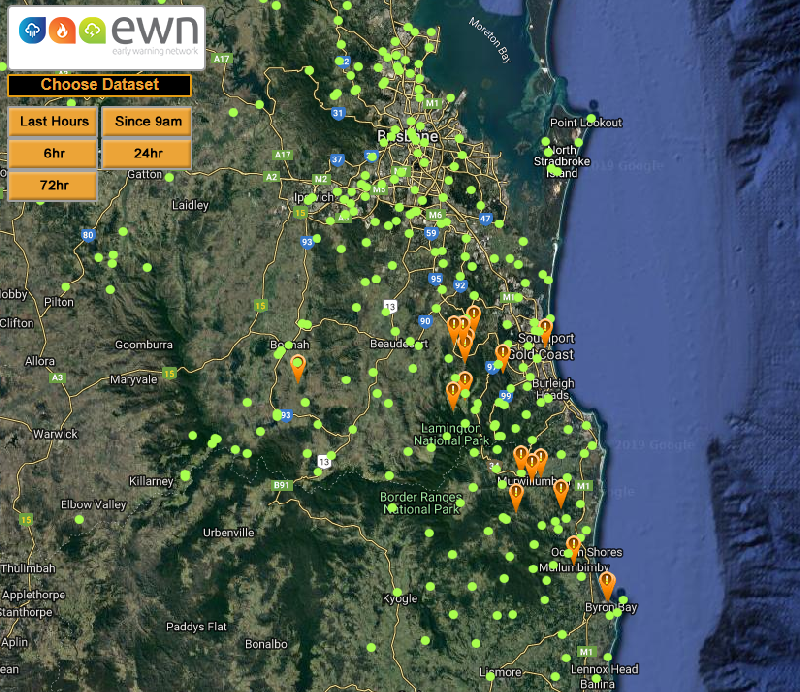 From all of the team here at the Early Warning Network, we would like to wish you a very safe and Merry Christmas and remember to keep alert and aware of all severe weather and/or potential threats over the holiday period.
---