Twitter

Instagram

Facebook | QLD | NSW | VIC | TAS | SA | WA | NT | NZ
---
Christmas bringing much needed rain to coastal Queensland
Thursday, 26th December 2019
Showers and thunderstorms on Christmas Day and Boxing Day have been bringing much needed rain to the QLD coast, with some places seeing their best rain in more than two years.
A low pressure trough that is being fed by humid onshore winds has brought scattered showers and storms along the QLD coast (except between about Proserpine to Ingham, which has missed out).
Those in southeastern, central and far northern areas have received the best falls so far from the system. On Christmas Day, a healthy cluster of thunderstorms which was also associated with a spectacular lightning display formed over the state's central east, bringing substantial totals from Gladstone to the Town of 1770, inland to Coonambula.
Gladstone recorded 62mm in the 24 hours to 9am its best rain since October 2017 and heaviest for December since 2010. A lot of this rain came down quickly, with 23.8mm falling in just 10 minutes around 7pm EST.
Healthy totals also occurred around the Sunshine Coast and the Mackay area, with 40mm falling at Caboolture, 48mm at Boreen Point and 41mm at Walkerston (just inland from Mackay).
Today, the heaviest falls have been focused over the tropical north coast, with thunderstorms developing this morning and continuing into this afternoon, bringing locally heavy falls. In the Gordonvale area, small hail was even reported from thunderstorms this morning, not a common occurrence at sea level in the tropics.
Over the next few days, showers and isolated thunderstorms will continue for coastal Queensland, particularly north of about St Lawrence. Many areas should pick up further totals of 30-to-50mm, with some locations likely to see a further 50-100mm by the end of the weekend (possibly 100-to-200mm over the Cape York Peninsula).
Image 1: Rain totals in the 24 hours to 9am today (Source: Bureau of Meteorology)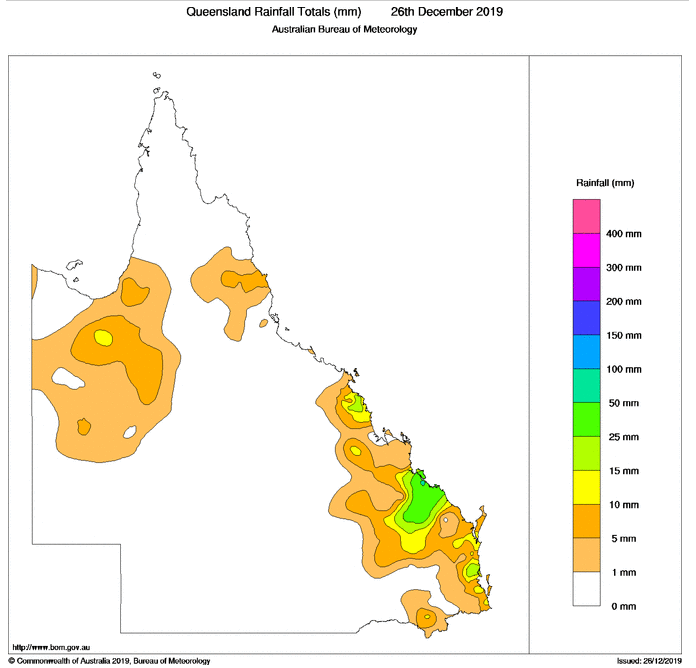 Image 2: Accumulated rainfall totals for the next 5 days for central and northern QLD (Source: Windy.com)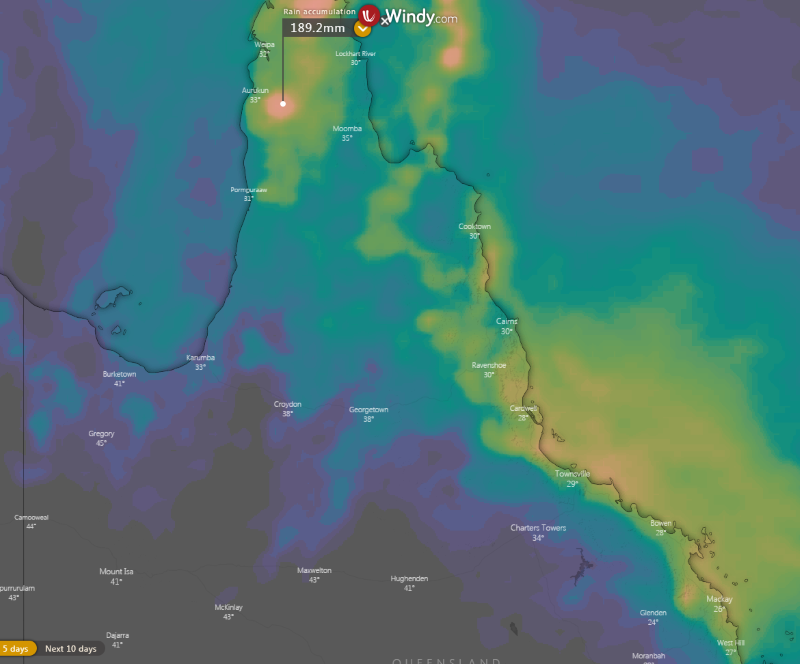 ---