Twitter

Instagram

Facebook | QLD | NSW | VIC | TAS | SA | WA | NT | NZ
---
March weather wrap: A mixed bag for Australia
2nd April 2020
March 2020 was a mixed bag across Australia, as many parts of the southeast had cooler and wetter conditions than average, whilst the tropical north continued to be warmer and drier than usual.
Whilst rainfall was 15% below average across the nation as a whole, this varied considerably in different parts of the country.
The beginning of the month started with wet conditions due to ex-tropical cyclone Esther, with a variety of locations across the Northern Territory, Queensland, Victoria, Tasmania and New South Wales experiencing daily rainfall records with the system. At Fowlers Gap in NSW, 120.8mm fell in just 24 hours on the 4th of March (with most coming down in a few hours), which was more rain than the 2018 and 2019 combined.
This meant a band stretching from the WA Kimberley through the southern NT, southwest QLD, western NSW, northern VIC and northern TAS saw rainfall that was above to very much above average for the month, with parts of northern TAS seeing their wettest March on record.
For the Murray-Darling Basin, this was the second consecutive month of above average rainfall (area average 57.9mm, long term average 38.6mm), which was the first time this has happened since 2017.
Meanwhile, many parts of the tropics (such as northwest WA, the NT Top End and northern QLD) as well as eastern QLD and into northeast NSW saw rainfall that was patchy at best, with most areas seeing falls that were average to below average (with some localised areas seeing their driest March on record). Below average to well below average totals also affected southeast SA and parts of southern VIC.
Temperatures were also notably varied across the country, although overall temperatures were 0.67 degrees above average. Many parts of the southeast recorded below average temperatures for the month, particularly maximum temperatures. This was particularly pronounced in NSW where maximum temperatures were 1.19 degrees below average, the coolest March since 2012. However, the north and northwest of the country was warmer than usual, particularly in WA where temperatures were 1.23 degrees above average, with night time temperatures the 10th warmest on record.
Looking ahead, April is expected to be wetter than average across large parts of the country. Temperatures will remain warm in the north and east, but trend cooler than average elsewhere.
Image 1: Maximum Temperature Deciles across Australia during March 2020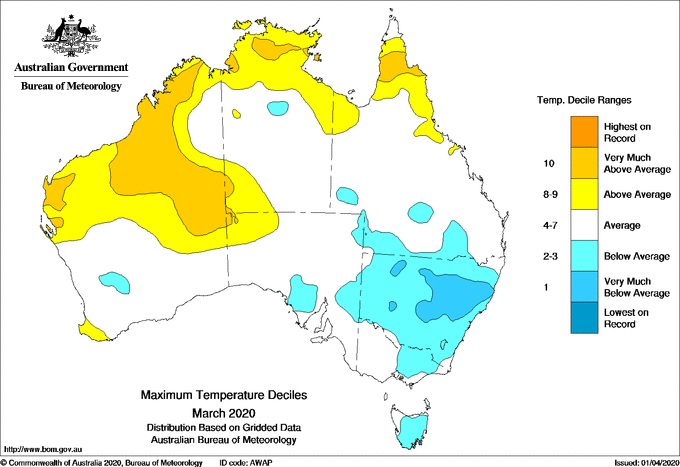 Image 2: Rainfall Deciles across Australia during March 2020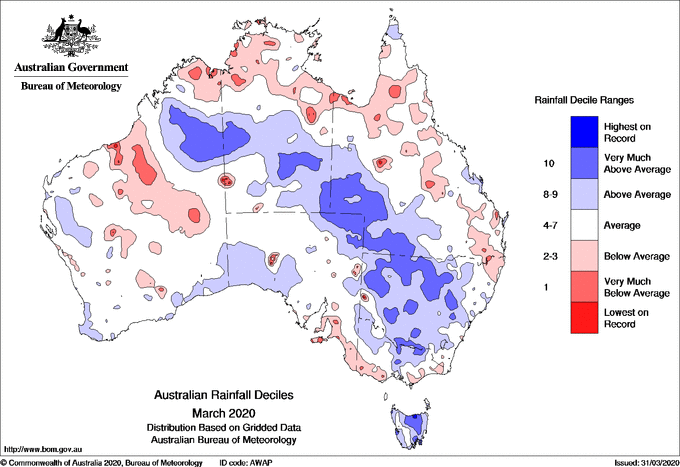 Image 3: Rainfall outlook for April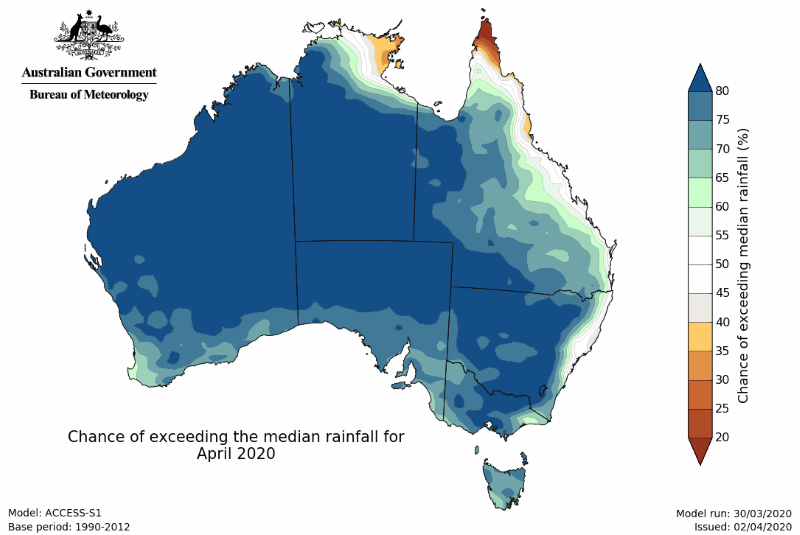 ---