Twitter

Instagram

Facebook | QLD | NSW | VIC | TAS | SA | WA | NT | NZ
---
Heavy rain soaks parts of Victoria, New South Wales and ACT
30 April 2020
A strong cold front sweeping across southeastern Australia is producing widespread heavy rain across parts of VIC and NSW, with some places seeing their heaviest April falls in decades, and some stations even now recording their wettest April on record.
The amount of rain cold fronts generate depend heavily on the moisture feed from the oceans surrounding Australia. Last year, many cold fronts crossing the country were dry due to unfavourable climate drivers, with strong winds helping fuel bushfires, and dry westerly winds preventing any moisture build up over the country.
As the climate drivers in Australia are now neutral, moisture has built up over the country, with this unseasonably strong cold front producing widespread heavy falls.
Central and eastern Victoria and into southern NSW saw the heaviest falls, with widespread falls of 10-30mm. Some of these falls even spread into the far southwest of NSW, with Ivanhoe recording 32mm (heaviest April fall in at least 16 years) and Wentworth 29mm.
Across northeast Victoria and the southern and central NSW ranges/slopes and alpine areas, falls of 25-50mm were commonplace, with some alpine areas seeing falls in excess of 100mm. Mount Buller recorded 117mm to 9am, its heaviest April fall in more than three decades, and its best rain since December 2017.
In NSW, Bathurst had its heaviest April rain in more than 20 years (39mm), whilst Thredbo had its heaviest April rain in more than 30 years. Cowra's 51mm was its heaviest fall since December 2017. The nation's capital recorded a healthy 24.4mm
The rain has meant many areas across Victoria and inland NSW are seeing their wettest April on record, or at least in decades. Some notable locations (with more than 30 years of data) include Yanco (113.2mm, 60 years of records), Thredbo Village (323.3mm, 46 years of records), Scoresby (202.2mm, 66 years), Oyten (94.9mm, 104 years), Tatura (130.4mm, 75 years), Lake Eildon (207.6mm, 127 years) and Mount Buller (358.6mm, 34 years).
The front is continuing its March across the country today, with rain and thunderstorms impacting eastern NSW and into southern QLD, although falls are expected to be lighter and patchier than those seen further south.
In the wake of the front temperatures will plummet more than 5 degrees below average, which will linger into early next week. Snow has started falling over alpine areas and the Tasmanian highlands.
Image 1: 24 hour rainfall totals across the Murray-Darling Basin to 30th April, 2020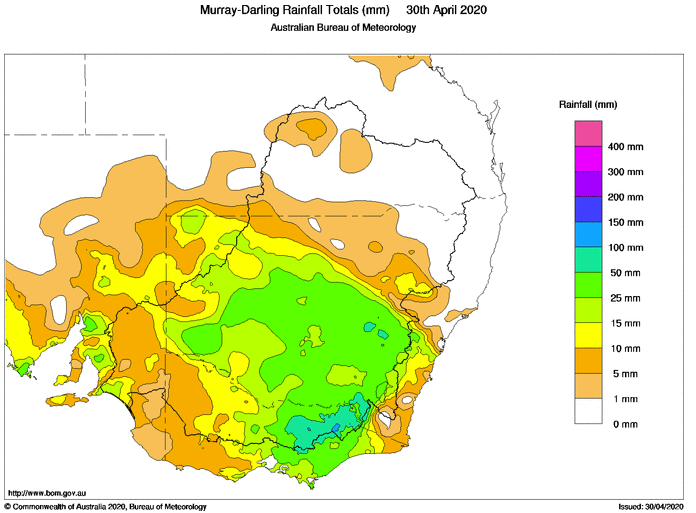 Image 2: April rainfall deciles across the Murray-Darling Basin, showing high rainfall totals throughout April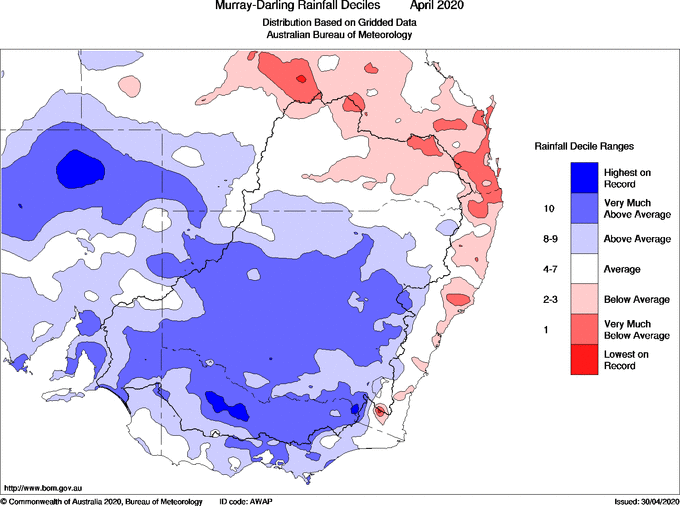 Image 3: Satellite image as cold front crosses the south east of the country. Speckled cloud shows the very cold air with the system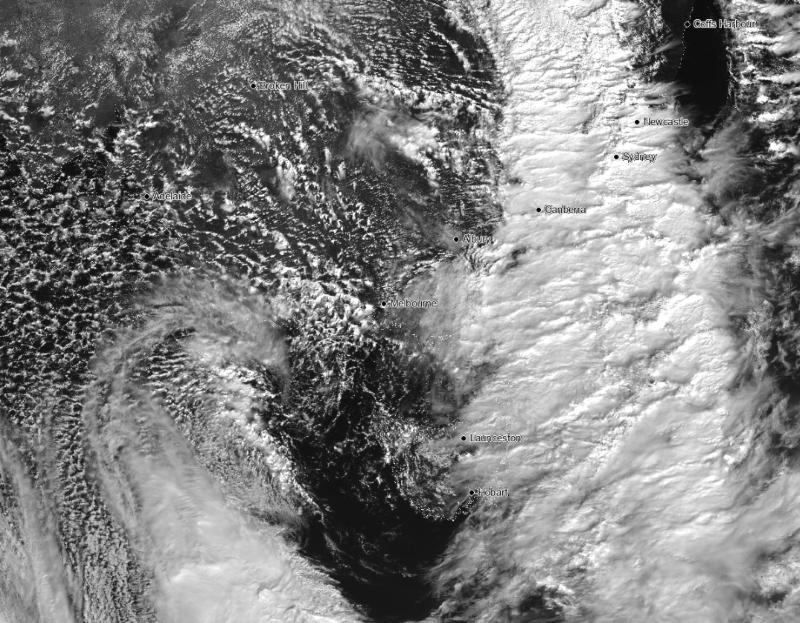 ---