Twitter

Instagram

Facebook | QLD | NSW | VIC | TAS | SA | WA | NT | NZ
---
Strong winds, rain and thunderstorms to lash southwest WA
4 May 2020
The balmy conditions that kicked off May will quickly turn to wet and windy weather today and persist into Tuesday and Wednesday as two strong cold fronts batter the South West Land Division.
As of 11am Western Standard Time, the first of these fronts was making its way over the South West district, and will spread throughout the Lower West and western parts of the South Coastal and Great Southern districts during the afternoon.
Showers and isolated thunderstorms just ahead of and associated with the frontal boundary may produce damaging winds with peak gusts up to 100km/h. Winds independent of showers and storms not expected to reach severe criteria, easing from the west in the wake of the front. Widespread falls of 5-10mm are likely, with isolated falls in excess of 20-30mm.
A more significant front will hit the region on Tuesday and into Wednesday, impacting the far southwest by late Tuesday morning, before spreading throughout large parts of the South West Land Division (including Perth) by Tuesday afternoon and evening, reaching South East Coastal areas on Wednesday.
Widespread wind gusts to 90-100km/h (independent of thunderstorms) are likely with the system, with the strongest gusts likely to impact coastal areas between Lancelin and Israelite Bay, although gusts up to 80km/h may extend as far inland as Kalgoorlie. More exposed areas may see gusts up to 110km/h.
Thunderstorms ahead of and with the system are also possible, although these will be isolated. During Tuesday morning and afternoon, storms are most likely on a line from Esperance to Geraldton, with a secondary band of storms possible over southwest coastal areas on Tuesday evening and into Wednesday morning. Thunderstorms over the southwest coastal areas will be associated with very cold upper level temperatures, and may bring squally winds and small hail.
Widespread falls of 5-10mm are again likely, although heavier totals in excess of 20mm are possible near thunderstorms. Over the far southwest coast, localised falls in excess of 30mm are possible.
Another weaker frontal system will brush the far southern coasts on Thursday, however a large high pushing in is expected to keep this front from having too much of an impact apart from a few showers. This high will cause settled conditions to return on Friday and into the weekend.
Image 1: 850mb temperatures across western Australia on Wednesday 6th May showing the temperature gradient over the state (Source: Weatherwatch MetCentre)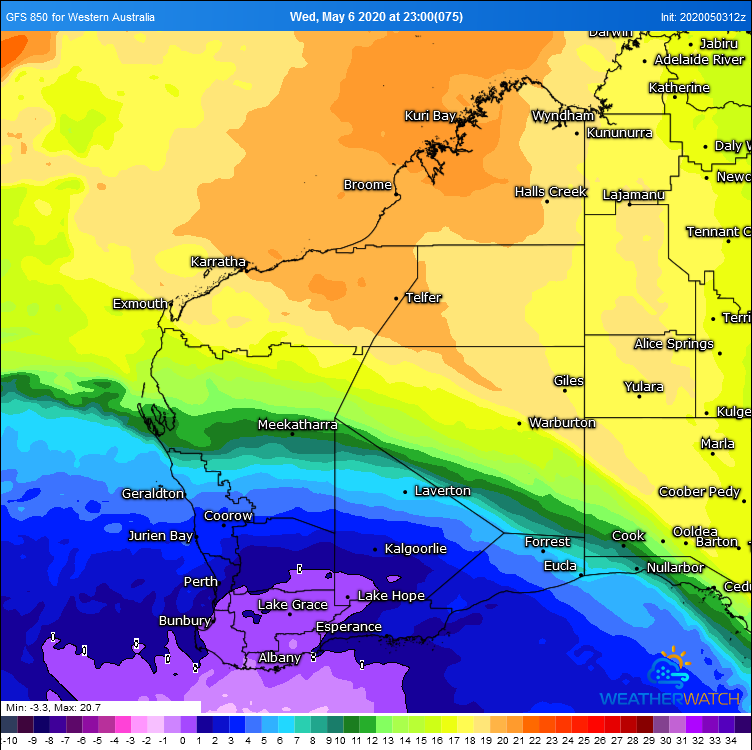 Image 2: Estimated wind gusts on Tuesday 5th May evening/Wednesday 6th May morning across southwest WA (Source: Windy.com)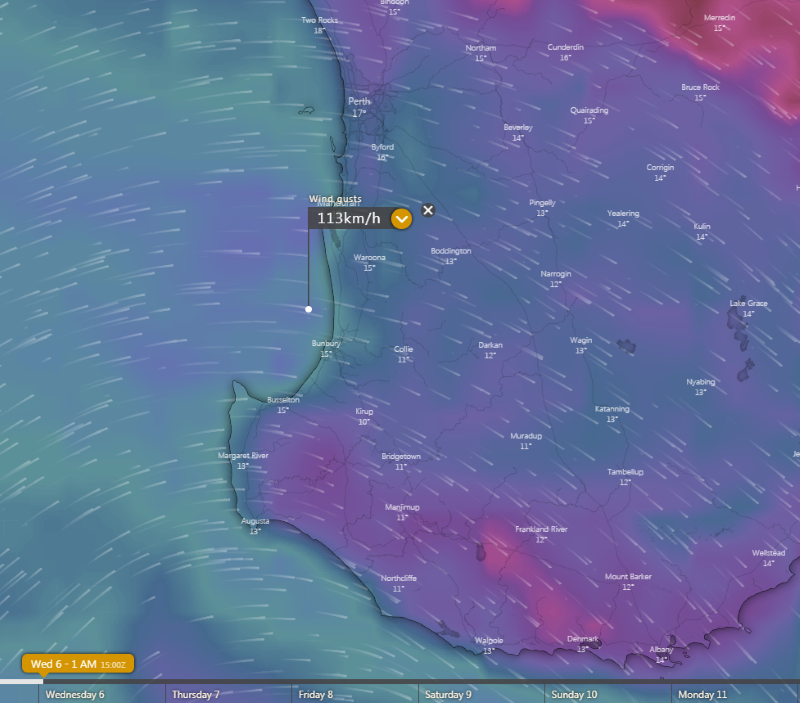 Image 3: Rainfall accumulation over the southwest of the state (Source: Weatherwatch Metcentre)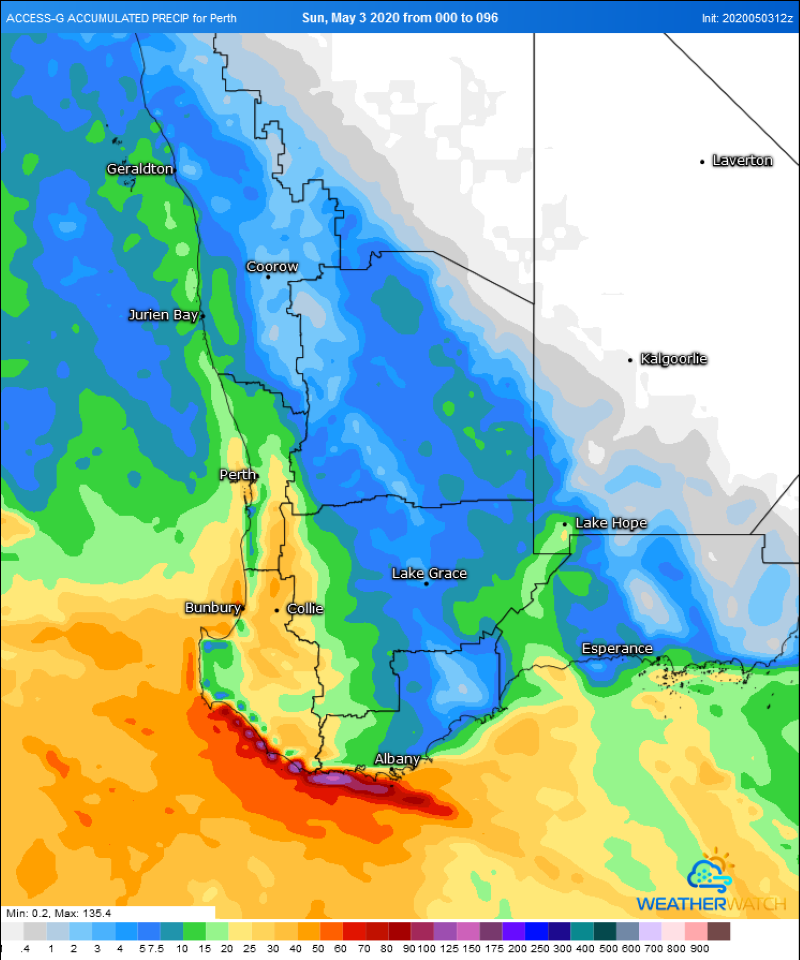 Image 4: Thunderstorm forecast from ECMWF Model on Tuesday 5th May, 2020 afternoon (Source: Windy)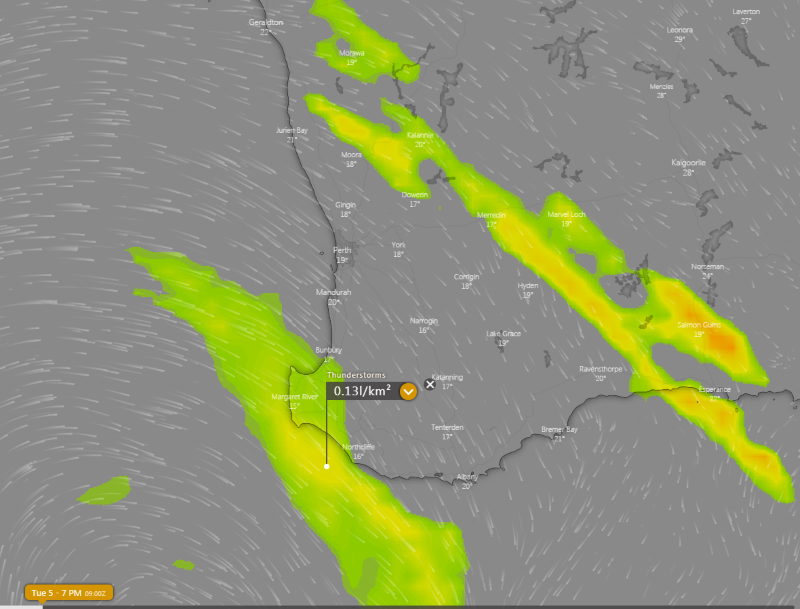 ---