Twitter

Instagram

Facebook | QLD | NSW | VIC | TAS | SA | WA | NT | NZ
---
Cold blast to sweep across southeast Australia this weekend
8 May 2020
It's been a balmy end to the working week for many parts of the southeast, however temperatures will plummet from tomorrow as a cold front sweeps across the southeast.
Sydney rose to 28.5 degrees today (Friday 8th May), more than eight degrees above average for May. This was the warmest it has been this late in autumn since 2012, and just the fourth time on record it has been this late in the season since records began in 1859.
Other parts of eastern and northern New South Wales and eastern Victoria also soared more than five degrees above average, including 26.5 degrees at Ulladulla (7.4 degrees above average) and 26.3 degrees at Nowra (6.7 degrees above average).
Saturday will be a volatile day across the southeast, as a cold front surges across South Australia, Victoria, Tasmania and southern NSW, whilst warm weather and possible thunderstorms affect the remainder of NSW. Wind gusts of around 100km/h are expected to affect the alpine areas of NSW and VIC ahead of the front.
Melbourne is expected to reach just 14 degrees, Hobart 13 degrees and Adelaide 16 degrees as the front sweeps through in the early hours of Saturday morning. Thunderstorms may develop on and in the wake of the front, although these are likely to be brief and short-lived. However, the very cold airmass associated with the system may cause small hail in any showers and storms, whilst any precipitation is expected to fall above 900 metres as snow in southern NSW/VIC and 700 metres in TAS.
Meanwhile Sydney is expected to reach 27 degrees on Saturday, again well above the May average. Further north, Brisbane will reach 27 degrees on Saturday, and 29 degrees on Sunday. The clashing airmasses will cause showers and storms to develop across the state, particularly over the central and northern inland.
As the change sweeps through the remainder of the southeast by Sunday, temperatures will become much cooler. Sydney will reach just 19 degrees in Sydney and 13 degrees in Canberra (followed by an overnight low of below freezing). Whilst it will warm to 29 degrees in Brisbane, a cooler change will arrive by the evening, dropping maximum temperatures to the low 20s the following days.
A high will cause settled conditions throughout next week with temperatures trending close to average.
Image 1: Temperature contrast across southeastern Australia on Saturday 9th May, 2020 showing the frontal boundary (Source: Weatherwatch Metcentre)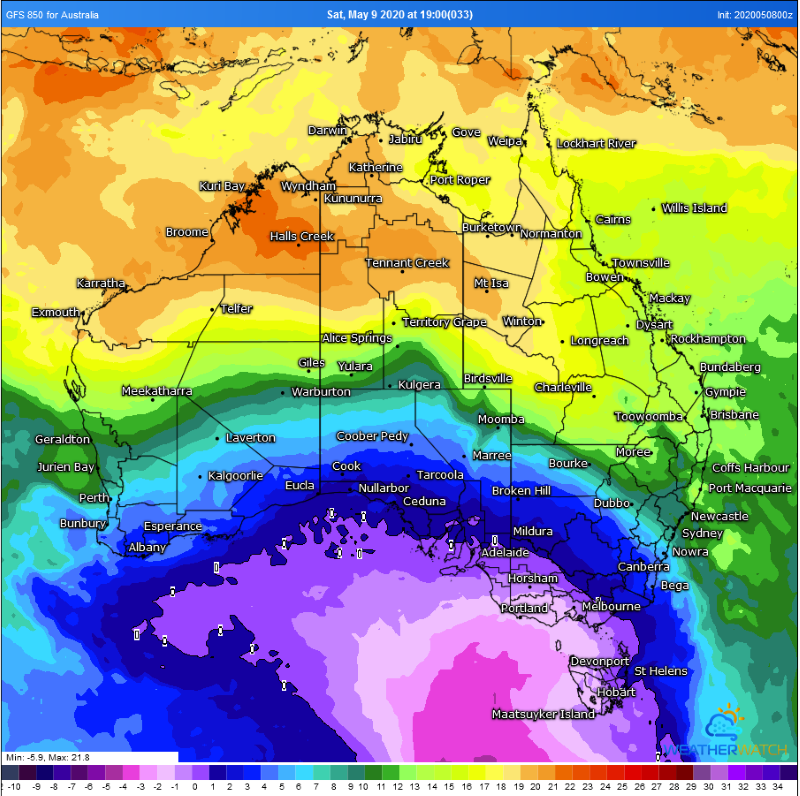 Image 2: Strong wind gusts forecast across northeast VIC and southeast NSW on Saturday 9th May, 2020 (Source: Windy)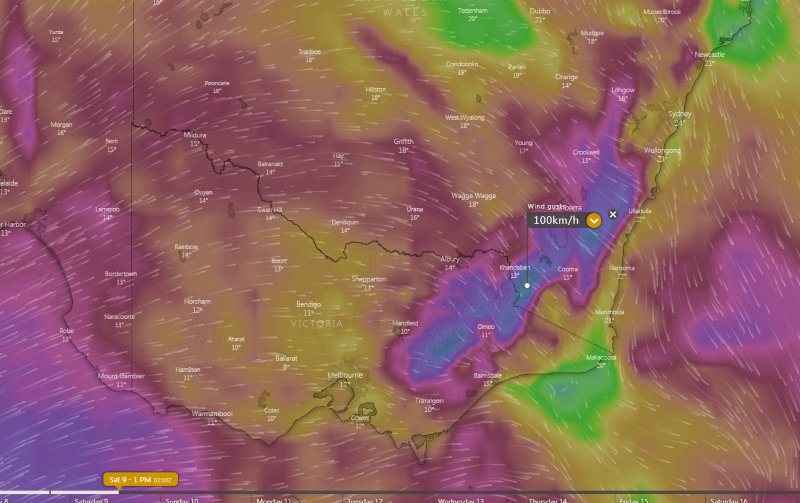 ---