Twitter

Instagram

Facebook | QLD | NSW | VIC | TAS | SA | WA | NT | NZ
---
Cold blast with damaging winds for SE Australia
Saturday, May 9th 2020
A strong cold front will continue to sweep across most of New South Wales today and into far northeastern regions of the state tomorrow, with cold temperatures expected through western, southern and central regions post-change.
A Severe Weather Warning is current for damaging winds for people situated within the Snowy Mountains and ACT forecast districts of NSW, where winds gusts may reach or exceed 90km/h for these areas with gusts to 120km/h likely, especially about elevated terrain. Scattered tending isolated showers and thunderstorms are also likely to continue across the vast majority of New South Wales today with exception to the far southeast, far northeast and far western regions.
Thunderstorm activity is expected to become more active during the afternoon and early evening where some thunderstorms may have the potential to become severe for the elements of localised damaging winds and large hail, with more scattered activity through parts of the NW Slopes and Plains, Northern Tablelands, Hunter and Mid North Coast regions expected. Gusty winds may also occur about parts of the Hunter and Northern Slopes and Plains later in the day and into the evening. Isolated thunderstorms are also expected about the far northeast of VIC where localised damaging winds may occur. An 89km/h wind gust was recorded at Albury Airport thunderstorm at 12:43pm this afternoon from an isolated thunderstorm.
Thredbo Top Station recorded a peak wind gust of 117km/h at 12:09am overnight with sustained wind gusts over 100km/h recorded since 8:00am this morning, Saturday May 9th 2020. Slightly more modest wind gusts were recorded at Mount Hotham in northeastern Victoria overnight and into this morning, with peak wind gusts reaching 89km/h at 10:30am and 10:33am respectively, with an accompanying chilly 1.6°C temperature. Thredbo Top Station did also see some snowfall overnight, with more expected into this evening lowering to 1200m in elevation.
A Severe Weather Warning also continues for damaging winds for people situated within the East Gippsland, North East and West and South Gippsland forecast districts today with strong northerly winds expected to continue over the eastern ranges today before easing slightly into tomorrow. Localised strong wind gusts may occur with isolated shower activity tomorrow, with the slight chance of small hail occurrences.
Sheep Grazier Warnings are current for the entire state of VIC for cold temperatures, showers and westerly winds today contracting into southern districts tomorrow. A Sheep Graziers Warning is also current for the South West Slopes of NSW where cold temperatures, showers and gusty winds are expected especially about elevated regions of the Snowy Mountains.
Looking ahead into Sunday and Monday, a high pressure system is expected to develop near the Great Australian Bight tomorrow extending a high pressure ridge across northern VIC and southern NSW during Monday, making way for the onset of cool and dry conditions. Morning fog patches and frosts are set to return for inland regions with partly cloudy conditions, isolated showers and light to moderate winds into early next week.
Image 1: Strong to gusty winds for Southern NSW at 16:00, Saturday, May 9th 2020 via Windy.com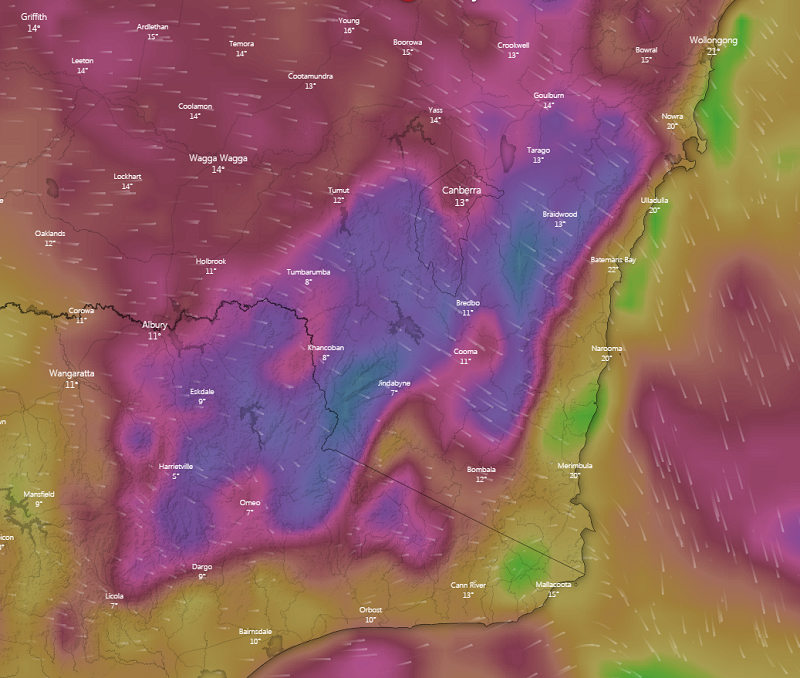 ---