Twitter

Instagram

Facebook | QLD | NSW | VIC | TAS | SA | WA | NT | NZ
---
Chilly nights, fog and frost for southeast Australia
14 May 2020
A large and slow moving region of high pressure will lead to a stunning run of sunny late autumn weather for the southeast into early next week, however overnight temperatures will be among the coldest seen so far this year for many areas with widespread fog and frost expected across the region.
A number of locations had their coldest morning of the year today, including -2.8 degrees at Fingal, -0.2 degrees at Launceston, 6.6 degrees in Melbourne CBD, 2.5 degrees at Mildura, 0.1 degrees at Horsham, -4.9 degrees at Mt Baw Baw (just 0.1c shy of its May record) and -1.2 degrees at Ballarat.
Tonight will be another cold one across the southeast and for many areas will be even colder than what was felt last night, as cool daytime temperatures give way to even clearer skies (than last night) tonight. Some notable centres likely to experience their coldest (or close to the coldest) nights of the year so far include: Melbourne 5 degrees, Adelaide 7 degrees, Bright 1 degree, Canberra 0 degrees and Perisher -5 degrees.
Whilst cloud traps incoming radiation (and leads to cooler days), it also absorbs the infrared radiation emitted from the earth's surface, slowing the rate at which temperatures fall at night time. Hence cool daytime temperatures, followed by a clear night (particularly if there is low humidity, as water vapour is the most potent greenhouse gas), is a recipe for widespread frosts.
With the high likely to linger around into early next week (leading to prolonged clear skies), similar conditions are expected for the next several days. Differences in overnight temperatures will depend on local effects (such as wind and cloud), however most areas will see temperatures remaining below average. Those over inland areas are much more likely to experience fog and frost, with only localised locations (particularly in valleys) likely to see frosts closer to the coast.
A strong front is likely to arrive from mid next week, bringing with it a burst of showers, snow, wind and small hail.
Image 1: Forecast temperature anomoly at 4am Local Time Friday 15th May, 2020 (Source: wxcharts.com)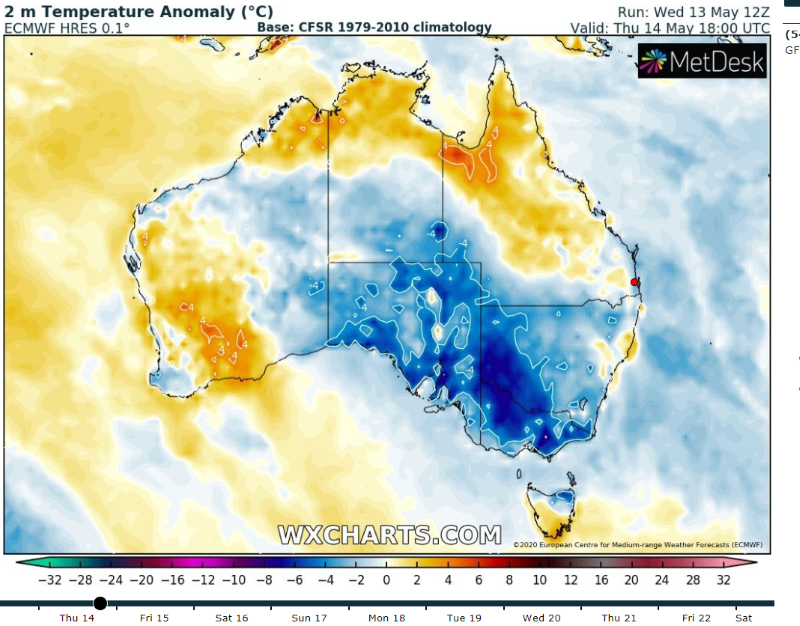 Image 2: Meteye Frost forecast for southeastern Australia at 4am Local Time Friday 15th May, 2020 (Source: Bureau of Meteorology)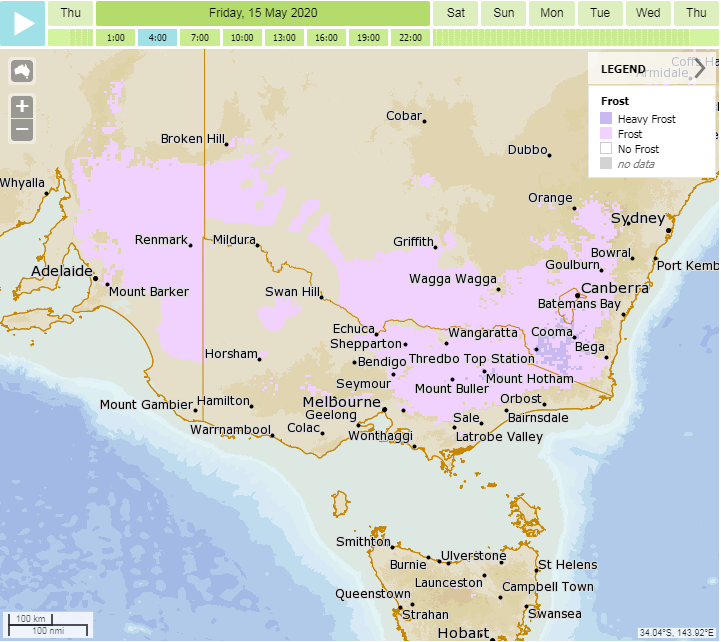 ---