Twitter

Instagram

Facebook | QLD | NSW | VIC | TAS | SA | WA | NT | NZ
---
Cold fronts to bring more rain, storms and snow to southeast Australia
Tuesday, May 19th, 2020
Two frontal systems are set to bring the run of stunning sunny days to an end over southeastern Australia, with rain and thunderstorms set to develop from this afternoon, before a burst of showers, small hail and snow on Wednesday and Thursday.
The first of these fronts is crossing southeastern South Australia this afternoon and will spread east across Victoria and Tasmania into this evening and overnight, and is producing rain and thunderstorms on its boundary. Strong wind shear associated with the system will mean thunderstorms will move quickly and have potential to become severe, bringing the threat of damaging wind gusts and heavy rainfall.
This system will bring widespread falls of 1-5mm, however parts of northern VIC, central and northern VIC and far southern NSW will see heavier falls of 5-10mm with heavier totals of 15-30mm possible across northern TAS and the VIC and NSW alpine areas.
Winds are also expected to strengthen ahead of this front, particularly about alpine areas. Gusts may reach 90-100km/h about elevated areas of VIC (such as the Grampians and VIC Alps) and the NSW Snowy Mountains from this evening and into Wednesday morning, before easing.
The second front will spread across the southeast from Wednesday afternoon and evening, and push into NSW on Thursday. This front will be associated with significantly less thunderstorm activity, but will produce more good falls, especially over southeast SA, southwest VIC and western and northern TAS, where widespread falls of 10-30mm are likely.
A very cold airmass will also be associated with this front, with snow developing over alpine parts of VIC and NSW, and possibly spread up to the central NSW ranges on Thursday. Over lower lying areas, small hail is possible with any showers.
As this very cold airmass moves over NSW it will potentially cause an East Coast Low to develop off the coast. For more information on this event go to http://www.ewn.com.au/news/weather-news-2020-05-18.aspx
Image 1: Accumulated precipitation across southeastern Australia over the next 72 hours from the ACCESSG Model (Source: Weatherwatch Metcentre)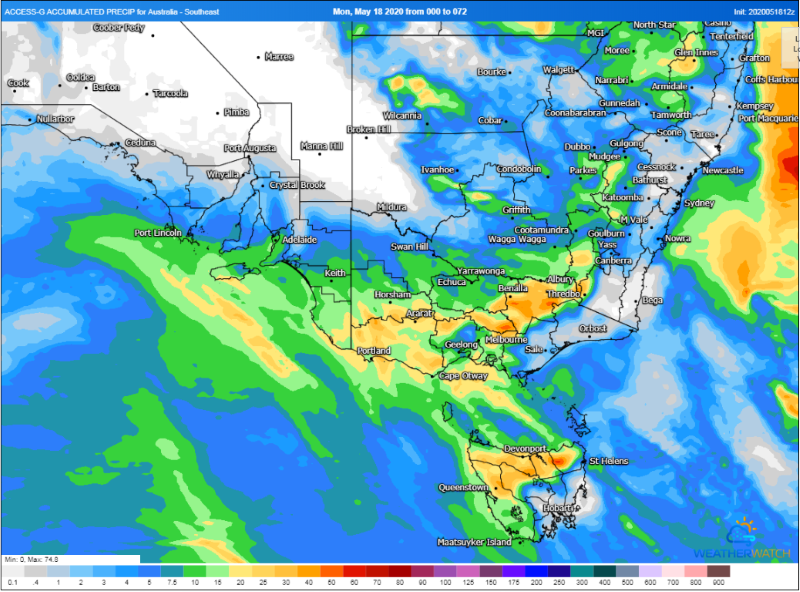 Image 2: Thunderstorm forecast at 1am Wednesday 20 May, 2020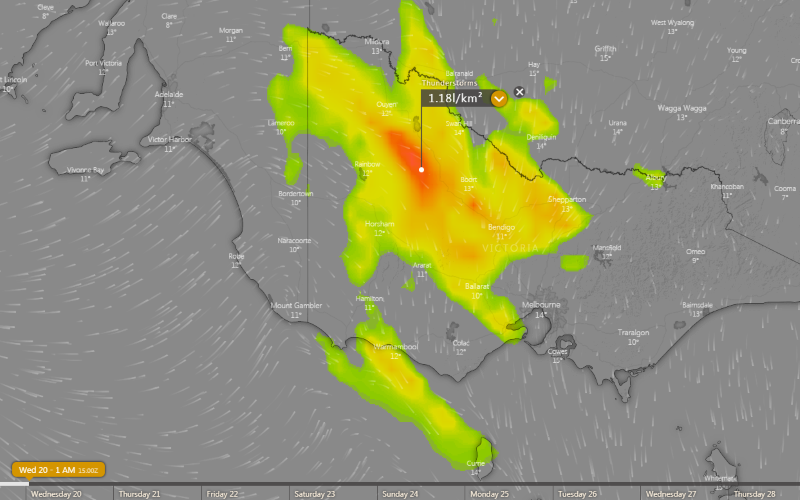 ---