Twitter

Instagram

Facebook | QLD | NSW | VIC | TAS | SA | WA | NT | NZ
---
Wintry chill grips northern and eastern Australia
Friday 22 May 2020
A dynamic weather setup over northern and eastern Australia is causing unseasonably cold conditions to grip parts of the country, with some areas seeing their coldest May days in decades.
An east coast low developed off the New South Wales Coast last night (helping drive heavy rainfall over the Central NSW coast and snow over the NSW Central Tablelands), a thick northwest cloudband is stretching across the north of the country.
While the Indian and Pacific Oceans are feeding these systems with moisture, a very cold upper level airmass is helping amplify them further, helping the low spin up off the coast and causing more widespread rain and thicker cloud across the north of the country.
The tropical Queensland coast was drenched early to mid this week, with some of the heaviest rain in decades as more than 300mm fell in 24 hours in some areas, and 48 hour totals above 400-500mm. Overnight, heavy rain and small hail hit the Sydney areas, Blue Mountains and Illawarra, with widespread falls of 20-40mm, including 83mm at Tomerong Creek (just west of Jervis Bay). The airmass got cold enough for snow above about 800 metres, with up to 10cm of snow reported about the Oberon Plateau, and a few centimetres reported around Blackheath and Katoomba.
Elsewhere, rainfall has been less substantial, however the thick cloud has been putting a sharp lid on temperatures. Yesterday, Tennant Creek (NT) and Kununurra (WA) had their coldest May day since 1979. Today, Katherine is on track to see its coldest May day since 1959, while Tennant Creek has been even colder than yesterday (reaching just 14.5 so far), also putting it on track for the coldest May day since 1959.
Further south, Brisbane has reached just 17.9 degrees so far today, currently on track to see its coldest May day since 1990, whilst Longreach has struggled to just 14.5 degrees so far today, currently the coldest May on record at the present site (51 years).
Temperatures will stay cold tomorrow for many areas, with places such as Brisbane, Townsville and Mackay only struggling into the mid-to-high teens. Charters Towers (14 degrees) and Georgetown (18 degrees) are forecast to see their coldest May day on record.
The thick cloudband will clear offshore on Sunday, causing temperatures to warm closer to normal although they are expected to remain cooler than average into early-to-mid next week.
Image 1: Satellite Image of Australia showing the East Coast Low of the NSW Central Coast and the thick cloudband over the nation's north (Source: Bureau of Meteorology)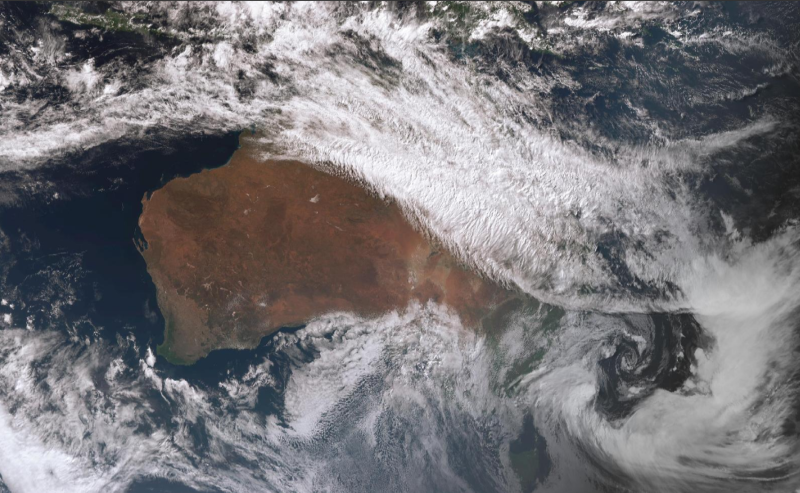 Image 2: Forecast Temperature Anomoly for Australia for Saturday 23 May, 2020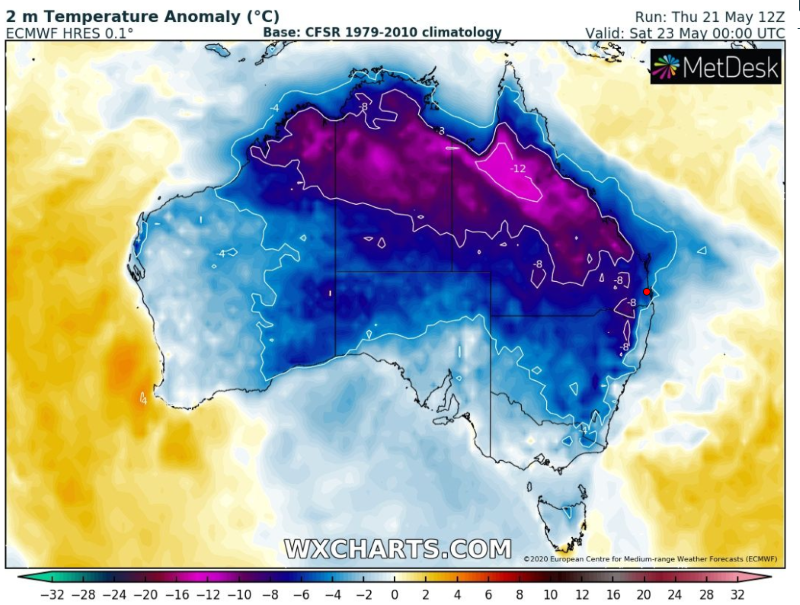 ---