Twitter

Instagram

Facebook | QLD | NSW | VIC | TAS | SA | WA | NT | NZ
---
Wet winter likely for most of Australia
Thursday 28 May 2020
The Bureau of Meteorology has released their winter outlook for Australia, with wetter than average conditions predicted for large parts of the country.
A warmer than average eastern Indian Ocean will be one of the main drivers of this wetter pattern, increasing the availability of moisture of any systems crossing the nation. A warmer Indian Ocean has been strongly linked to an increase in northwest cloudbands, which are well known generators of widespread rainfall across inland areas and cold day time temperatures, such as the one that affected Australia last week.
Meanwhile, the tropical central and eastern Pacific Ocean will cool over the coming months, with several models hinting at a La Nina developing later this year, which would further enhance the wet signal over Australia. This is almost the opposite to what was experienced last year when Australia had record dry conditions, due to a cool Indian Ocean and a El Nino Modoki (where warming occurs in the central Pacific Ocean instead of the eastern Pacific).
Wetter than average conditions are likely across large parts of the country, although this becomes more uncertain over southwest WA, Tasmania and the NSW and VIC coasts where there are no strong indications of whether conditions will be wetter or drier than average.
More cloud cover will cause an increased chance of cooler than average days over southeast WA, southern SA, southwest NSW and western Victoria, however warmer than average daytime temperatures are likely across many parts of northern and eastern Australia. Nights will likely be warmer than average, as cloud traps in the warmth in at night time.
With these climate drivers in place and the enhanced wetter, it is looking unlikely the coming bushfire season will be anywhere near as bad as the one just gone.
Image 1: Chance of exceeding the median rainfall for June to August 2020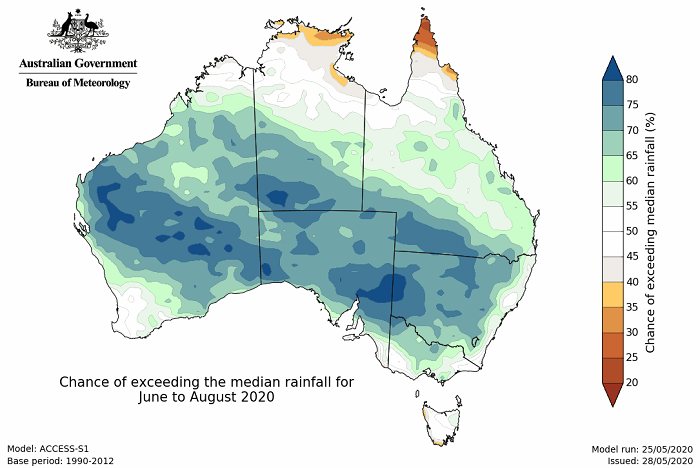 Image 2: Chance of exceeding the median maximum temperature for June to August 2020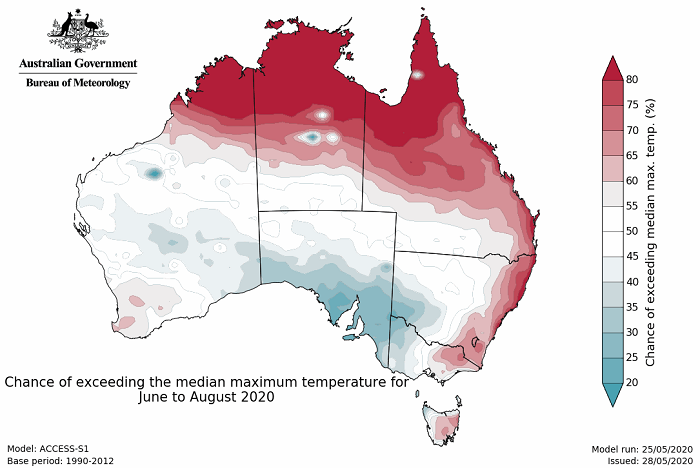 ---