Twitter

Instagram

Facebook | QLD | NSW | VIC | TAS | SA | WA | NT | NZ
---
Wintery blast for Southeastern Australia this weekend
Friday, 29th May 2020
A significant cold front is expected to move across the Great Australian Bight as a high pressure systems shifts further east of Tasmania and into the Tasman Sea. Model ensemble confidence is good predicting the passage of the front to move through Bass Strait and affect parts of southern Victoria and Tasmania late Saturday night and into early Sunday morning.
The potential for severe thunderstorms is considered low at this stage, however there is the high potential for squally showers on both Saturday and Sunday, becoming slightly less likely on Sunday in wake of the front, with daytime temperatures plummeting to between 14° to 10° with overnight temperatures returning to single digits.
During Monday, cold and cloudy conditions are expected with potential snow showers are expected typically falling above 1000m in altitude and may lower to 850m later in the evening for elevated regions through Tasmania. Daytime temperatures are expected to become cooler than the weekend into early next week with a projected maximums of between 12° to 9° during the day, depending on location, with overnight minimums expected to 4°.
Snow showers are also possible during Monday especially about the southern inland regions of Victoria, with the slight chance of small hail mixed in with activity. These should also be mostly confined to the Australian Alps above 800m with the potential for sleet and snow flurries along the southern ranges of New South Wales northward towards the Central Tablelands.
On Tuesday and into the mid-week, a large and very broad low pressure system is then expected to lie east of Tasmania and Victoria in the Tasman Sea, directing strong to gusty winds and potentially damaging surf conditions along coastal districts with emphasis on eastern coastal parts of Tasmania, eastern Victoria and southeastern coastal districts of New South Wales. Timing and intensity of the low is subject to change as we get closer towards the start of next week.
Image 1: European Ensemble (ECWMF) via Windy. Peak wind gusts for Saturday - 11:00pm 30th May, 2020.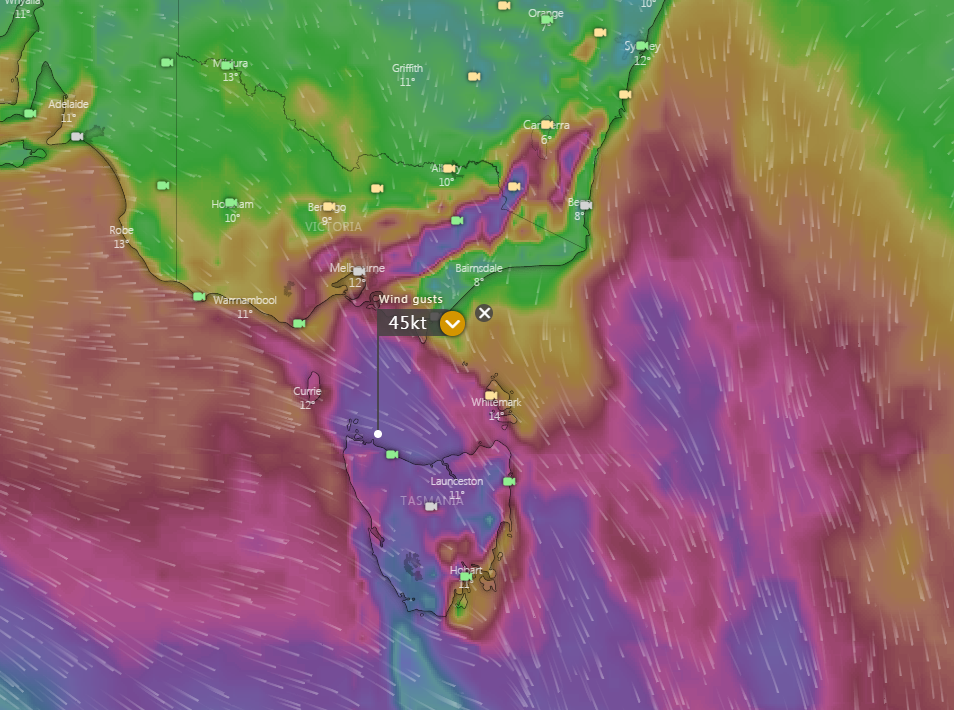 ---