Twitter

Instagram

Facebook | QLD | NSW | VIC | TAS | SA | WA | NT | NZ
---
Wet and stormy week for NSW and QLD
Monday 8th March 2021
The second week of March is set to be a wet and stormy week for large portions of NSW and Southern QLD with the potential for severe storms each day.
A surface trough lying through inland QLD and NSW will deepen today with a humid and unstable airmass to its east. This airmass will give way to thunderstorms Monday afternoon and evening, with the potential for a few to become severe with damaging winds, large hail and heavy rainfall leading to flash flooding.
During Tuesday, similar conditions are expected, with Monday?s showers and storms likely to persist into the early morning for some locations before clearing with another round of thunderstorm activity expected. Damaging winds and heavy rainfall leading to flash flooding will be possible with storms
As we move into Wednesday, a small surface low may develop across Central-Western NSW with showers and patchy rain periods ongoing for parts of Northern NSW and far Southern QLD. Another round of storm activity is expected to develop across Western QLD. As the low drifts a little further east on Thursday, potentially severe storms will redevelop for inland NSW and QLD with damaging winds, heavy rainfall and large hail possible.
A complicating factor for severe storms on each given day will be the amount of convective overturning and potential cloud cover/ongoing morning shower and storm activity across the region. This could diminish the severe storm threat for some locations this week.
Image 1: GFS thunderstorm potential. Valid 8/03/2021 - 11/03/2021. Images via WeatherWatch MetCentre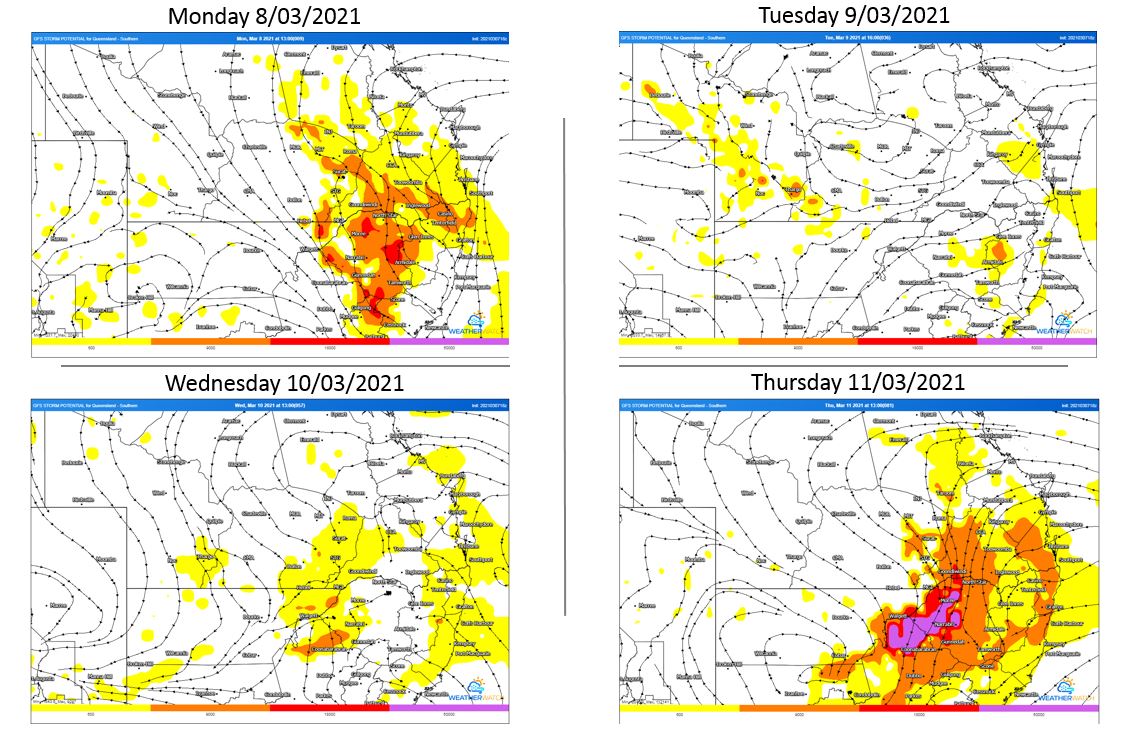 ---