Twitter

Instagram

Facebook | QLD | NSW | VIC | TAS | SA | WA | NT | NZ
---
Cloudy, wet week for parts of eastern Australia
Tuesday 16th March 2021
Parts of Australia'a east coast will barely see the sun this week as persistent onshore winds drive showers over the region, with inland areas also likely to see some follow up rain as these humid winds feed a trough building over the inland.
Widespread rain drenched parts of central and northern NSW and southern and central inland QLD on Sunday and Monday. Widespread falls of 20-40mm were seen over northern Sydney, the Hunter, Mid North Coast and North West Slopes as well as the QLD Darling Downs, with some areas seeing their best rain in months. Some storms produced torrential rain, with 108mm in the 24 hours to 9am being recorded at Upper Missabotti west of Nambucca heads (NSW), and 103mm at Sengs Road (near Jandowae, QLD). Similar totals were seen across QLD's Wide Bay and Burnett and Capricornia with many areas seeing their best rain in months. There were a few localised falls in excess of 100mm, including Maryborough which recorded 103mm to 9am Tuesday, its heaviest since February 2018.
For many parts of the east coast, particularly the NSW Coast, cloudy skies are going to be a feature for the next week as a high over the Tasman Sea continues lead to humid onshore winds and showers. This will not only lead to a sustained run of cool weather but also bring substantial rain. Across the next week, widespread falls of 50-150mm are likely over many parts of the NSW and QLD coasts and adjacent ranges, but for some places, particularly northeast NSW, falls of 300-400mm are likely leading to the risk of flooding.
Whilst coastal areas get soaked, inland areas aren't going to miss out either as these moist onshore winds continues to feed into low pressure troughs across the eastern interior. Over the next two days, southern and central inland QLD and northern NSW will see areas of rain and storms, with many areas likely to pick up 20-40mm, with isolated pockets of 100-150mm possible under storms.
Whilst there is a lot of model uncertainty about the strength and timing of the system, there are some indications of further rain developing over the eastern interior on the weekend and spreading across inland NSW, QLD and parts of Victoria early next week.
Image 1: Rain accumulation over the next 10 days from the ECMWF Model (Source: Windy.com)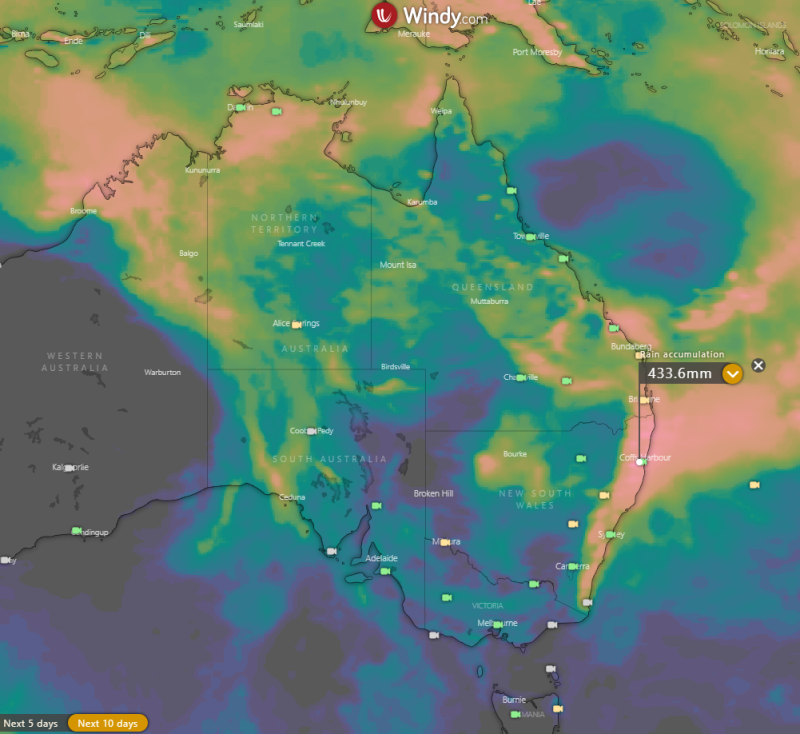 Image 2: Rain accumulation over the next 7 days from the GFS Model (Source: Weatherwatch Metcentre)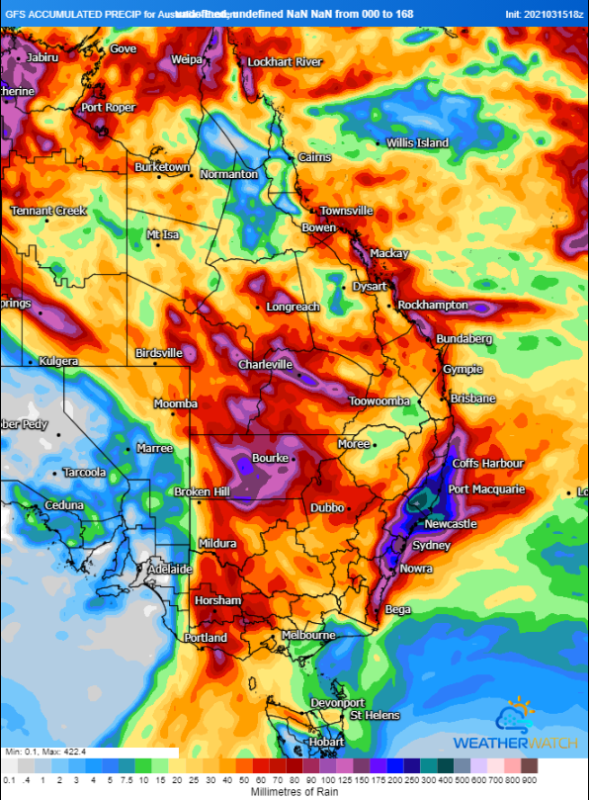 Image 3: Rain accumulation over the next 7 days from the ACCESS Model (Source: Weatherwatch Metcentre)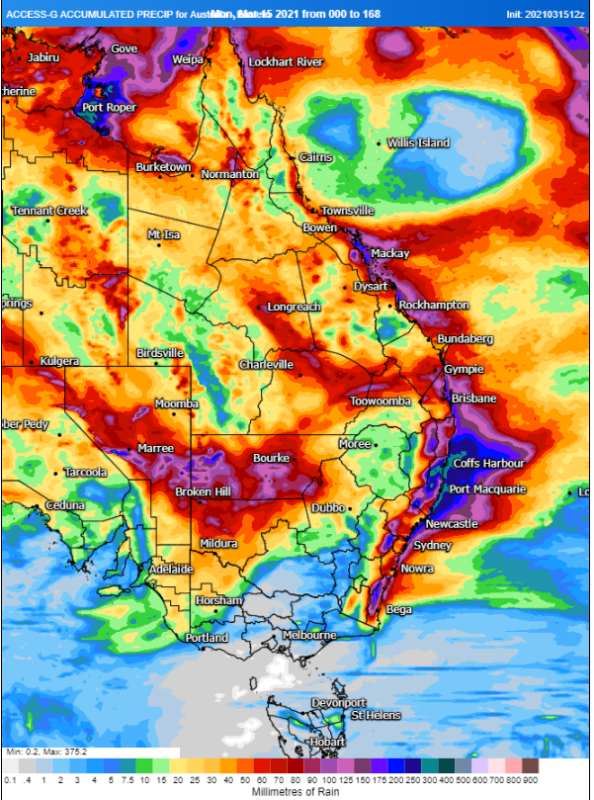 ---