Twitter

Instagram

Facebook | QLD | NSW | VIC | TAS | SA | WA | NT | NZ
---
Eastern Queensland and Northern NSW on alert for more heavy rain
Friday 2nd April 2021
Just two weeks after moderate to major flooding affected parts of South Eastern Queensland and Northern NSW, a second rain-baring system is set to threaten the region with another round of flooding late on the Easter long weekend.
A trough in the Coral Sea will deepen during the weekend with the potential for a small low pressure system to develop in response to an upper system in western QLD.
Showers, isolated thunderstorms and gusty winds are expected to develop across parched regions of the Capricorn Coast and Wide Bay and Burnett region overnight Saturday and into Sunday, before slowly moving south to SE QLD and the Northern Rivers of NSW on Monday and into Tuesday.
Whilst showers and gusty winds are expected for coastal regions, the exact movement of this potential low will determine how much rain will fall. It is a delicate balance with these systems as a shift of 50km further east than expected could remove the significant rainfall off the coast altogether. Conversely, should this low tack very close to the coast, a significant rain event would occur, increasing the threat for significant river flooding.
At this time, model guidance is split as to which scenario will unfold, although the low sitting off the QLD coast is favoured. However, falls of at least 50-100mm are expected from Rockhampton to Coffs Harbour for the extreme coastal fringe, with gale force winds, potentially reaching damaging status (90km/h) for exposed coastal locations and elevated terrain.
A large and dangerous swell will also develop for coastal regions, with the potential for beach erosion and beach closures likely into early next week.
A flood watch remains current for rivers and creeks from Rockhampton to Grafton with minor to moderate flooding possible with many catchments still saturated and likely to respond quickly to heavy rain.
From Wednesday onwards, this low will quickly shift southeast into the Tasman Sea, with a few showers likely to persist across northern NSW.
Image 1: GFS/ACCESS G/EC forecast models for 1pm 5/04/2021. Images via WeatherWatch MetCentre and Windy.com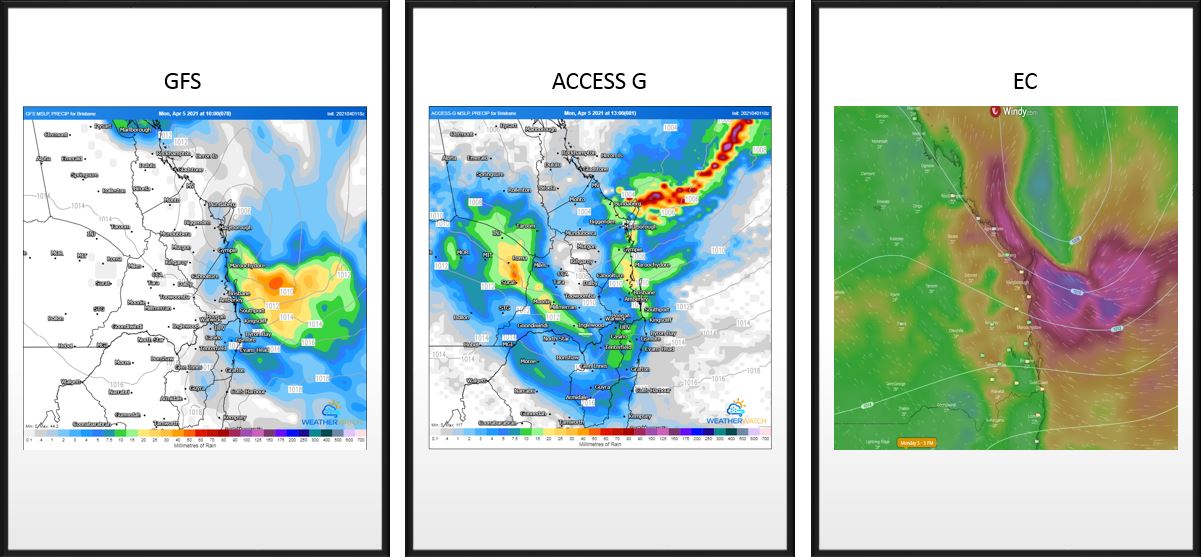 ---