Twitter

Instagram

Facebook | QLD | NSW | VIC | TAS | SA | WA | NT | NZ
Back to Latest Severe Weather News
Another run of record April heat finally ends over Adelaide
24 April, 2018
Adelaide has notched up another April record after enduring five consecutive days of temperatures exceeding 30 degrees.
A slow-moving trough filtered a very warm airmass over South Australia, including the state capital between Thursday last week and Monday, with the mercury cracking 30 degrees each day in this spell.
Whilst no individual heat records were set in this spell (the hottest day was 32.2 degrees at Kent Town site on Friday), the longevity of the heat was highly unusual for April.
Only twice before in the city's history had 30 degrees been exceeded on five consecutive days on April, however these both occurred earlier in the month, with this latest spell making it the latest this type of heat has been experienced in autumn since records began.
Along with large parts of Australia, this latest spell of heat is just something else to add to a month that has been characterised by record heat. The West Terrace site broke its previous April record twice this month on the 9th and again the 11th, reaching 36.3 degrees, whilst mean maximum temperatures are running five degrees above average.
The end of the month will see temperatures drop closer to average in the wake of a cool change, meaning the city is likely to just fall shy of a record hot April.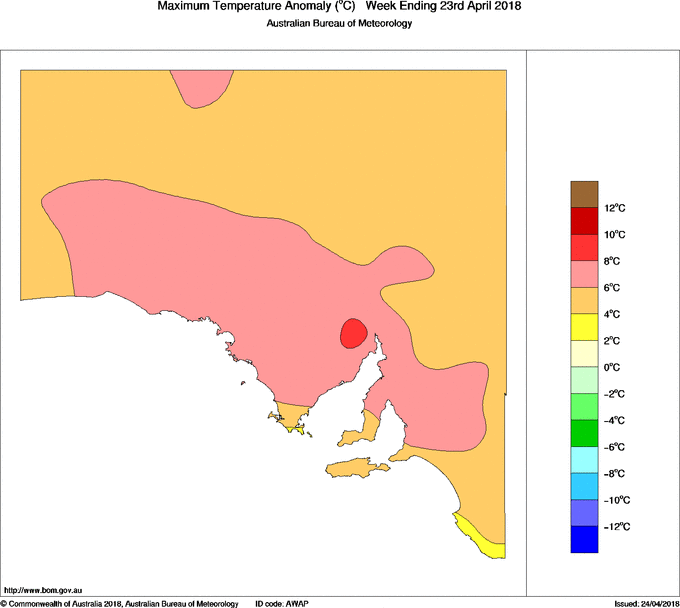 ---
Showers and thunderstorms drop much needed rain over NSW
20 April, 2018
Thunderstorms flared up across central and northern New South Wales yesterday afternoon, bringing heavy rainfall as well as some reports of hail.
A low pressure trough fed by warm and humid onshore winds caused the storms to flare up from the afternoon, with the most widespread activity across the Central Tablelands, Mid North Coast, North West Slopes & Plains and Upper Western districts.
Whilst there were reports of small hail from Bathurst and in parts of the Hunter valley, the thunderstorms mainly brought much needed rainfall.
Over central-east NSW, some standout totals in the 24 hours to 9am included:
Broke: 35mm
St Albans: 46mm
Eleebana (Lake Macquarie): 35mm
Williamtown: 27mm
Nelson Bay: 26mm
Meanwhile, in northwest NSW Brewon recorded 70mm in the 24 hours to 9am today, whilst Lightning Ridge picked up 27mm and Barraba 28mm.
Showers and storms have cleared the regions today as the trough moves into northeast NSW and QLD.
Image: Rainfall in the 24 hours to 9am today (Source: Bureau of Meteorology)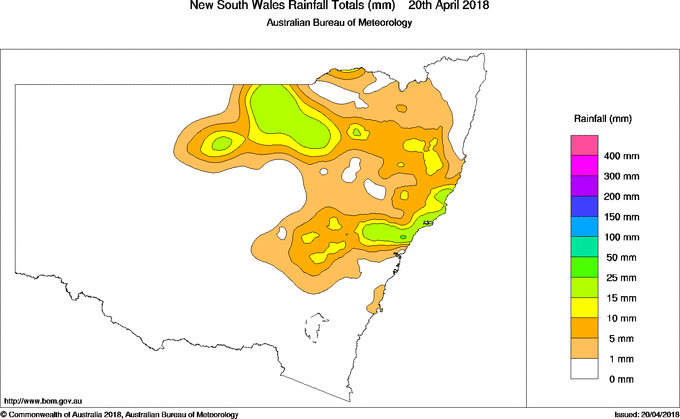 ---
Western Australia to see first significant cold front of the season over the weekend
20th April, 2018
A low pressure system to the south of WA and associated cold front will sweep across south-western parts of the state from Saturday into Sunday with increasing instability.
Overnight Saturday into Sunday a large band of showers, rain period and thunderstorms stretching from Geraldton down to Albany are expected to develop along the advancing cold front..
A few thunderstorms are likely to be severe and capable of producing damaging winds, frequent cloud-to-ground lightning and the potential for hail thanks to the cold upper level temperatures associated with this system. Areas of moderate to locally heavy falls will also be possible with activity over the weekend.
During Sunday conditions should gradually improve, however showers likely to persist with gusty onshore winds. Conditions should become fine with slightly warmer temperatures early to mid week.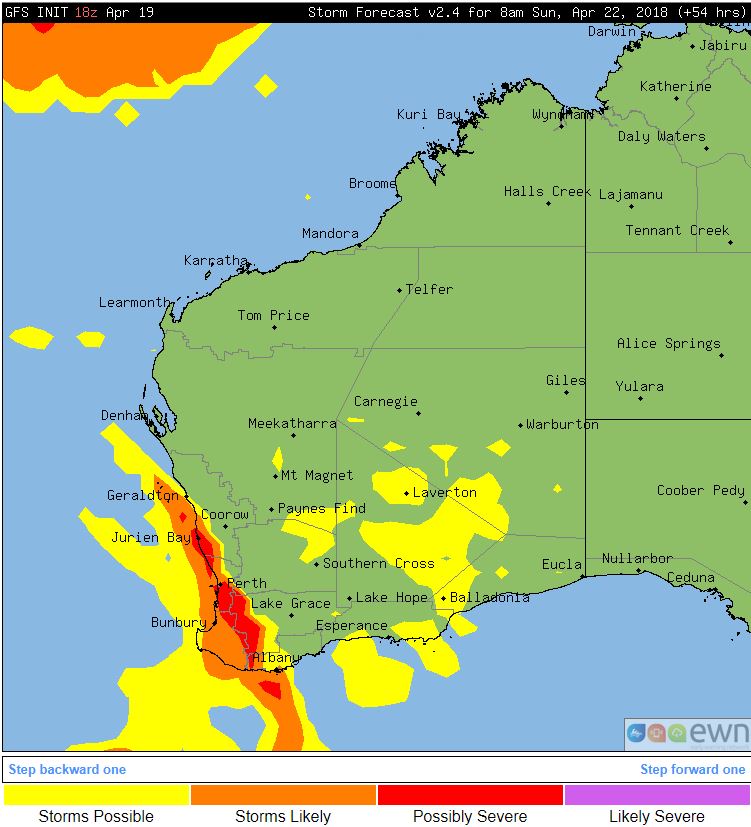 ---
Southern states finally getting a taste of autumn, but balmy conditions returning soon
18 April, 2018
Parts of Victoria are finally tasting autumn as chilly conditions grip the region after an unusually warm start to the month. However, balmy conditions are set to return over the next few days.
Temperatures have generally only been reaching the mid-to-high teens since a strong cold front struck the region over the weekend. The change was a welcome relief from earlier in the month when the mercury pushed into the high 20s to mid 30s.
The mornings have been noticeably chilly with some areas seeing their coldest April mornings since 2009, as a high pressure ridge (leading to clear skies and light winds) has combined with the cooler airmass over the region.
Melbourne dropped to just 6.2c this morning, and Essendon 3.2c, their coolest April morning 2009 (which saw a record cold stretch of cold mornings in many parts of TAS and VIC).
Hobart dipped to 5.1c this morning, which was its fourth consecutive night below 7 degrees, the first such stretch in April since 2009.
However, the warmth will return quite quickly, with Melbourne set to experience some unusual late season heat again, climbing to 27 degrees on Friday and 25 degrees by Saturday, with temperatures in the low-to-mid 20s persisting late into the month.
Hobart will climb into the low 20s by Friday, with similar temperatures also persisting late into the month.
There are some indications a substantial front may lead to significant cooler conditions late in the month.
Image: Maximum temperature forecasts from the OCF model across VIC and TAS on Friday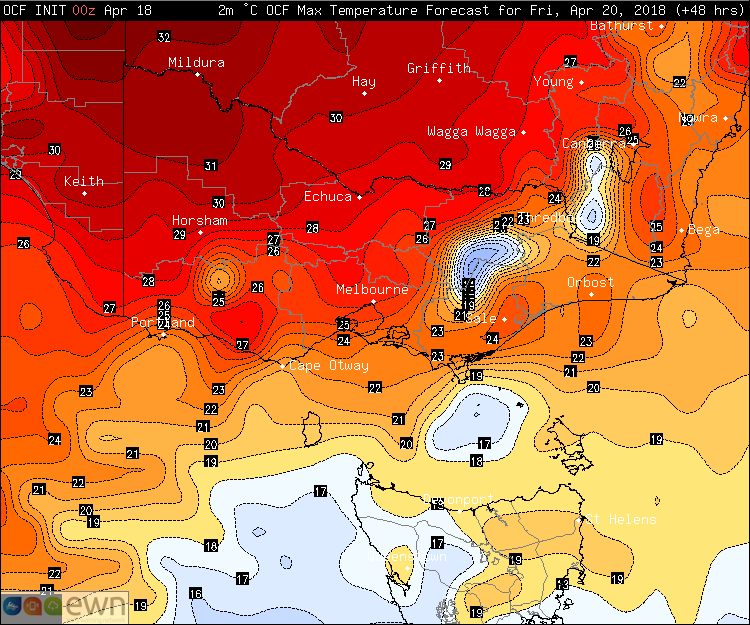 ---
Heavy showers and storms drenching northeast NSW and southeast QLD
18 April, 2018
Showers and storms developed over northeast New South Wales early this morning, before moving into southeast QLD later during the morning and afternoon, bringing heavy falls to the coastal plain and ranges.
The band developed around 3am EST, propagating gradually north throughout the day. As it moved through the Lismore, Byron and Tweed areas, there was torrential falls. Notable totals to 9am today included 62mm at Clothiers Creek, 65mm at Mullumbimby and 89mm at Nashua (Wilsons River).
Whilst most parts of Brisbane missed out, the Sunshine Coast began to experience heavy falls later in the morning and into the afternoon.
Falls have generally been in the 15-to-30mm range, however heavier totals of around 60mm have been recorded around the Glasshouse Mountains, including 59mm at Beerwah.
Lightning strikes have been significant enough to cause some power outages across the area.
---
Heat records continue to fall in NSW and VIC, but relief in sight
13 April, 2018
Yesterday saw another day of record breaking heat across New South Wales and northern Victoria, with little change expected today. Thankfully, relief is on the way as a cooler change sweeps across the country over the weekend.
A record-breaking hot airmass that originated in the northwest of the country more than two weeks ago has been smashing heat records throughout April, with yesterday being one of the standout days across NSW and VIC.
Both minimum and maximum temperature records fell, however some notable records included 36.1 degrees at Merimbula, and 36.4 degrees at Gabo island, breaking its previous record of 35.0 degrees (records since 1910). Sydney reached 34.6 degrees, its second hottest April day on record, falling short of the 35.4 degrees set just several days ago.
Records have already fallen today, with Sydney Airport registering its highest April minimum on record (23.0 degrees), whilst Ulladulla dropped to only 23.6 degrees overnight, its highest minimum temperature on record for any month (26 years of records). Maximum temperatures will again be well above average today, with many areas reaching the low-to-mid 30s across NSW.
Thankfully, relief is spreading across southeastern Australia as a strong cold front sweeps across the region, bringing with it strong winds, rain and thunderstorms and much cooler temperatures. Melbourne will reach just 19 degrees tomorrow, and Canberra 18 degrees by Sunday. Sydney will cool to the mid 20s by Sunday, before dropping into the low-to-mid 20s by mid next week.
Regardless of what happens for the remainder of the month, this April will challenge strongly for the hottest April on record across the country.
Image: Maximum temperature anomalies across Australia for the week ending 12th April, 2018 Source: Bureau of Meteorology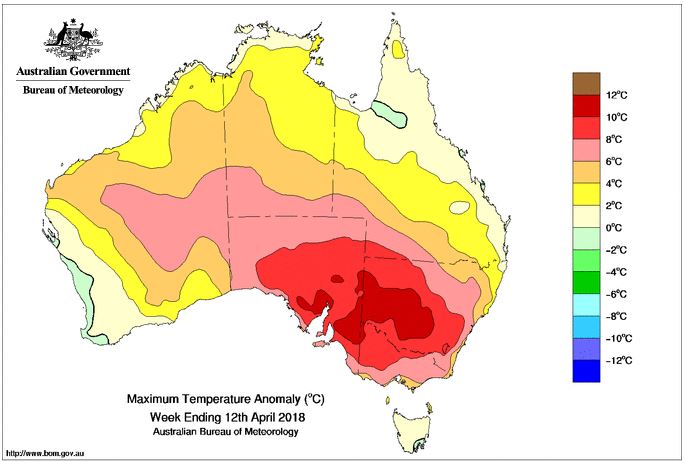 ---
April heat records tumble over southeastern Australia
10 April, 2018
April records were smashed yesterday over southeastern Australia as a mid-autumn heatwave continues to grip the region.
A lack of frontal activity combined with clear skies is allowing a large pool of heat to sit over the region, with temperatures more typical of summer than autumn.
Sydney's Observatory Hill broke its previous April record of 34.2 reaching 35.4 just after 2pm yesterday afternoon. Sydney Airport also broke its record, eclipsing the previous hottest April day of 35.7 (set in 1986) with 36.8 degrees just after 2pm.
South Australia didn't want to be left out of the action either, with Adelaide falling just shy of its all-time April record of 36.3 degrees yesterday, whilst Port Augusta set a new record of 39.2 degrees, beating the previous record of 38.4.
Some notable records that fell yesterday include:
Sydney Observatory Hill: 35.4 Previous: 34.2 - 2016
Sydney Airport: 36.8 Previous: 35.7 - 1986
Adelaide West Terrace: 36.3 (new site record) Previous: 35.8 - 1938
Port Augusta: 39.2 Previous: 38.4
Ceduna SA: 41.3 Previous: 40.8
Nullarbor SA: 42.2 Previous: 42
Holsworthy NSW: 35.8 Previous: 33.6
Canterbury NSW: 35.4 Previous: 34.5
The heat will continue today and tomorrow, with temperatures reaching the mid-to-high 30s across large parts of SA, VIC and NSW. Adelaide registered its third consecutive day of 34 degrees or above today, the first time on record in April. Mildura has already set a new April record today reaching 38.8 degrees, with similarly hot temperatures expected tomorrow.
The hot airmass will finally begin to break down a little by Thursday and Friday, however many areas (including Sydney) will continue to bask in well above April temperatures reaching the low-to-mid 30s into the weekend.
Image: Forecast temperatures from the OCF model on Wednesday 11th April across NSW and VIC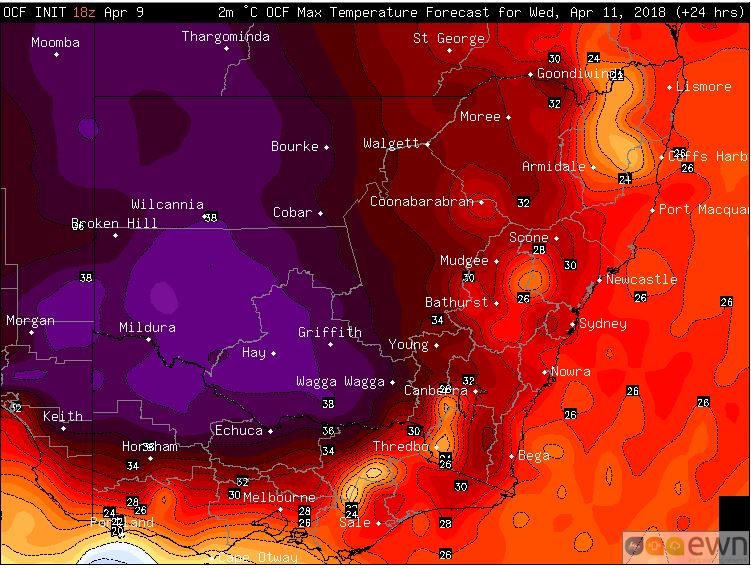 ---
Unprecedented April heat affecting parts of Australia
6 April, 2018
Summer-like temperatures are stretching well into autumn this year, as record heat continues to affect parts of Australia over the next several days.
Bathurst in NSW is averaging 30 degrees this month, more than nine degrees above the April average. The town has already seen four days above 30 degrees, with four more days forecast to reach 30 or above across the next week. To put this in perspective, the town has only had eight days of 30 degrees or above across the last 108 Aprils put together.
Southern parts of the country have largely been spared so far, however the heat will start affecting the region from the weekend, with Adelaide forecast to have five consecutive days reaching 30 or above. Monday and Tuesday have potential to creep into the mid 30s, and if the city exceeds 34.4 degrees it will be the hottest day this late in the season on record.
Melbourne will see the mercury reaching around 30 degrees on Sunday and Tuesday, whilst western Sydney is likely to see a record stretch of 30 degree heat for April, with five consecutive days likely by Monday.
Temperatures are unlikely to return closer to average until at least mid way through the month, giving many places a good shot of seeing their hottest April on record.
Image: Maximum temperature anomalies across the last week. Source: Bureau of Meteorology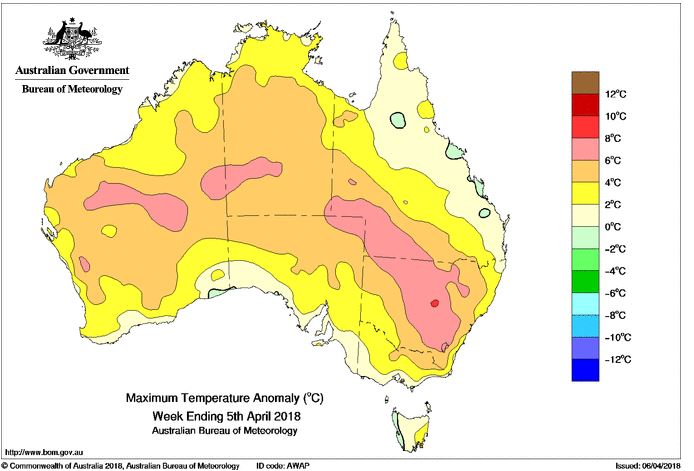 ---
Back to Latest Severe Weather News