Twitter

Instagram

Facebook | QLD | NSW | VIC | TAS | SA | WA | NT | NZ
Back to Latest Severe Weather News
How to prepare for bushfire season
30th August 2018
Spring is upon us which means the warmer weather is at our doorstep. With the warmer conditions comes a greater bushfire potential, particularly for eastern states which have been hit hard with drought conditions over the last 12 months.
Is your home prepared for a worst-case scenario to unfold this spring or summer? The better you prepare your home, the better the chances of it surviving a bushfire. A well prepared and maintained home can be easier for you and fire fighters to defend. Here are a few handy hints to help you prepare for the upcoming bushfire season.
Preparing your home: Here are some basic maintenance tips will help ensure that your home is adequately prepared to deal with a bushfire:
Clean your gutters free of twigs, leaves and sticks.
If you can install metal gutter guards this will prevent your gutter from filling up with debris.
Keep lawns short and your gardens well maintained.
Trim or cut back trees and branches that may be overhanging your home.
A hose or hoses that can reach out the entire perimeter of your house.
Repair or close all gaps in external walls.
Make sure your home insurance is up to date.
Bushfires can move at rapid speeds, with great intensity and immense heat. Fuelled by high temperatures and strong winds, fires can impact in not only a physical sense but take a large emotional toll on yourself and family.
How to prepare yourself and family:
Prepare and emergency kit, including torch with spare batteries, portable radio, first aid kit, candles and waterproof matches, woollen blankets, emergency contact numbers, bag with valuable and any important paperwork.
Prepare to leave early is necessary.
Constantly check advisories or local fire pages for any warnings and updated conditions in your region.
Fully charged mobile phone and charger.
Any medications.
At least three (3) days of a drinking water.
Pets are an essential part of preparing for bushfire situations and should have their own emergency kit for the worst-case scenario, this includes:
Food and water
Bowls for each pet
Collars and leads
Bedding and woollen blankets
Favourite toys
Medications
First aid kit for your pet or pet's. (Seek advice from your vet)
Early preparation is vital to ensure that your home, family and pets remain safe. Leaving your home early is an essential part of surviving bushfires. While these measures may seem extreme, they may one day safe you and your family's life.
https://www.ruralfire.qld.gov.au/BushFire_Safety/Pages/Prepare-for-bushfire-season.aspx
https://www.dfes.wa.gov.au/safetyinformation/fire/bushfire/Pages/default.aspx
https://emergency.vic.gov.au/prepare/#fire/preparing-for-fires
https://www.rfs.nsw.gov.au/plan-and-prepare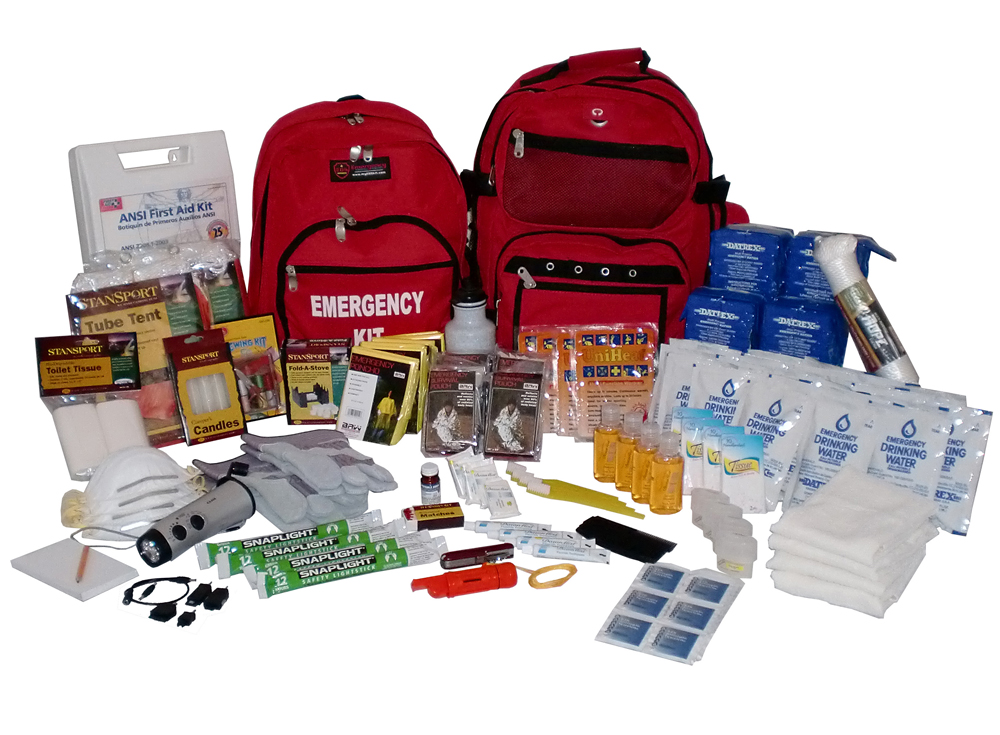 ---
Perth records its wettest winter in fifteen years
29th August 2018
The wettest August in decades has capped off Perth's wettest winter since 2003, with the city recording 455.0mm for the season as of Wednesday afternoon, with only a few mm expected for the remainder of the month.
Frequent cold fronts produced bursts of showers throughout the season, with dry spells rarely lasting anymore than a week.
Whilst June was very close to average, July (and especially August), saw above average rain days and rainfall totals, with the city seeing its wettest August since 1992.
This has immensely helped the dam levels across the Perth catchment, which at 52 percent is the highest level its been in nine years.
It's refreshing to see some parts of the country are seeing rain, after many parts of the nation's east are seeing one of their driest winters on record.
Image 1: Southern wet season rainfall recorded across Western Australia to Wednesday 29th August, 2018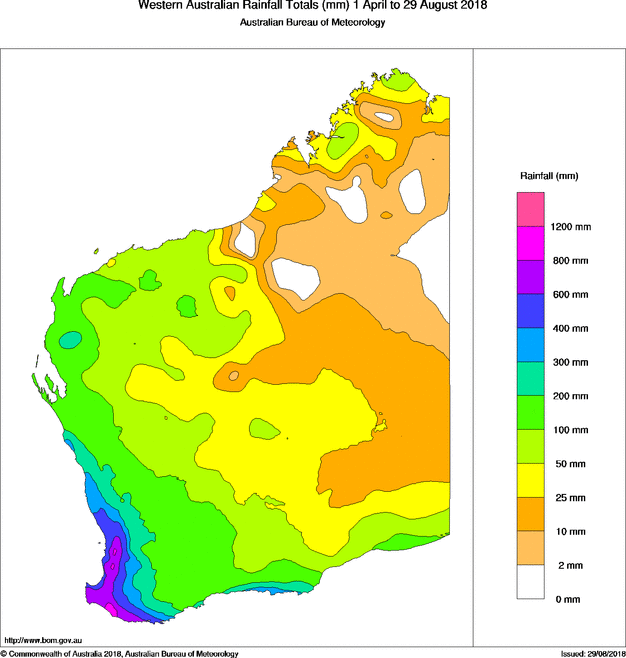 ---
Severe frost hits southeastern Australia
28th August 2018
Parts of southeastern Australia have just shivered through their coldest August morning in almost a century, as temperatures plunged overnight due to a combination of light winds, clear skies and a very cold airmass.
A cold front swept across the region over the weekend, bringing with it a very cold airmass, before a high pressure system caused a rapid easing of conditions as skies cleared and winds became light.
This meant that any daytime heat could easily escape once the sun went down, causing the mercury to plunge overnight.
Thredbo Top Station dipped to -13.2 degrees, just 0.1 degrees shy of its August record, and the coldest anywhere in Australia has been in six years.
In Victoria, Rutherglen dropped to -5.7 degrees, its coldest August night since 1929, whilst Yarrawonga shivered through its coldest night in 12 years for any time of the year, falling to -4.2 degrees.
The Apple Isle also saw some frigid temperatures, with Strahan seeing its coldest night in 14 years (-2.3 degrees), and Cape Sorell 48 years (2.8 degrees).
Bitterly cold temperatures and severe frost are expected again tonight across the region, with some places potentially seeing their coldest August night in decades.
Melbourne is forecast to fall to just 1 degree tonight, whilst areas in the Victorian Alps and Tasmanian Central Plateau are expected to experience temperatures dipping towards -10 degrees.
Image 1: Recorded minimum temperatures in the 24 hours to 9am Tuesday 28 August, 2018. Image 2: Forecast minimum temperatures for Wednesday 29 August, 2018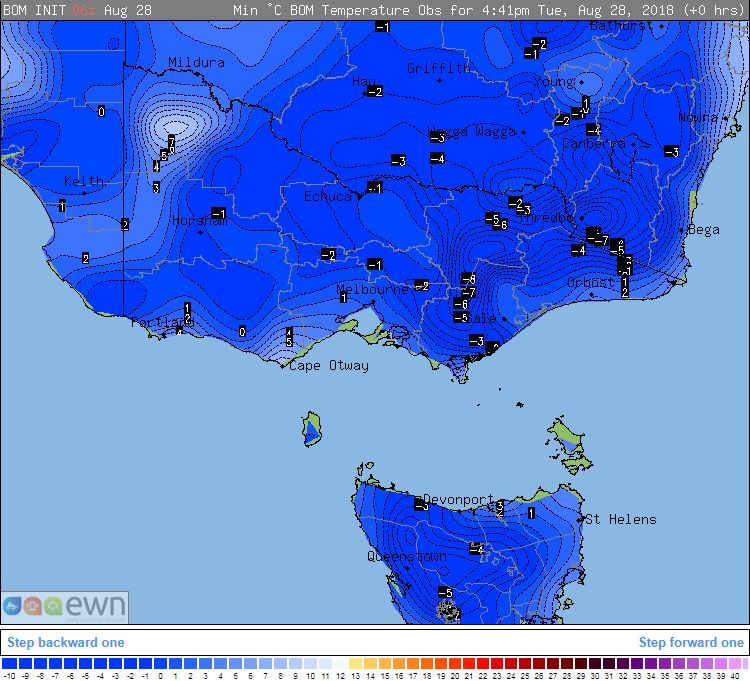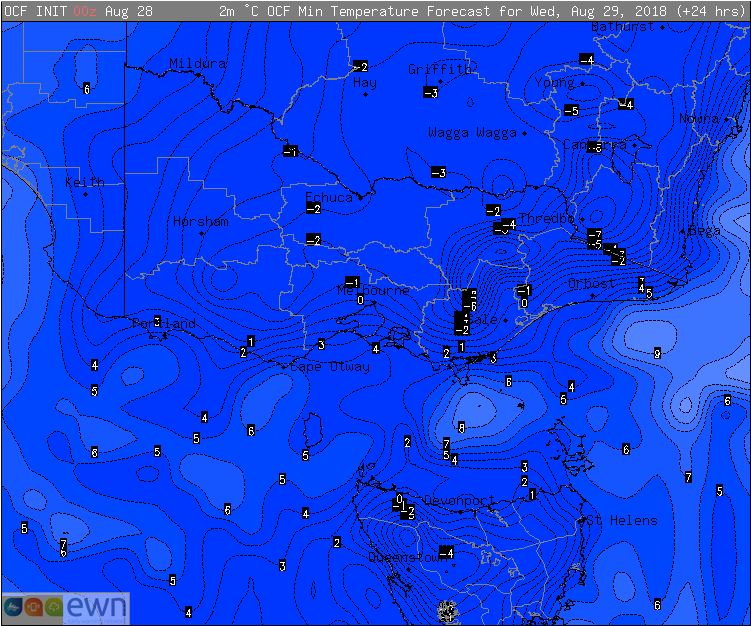 ---
Solid rainfall totals occur for QLD and NSW
27th August 2018
Welcome rain fell across regions of QLD and NSW during the weekend, much to the relief of many farmers.
A surface trough and upper low generated scattered showers, tending to rain periods with thunderstorm activity during Friday through until Sunday.
Whilst no heavy falls were recorded, widespread 3 days totals of 10-30mm fell, with isolated falls exceeding 50mm. Coastal regions of South Eastern QLD and northern NSW received the heaviest falls, with Foxley in the Scenic Rim of SE QLD picking up 66.1mm, Coomera 57.1mm, Evandale 61.0mm whilst Brisbane picked up 11mm. In NSW, Yamba topped the tally with an impressive 87.2mm, while Red Hill near Coffs Harbour picked up 70.7mm.
Across inland regions of NSW, Inverell received 56mm, Moree 29mm and Dubbo 25mm while in southern QLD, Miles received 25.8mm, St George 40.2mm and Charleville 10.4mm.
While the weekend rainfall was welcomed with open arms across drought stricken regions, further follow up rainfall is needed during the next several months.
Image 1, 72hr rainfall totals to 9am Monday. Image 2 and 3, Bureau of Meteorology weekly rainfall wrap.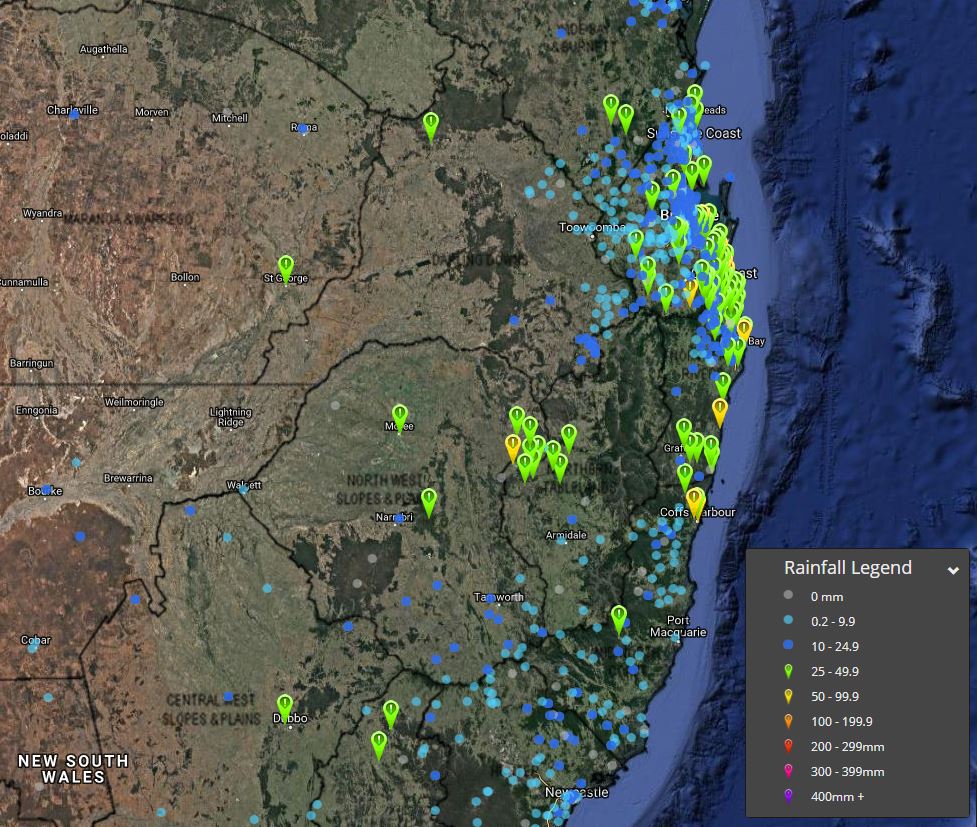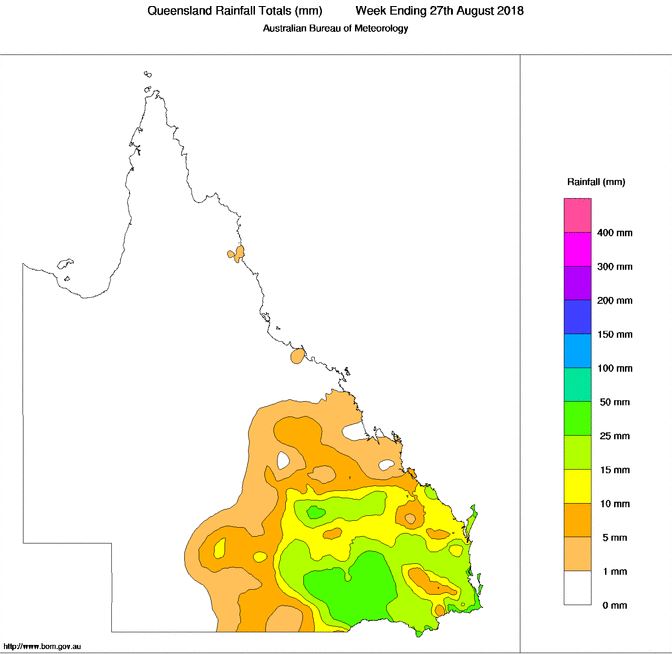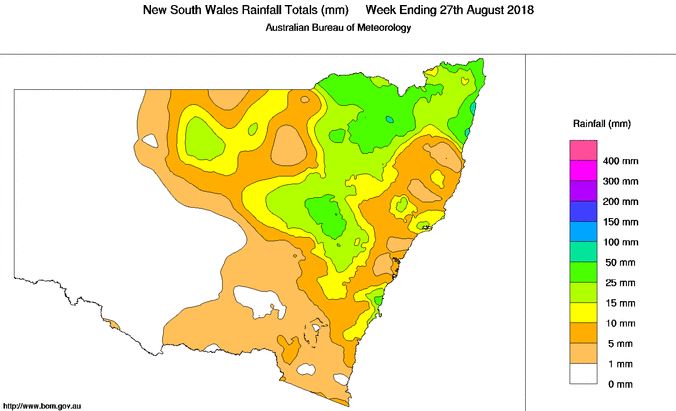 ---
Thunderstorms and small hail hit southern QLD and northern NSW
24th August 2018
Heavy showers and isolated thunderstorms have fired up across southern parts of Queensland northern parts of New South Wales today, with some locations even reporting small hail.
Cold upper level air and a low pressure trough combined to trigger the showers and storms, which developed during the late morning and increased during the afternoon.
Lightning was not widespread or even frequent, however thunder was reported in parts of Brisbane, the Gold Coast, Scenic Rim and Lismore areas.
Some of these showers and storms became briefly intense, and were associated with heavy downpours and small hail, with confirmed reports coming from the Lismore area, Sunnybank, near Beenleigh and Mount Tamborine.
The showers and storms will linger for the remainder of the day, although there should become more isolated after sunset. Further showers and storms are possible over the weekend.
The thunderstorms are a reminder that spring is just around the corner, with the start of the region's storm season only a little over a month away.
Image 1: Small hail near Lismore, New South Wales. Image 2: Radar image taken from midday Friday 24 August, 2018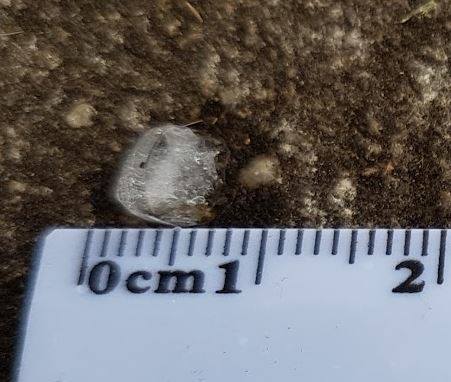 ---
Soaking rains on the way for eastern Australia
22nd August 2018
Southern Queensland and parts of inland and coastal NSW are set to see some soaking rain from late Friday through until Sunday, with many areas likely to see their best rain in months.
During Friday, a surface trough will develop across inland QLD and NSW in response to a strong upper low moving into the region. This will draw moist north-easterly winds across inland regions enhancing the prospect for rainfall.
Overnight Friday and into Saturday morning, storm activity is expected to increase in coverage to thundery rain periods across inland regions. This activity will gradually spread east towards coastal locations during the early hours of Saturday morning. Widespread falls of up to 15mm are possible for many locations.
Further thunderstorm activity is expected during Saturday; however, any severe potential may be inhibited by overnight convection and ongoing activity during the morning hours.
Across the weekend, scattered showers, thunderstorms and rain periods are expected to continue with isolated moderate falls developing, particularly across the North West Slopes and Plains and Northern Rivers of NSW, and parts of South Eastern QLD. Three day totals of 15-30mm are likely, with isolated falls of up to 50mm possible, particularly with storm activity.
In the wake of the surface trough moving off the coast on Monday, drier westerly winds are expected in its wake, with a return to mostly fine conditions.
Image 1, GFS storm probabilities, 4pm Friday 24/8/18. Image 2, EC rain and storm potential, Saturday afternoon, windy.com. Image 3, EC total rainfall accumulation to Monday, Weather US. Image 4, BoM synoptic setup next 3 days.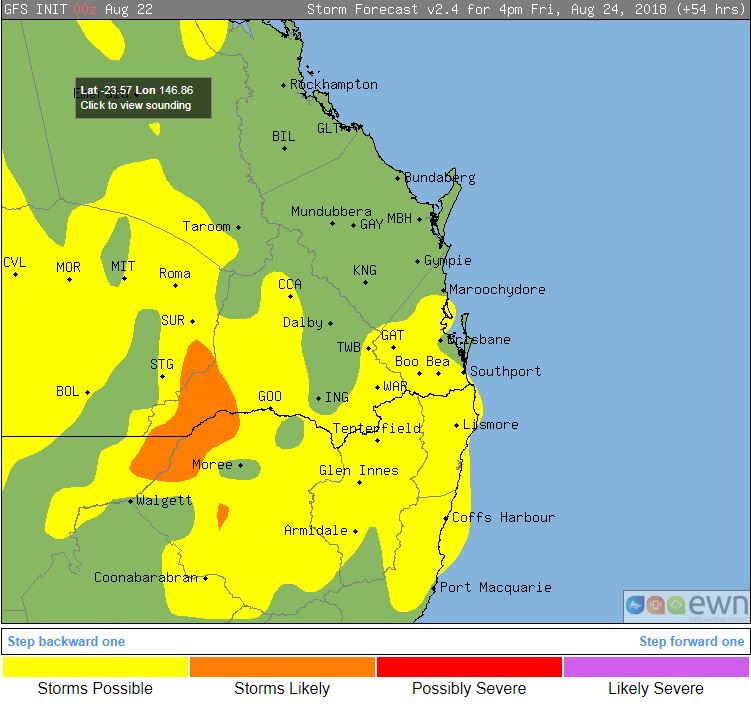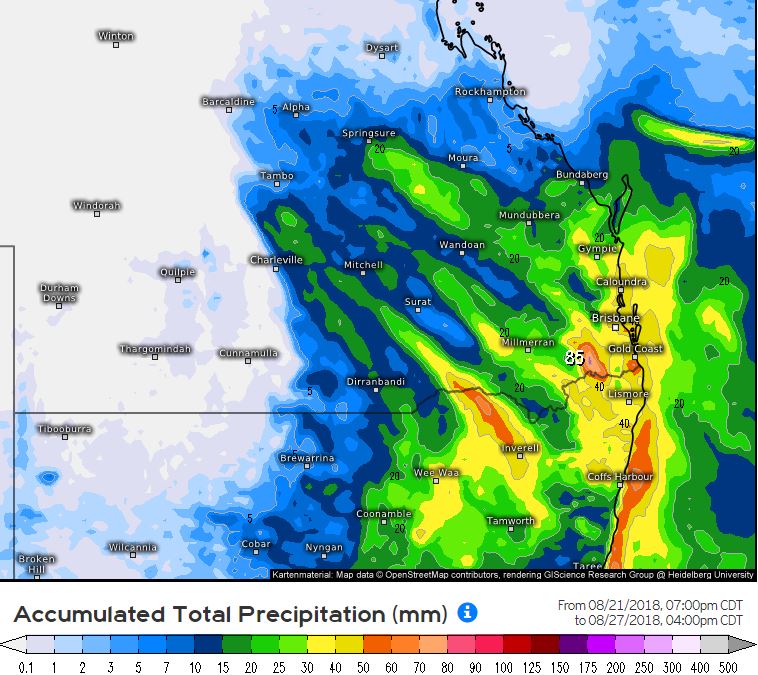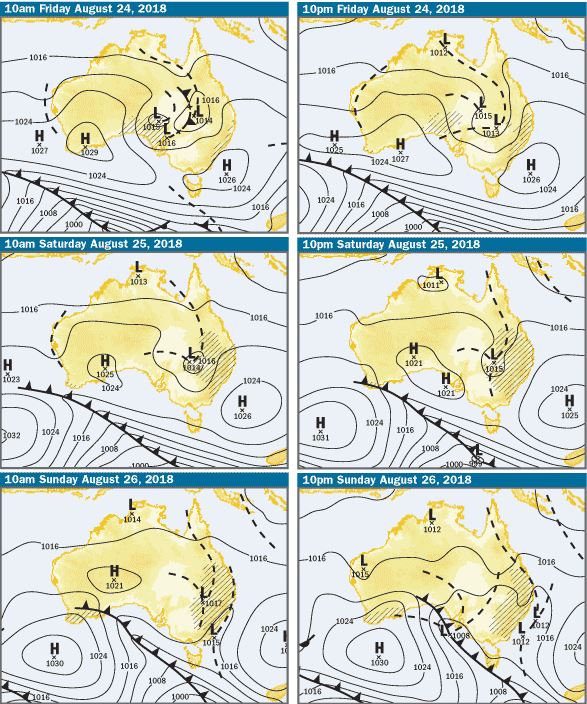 ---
Southern QLD continues to shiver in cold August mornings
22nd August 2018
The run of chilly mornings has continued as the mercury plummeted across southern Queensland this morning, as some areas saw their coldest August start in decades.
A strong cold front swept across the region on Sunday, bringing with it a cold and very dry airmass. This has allowed any heat to escape rapidly after sunset, causing a run of very cold mornings.
Amberley fell to -3.4 degrees on Tuesday morning, its coldest August minimum since 1995, whilst Brisbane airport fell to 3.3 degrees, its coldest August morning in a decade.
This morning, Coolangatta recorded its coldest August minimum on record (30 year site), falling to 0.5 degrees. Further north, Bundaberg chilled to 3.0 degrees, its coldest August morning in 54 years.
Another cold one is on the way tonight as the combination of clear skies and a dry airmass continues. However, increasing moisture and the chance of rain from Friday will cause much milder mornings heading into the weekend.
Image 1: Minimum temperatures recorded over southeast Queensland this morning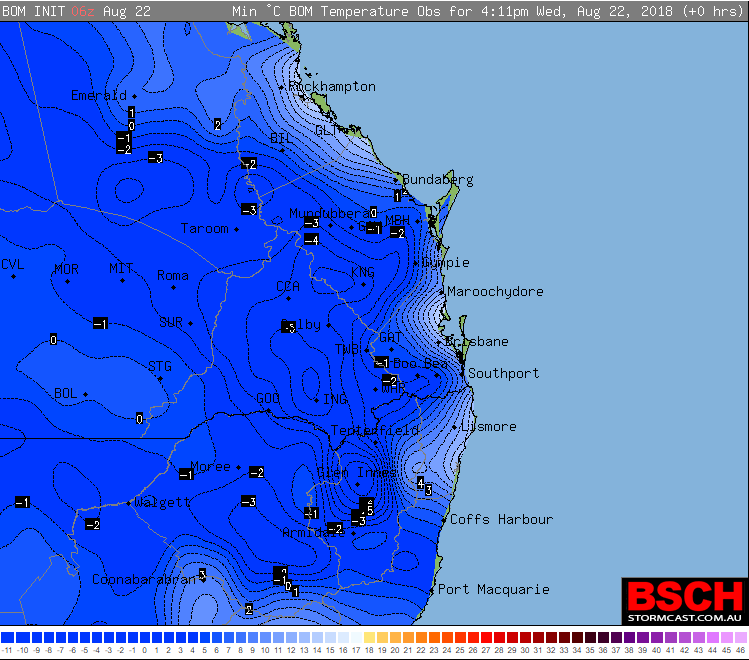 ---
Thunderstorms expected for WA
20th August 2018
Afternoon shower and high based thunderstorm activity is possible across parts of south-western Western Australia this afternoon and evening.
A low pressure trough will move into south-western parts of the state during Monday with increasing instability, leading to isolated shower and thunderstorm activity.
Hail may develop with more robust thunderstorm updrafts during the afternoon hours, however no large hail is expected.
Image 1 and 2, GFS thunderstorm probabilities, 5pm and 8pm WST. Image 3, EC thunderstorm and rainfall chart for this afternoon, windy.com.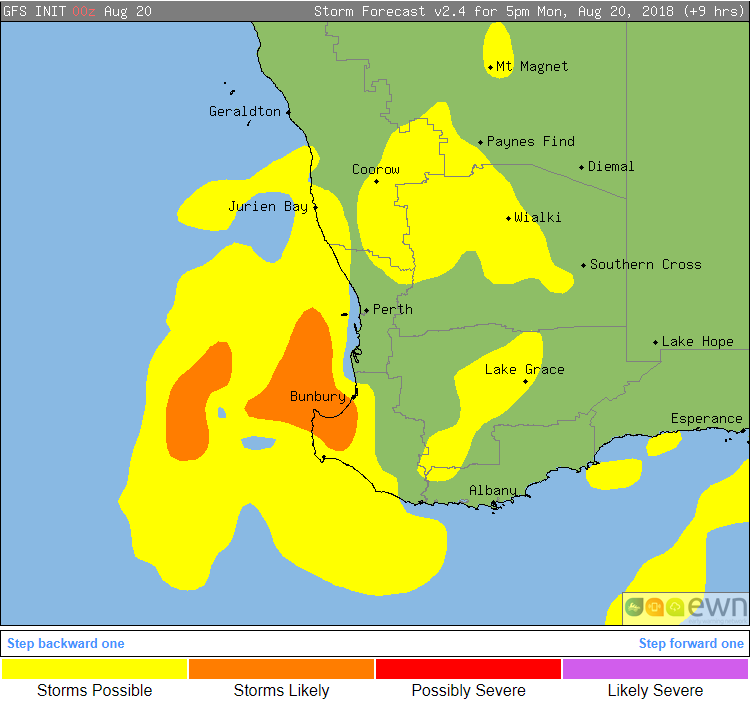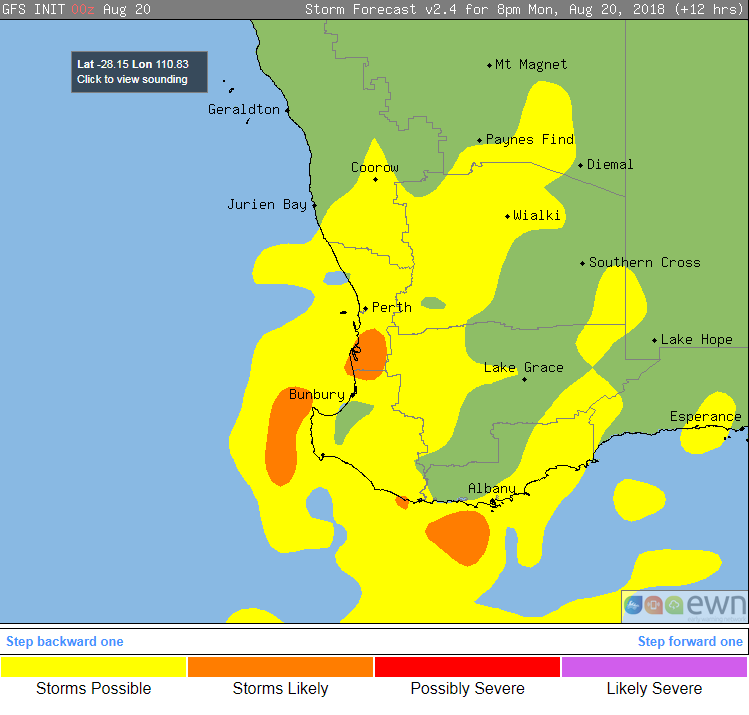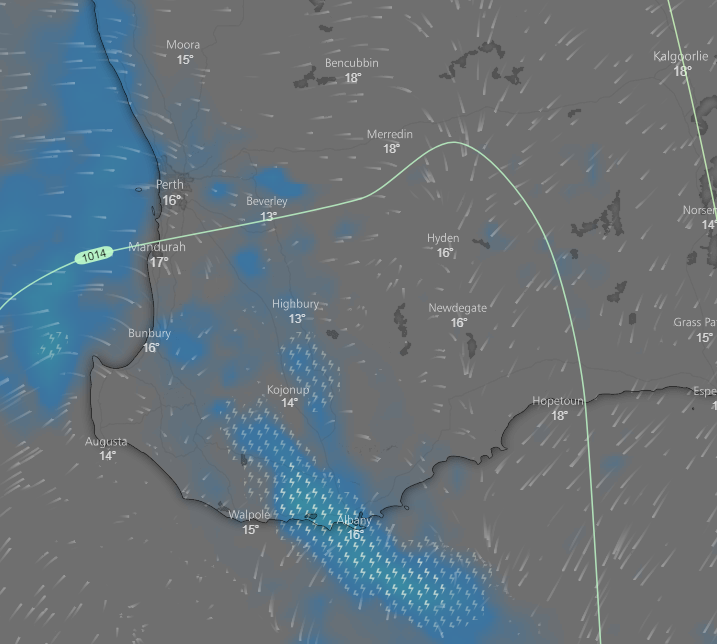 ---
Early season bushfire outbreak springs a warning for NSW
15th August 2018
Parts of New South Wales saw their worst August bushfire conditions in more than a decade yesterday, as strong and dry westerly winds helped fuel numerous blazes across the state, and is worrying sign for the spring ahead.
A negative Southern Annular Model (SAM) has helped drive several cold fronts across southeastern Australia the last couple of weeks, with a notably strong change yesterday causing very strong and dry westerly winds across NSW.
Combined with the prolonged dry conditions (with some places seeing their driest start to a year on record), numerous blazes broke out, with fire conditions more typical of late September or October than August.
Several emergency bushfire warnings were issued, including at Mount Kingiman (near Ulladulla), North Nowra and Bemboka (near Tathra).
With another strong cold front crossing over the weekend, further bushfires are possible. If no rain falls soon this is a worrying sign for the spring ahead as conditions get even warmer, and vegetation dries out further.
Elsewhere in the state, the dry conditions are really starting to be felt. In Broken Hill, emus have begun to come into the town in search of food and water, whilst other animals such as feral cats are now feeding on roadkill to survive.
Some rain right now would be very welcome.
Image 1. Fire front map of the Mount Kingiman fire on 15/08/18 (Source: NSW RFS)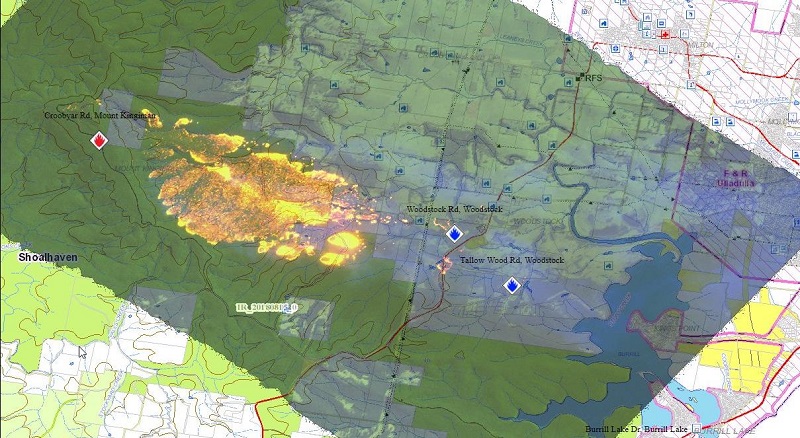 ---
Wild winds rip through Tasmania
15th August 2018
Destructive winds have lashed Tasmania late last night and today as a vigorous cold front stormed across the state, leaving thousands without power and bringing down trees and powerlines.
The wild winds whipped up across the Apple Isle late last night and early this morning, with large areas of the state recording wind gusts in excess of 90km/h (regarded as 'damaging' by Bureau of Meteorology criteria). This included some major centres of the state, with Hobart recording wind gusts to 93km/h, Strahan 113km/h and Devonport 96km/h.
However, some western and southern areas felt the full force of the front, with Maatsuyker Island recording gusts to 163km/h (its strongest winds since April), Scotts Peak 150km/h and Mount Wellington 132km/h.
The winds resulted in widespread damage across the state, with thousands of people left without power, and many reports of fallen trees and powerlines.
Ben Lomond Ski Lodge had to be evacuated as the winds lifted part of the roof and sent corrugated iron sheets flying.
Winds will remain strong and gusty for the remainder of the afternoon, before easing this evening and overnight.
Image 1. EC wind gusts over Tasmania, 4am Wednesday 15th August, 2018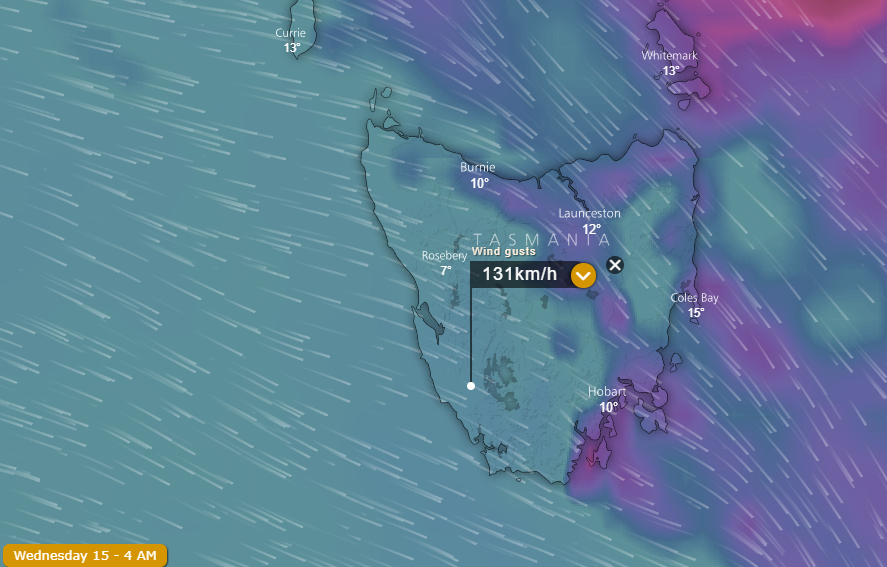 ---
Southern Australia braces for damaging to destructive winds
14th August 2018
Parts of Victoria, NSW, SA and Tasmania are expected to experience damaging to locally destructive winds gust overnight Tuesday into Wednesday, as a strong cold front sweeps across the southern states.
Fresh to strong northerly winds will increase during Tuesday afternoon and evening as the strong front approaches from the west, with wind gusts possibly exceeding 100km/h in some areas.
A band of heavy showers are expected as the front passes through. In the wake of the cold front, an upper cold pool of air will move into the region, with thunderstorm activity possible across western and southern Tasmania early Wednesday before spreading across most of the state. Small hail is likely with showers and thunderstorms for coastal Victoria and Tasmania during Wednesday.
Further snow falls are likely, with Alpine regions of Tasmania expected to see another 15-30cm during the next three days. Ski resorts in NSW and Victoria should see a further 5-10cm over the coming days.
Severe weather warnings have been issued for South Australia, Victoria, NSW and Tasmania.
Image 1. EC wind gusts, 5am Weds morning, windy.com. Image 2 EC wind gusts, VIC and NSW, 5am Wednesday. Image 3, Latest colour, mean sea level pressure analysis chart from the Bureau of Meteorology. Image 4, Snow accumulation for the next 3 days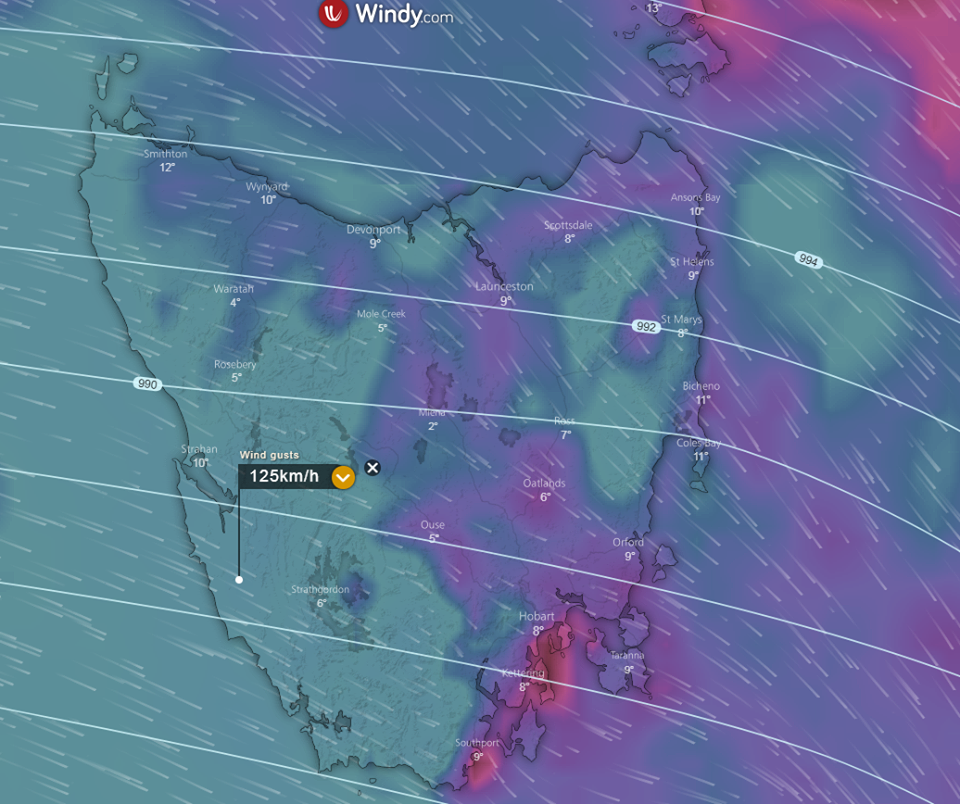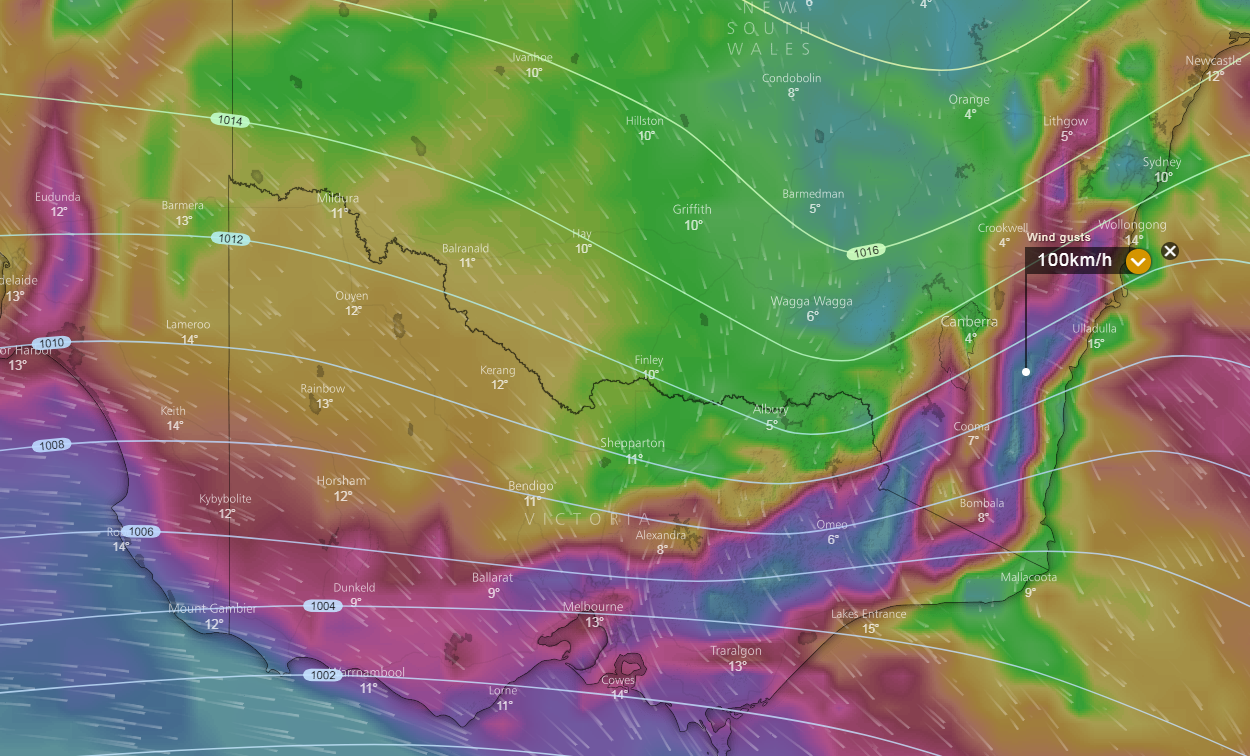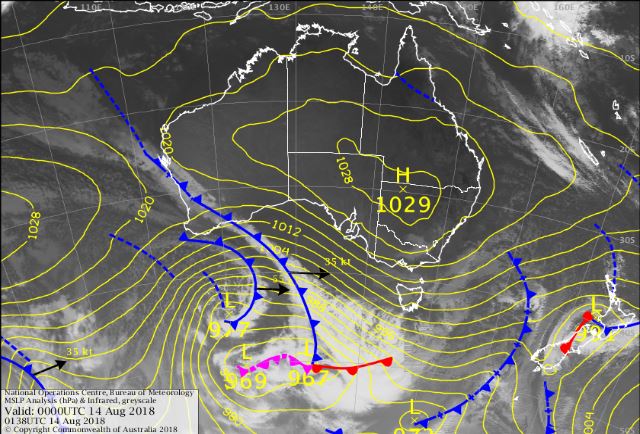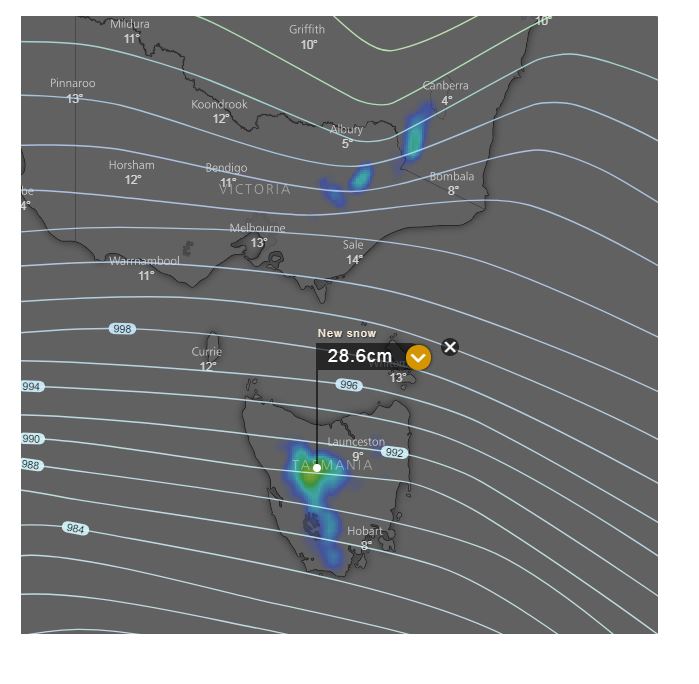 ---
Large earthquake strikes Indonesia
6th August 2018
A strong earthquake has hit the Indonesian island of Lombok overnight killing at least 82 people with neighbouring island Bali also feeling the powerful quake.
The magnitude 6.9 quake struck after 7pm local time Sunday evening, with building damage recorded as far away as Denpasar, Bali.
Further aftershocks have continued across the north of the island with a 5.5, 5.1 and 5.2 magnitude quakes recorded. It was just over a week ago that another strong 6.4 magnitude quake also struck the island of Lombok.
A tsunami warning was issued for the region with only some minor flooding reported, that has since been lifted.
Image: Australian Geoscience, earthquakes.ga.gov.au
---
Cold fronts to batter southeastern Australia over the next week
3rd August 2018
A series of cold fronts are set to batter southeastern Australia across the next week, bring a slew of wet and windy days, and priming the ski resorts for their best weeks this season.
The Southern Annular Mode (SAM), which is related to the location of the belt of westerly winds, has shifted into a negative phase after being largely positive the last two months. When the SAM is positive, the belt of westerly winds move south away from Australia, and has been a big reason why June and July have been warm and dry across the country.
As the SAM has dipped into a negative phase, cold fronts will increase in frequency across the country for at least the next week, and bring a burst of wintry weather and showers to the nation's southeast.
The first of these fronts crossed the region today, bringing much needed rain to South Australia and Victoria with widespread falls of 5-15mm, and some places collecting as much as 30-40mm.
Another, although slower moving front will cross the nations south across the weekend and into early next week, bringing scattered showers, gusty winds, isolated thunderstorms with small hail and snow about alpine areas. There is potential for further useful rainfall totals with this system, especially about southeastern SA, western Victoria and western and northern Tasmania (where further flooding is possible after a damp winter already).
Another weaker front will push through mid-week, before another system is expected to arrive during the weekend, although these systems are not expected to be overly strong. However, they will all contribute to further topping up the ski resorts, with parts of the NSW and VIC alpine areas expected to approach 2 metres by next weekend.
SAM is very hard to predict more than a couple of weeks in advance, so it is hard to know how long this burst of frontal activity will last. Unfortunately, drought affected eastern Australia won't see much in the way of rain from these cold fronts at all.
Image: PME rainfall forecast across the next week over Australia (Source: Bureau of Meteorology)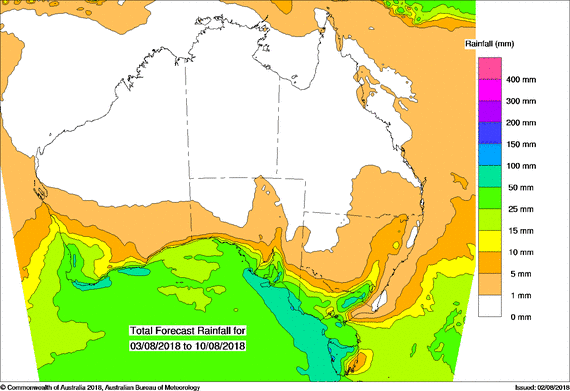 ---
Vigorous cold front moves across South Australia during Thursday
2nd August 2018
A vigorous cold front will move across South Australia today bringing strong to locally damaging wind gusts, showers and isolated thunderstorms with small hail.
Strengthening northerly winds ahead of the approaching front are likely to produce strong to locally damaging wind gusts of up to 100km/h. These strengthening northerly winds will drag down warm air from northern Australia, which will result in maximum temperatures reaching above the August average for many locations across central and eastern South Australia today. This will present a slightly enhanced bushfire risk across these regions during Thursday afternoon.
A large cloud band is currently moving its way across the state, producing showers, rain periods and isolated thunderstorm activity. Rainfall totals are expected to remain fairly light, with falls in the 5-10mm range expected, however isolated falls of up to 20mm cannot be ruled out.
Late this afternoon and overnight a large upper cold pool of air will move in from the west with a secondary round of showers and thunderstorms. Gusty winds and small hail are expected with activity, chiefly across coastal locations and adjacent inland regions. Adelaide may see some brief storm activity throughout Thursday night or during the early hours of Friday morning.
During Friday, fresh to gusty west to south-westerly winds will gradually turn north-westerly during the day ahead of a secondary front. Further shower activity is expected across coastal locations late Friday into Saturday, where an isolated brief coastal thunderstorm cannot be ruled out.
Image 1, BoM Himawary current satellite. Image 2, PME rainfall, Thursday 2nd August. Image 2, GFS storm probabilities. Image 2, EC wind gusts 6pm, wind.com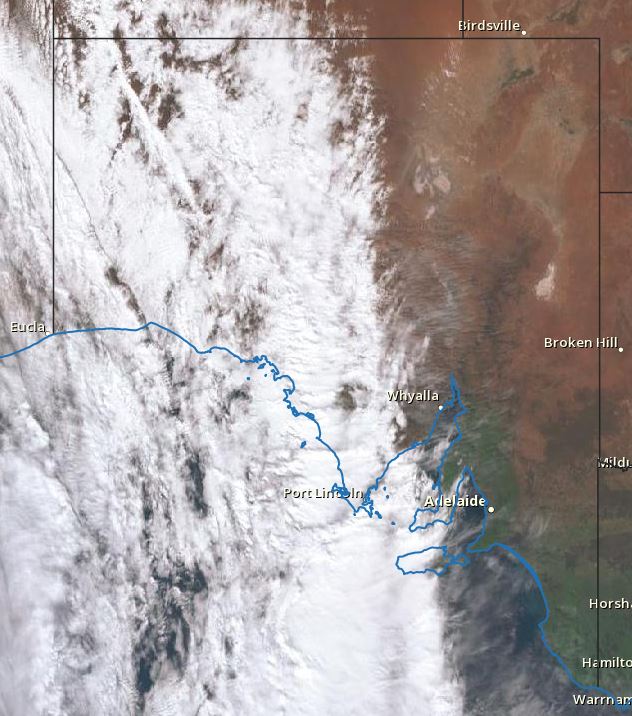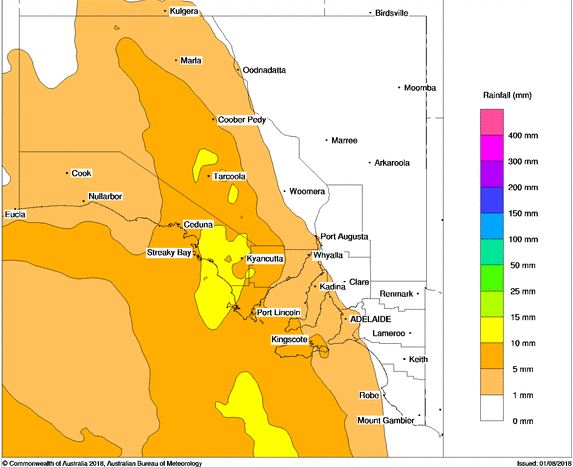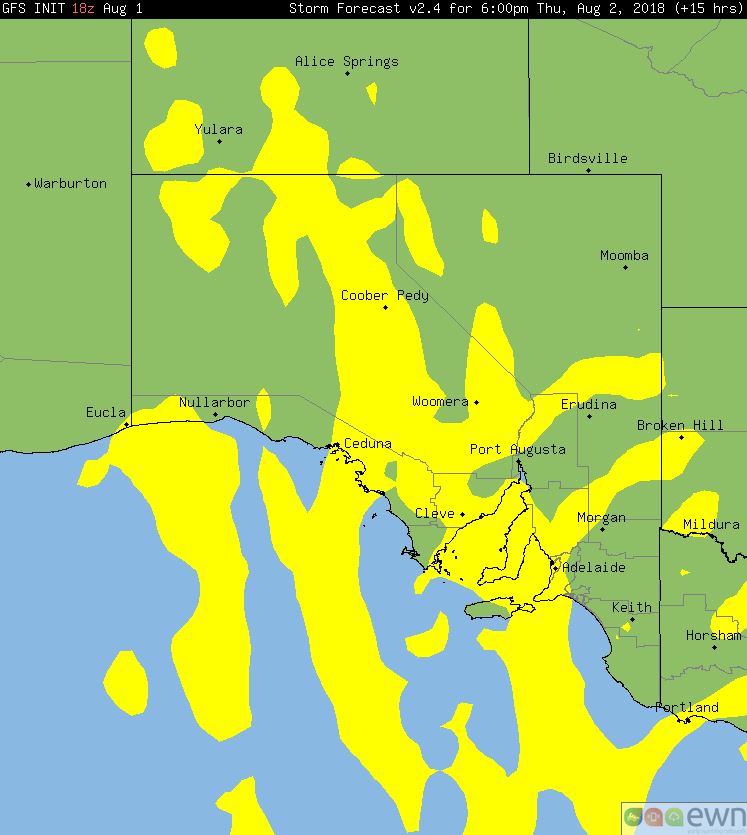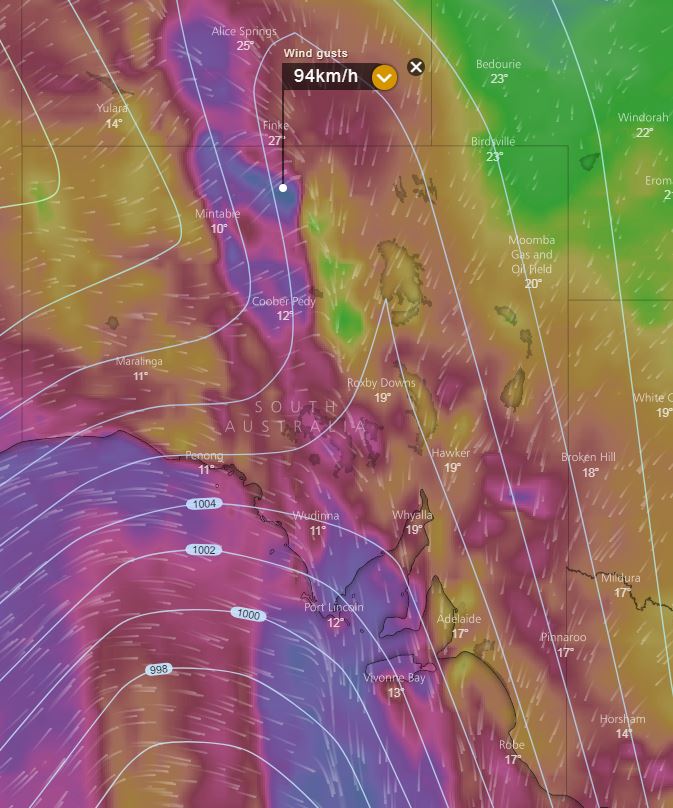 ---
Australia registers second-warmest July days on record
1st August 2018
The bite was significantly taken out of July for the second year running across Australia, with the nation experiencing its second warmest July days on record, and fifth warmest July overall, as the very dry conditions continued.
A persistent region of high pressure kept skies consistently cloud-free throughout the month, as cold fronts struggled to penetrate as far north as normal for this time of the year. This meant daytime temperatures were unusually warm, with the national average maximum temperature 2.22 °C above the average, the second warmest on record (after only last year).
Long-term maximum records were smashed in some major centres, including Sydney which beat its previous record set in 2013 by 0.4 °C (19.9 °C). Brisbane averaged 23.2 °C during the day in July, beating its previous record by 0.2 °C.
The clear skies and below average moisture levels allowed night time temperatures to be significantly cooler than days, although the national average minimum temperature was still 0.25 °C above average. However, a band from Broome in Australia's northwest to Canberra in the southeast recorded significantly colder than average nights, with some registering their coldest average July minimum temperatures on record.
Some short-term sites, including Parkes, Wollongong and Campbelltown registered both their warmest (days) and coldest (nights) July on record.
Unfortunately, the drought situation worsened, as the country saw its driest July in 16 years. Only western parts of Tasmania and eastern parts of the Northern Territory Top End saw significantly wetter than average conditions, whilst parts of eastern Western Australia, South Australia and New South Wales had their driest July on record.
Warmer than average and dry conditions are expected to persist across much of the country across the next few months.
Image 1. Maximum temperature deciles Image 2. Minimum temperature deciles Image 3. Rainfall deciles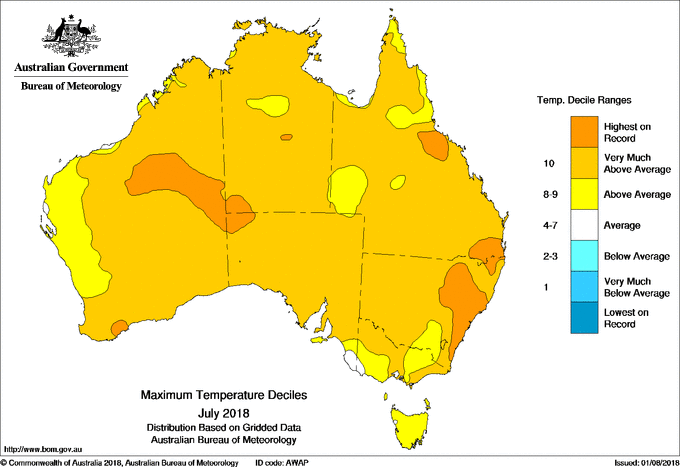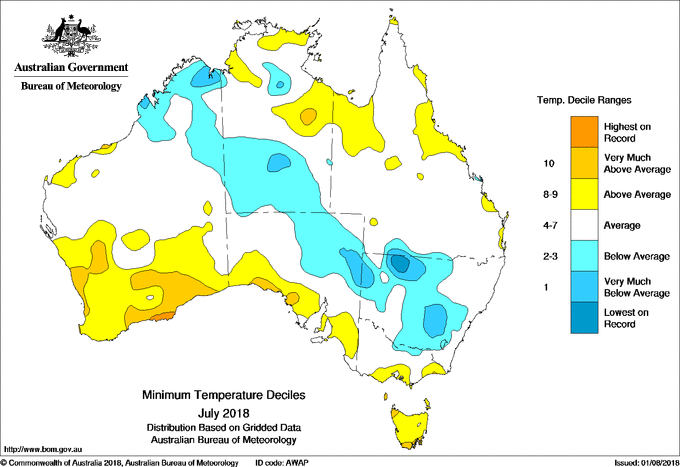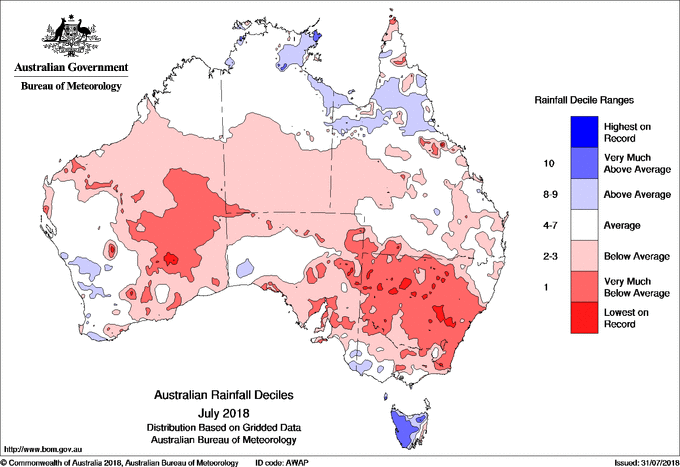 ---
Back to Latest Severe Weather News