Twitter

Instagram

Facebook | QLD | NSW | VIC | TAS | SA | WA | NT | NZ
Back to Latest Severe Weather News
Bureau of Meteorology Winter Outlook: Warm, dry winter for much of Australia
31 May, 2018
The Bureau of Meteorology Winter Outlook that was released today is predicting a warm and dry winter across much of the country.
Climate drivers such as the El Nino-Southern Oscillation and Indian Ocean Dipole are currently negative, meaning local effects are likely to have more of an influence.
With the climate drivers being neutral, it is difficult to predict what will happen for large amounts of the country, although the background warming trend observed in recent decades and clearer than average skies likely means the above average temperatures experienced during autumn will persist into winter.
However, below average pressure over the Tasman Sea will mean westerlies will be weaker in the south of the country, bringing a higher chance of below average rainfall during winter.
This is not great news considering the southern mainland states have had one of their driest autumns on record (despite recent rainfall) and will likely put even more areas into drought by the end of winter.
Images: (a) Temperature outlook for winter across Australia (Source: Bureau of Meteorology) (b) Rainfall outlook for winter across Australia (Source: Bureau of Meteorology)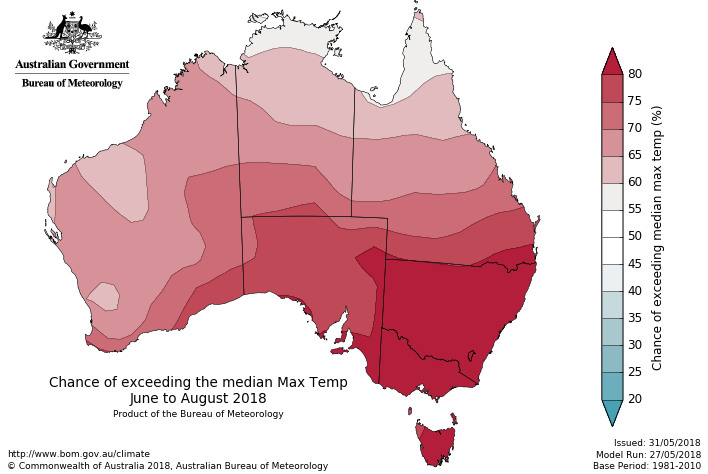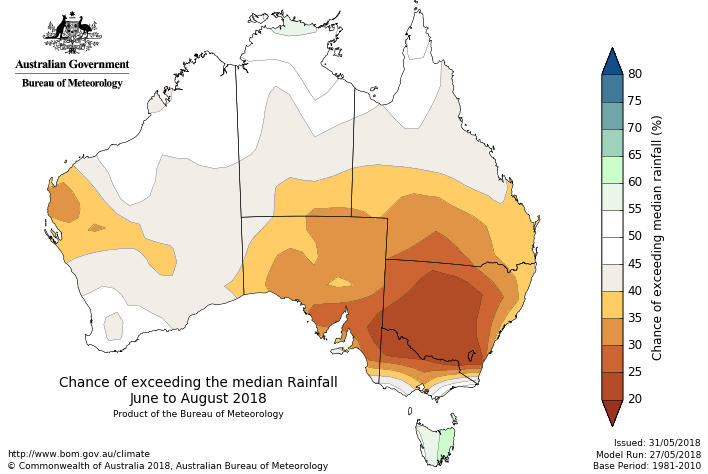 Vigorous cold front to snap record warmth in southwest WA
Southwest WA lashed by wild weather overnight
25 May, 2018
Southwestern parts of Western Australia copped it all last night, as wild winds, heavy rain, thunderstorms and bushfires lashed the region due to a vigorous cold front.
Unseasonably warm conditions during much of Thursday quickly deteriorated as the front hit the west coast during the late afternoon and early evening before spreading rapidly east overnight.
Numerous fires were already burning across the state, however things quickly got out of control as strong winds (which were strongest just ahead of and on the frontal boundary) caused a number of these fires (including private burns) to move erratically spread rapidly. The strongest wind gusts reported included 113km/h at Cape Naturaliste and Gnowangerup and 102km/h at Albany Airport.
The winds were strong enough that numerous spot fires were caused, with embers reported to have carried as much as 1.5km away from the main fires. Other blazes were sparked due to lightning strikes.
Heavy rainfall significantly helped firefighters in more coastal areas, where widespread falls of 20-to-50mm were recorded. Some areas were lucky to receive even more, with Acton Park receiving 94mm, Vasse 81mm and Busselton Airport 67mm.
A low pressure system will continue to cause wild winds and showers across the region today, with conditions expected to be at their worst this afternoon and evening. Wind gusts of 90-100km/h are possible, with potential for localised gusts in excess of 125km/h in coastal parts between Bunbury and Walpole.
Images: (a) Wind gusts and pressure chart for southwest Western Australia on Friday 25 May (Source: Windy.com) (b) Rainfall totals recorded to 9am Friday 25 May (Source: Bureau of Meteorology)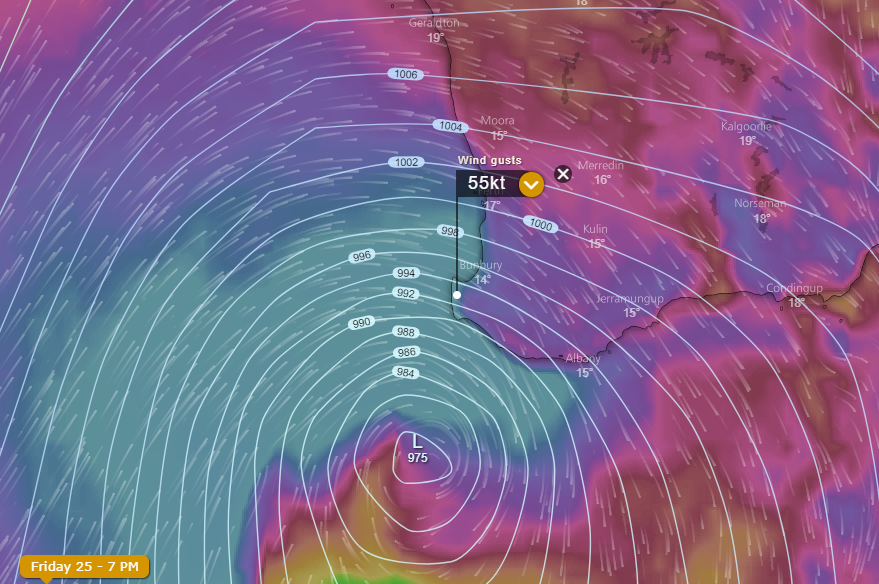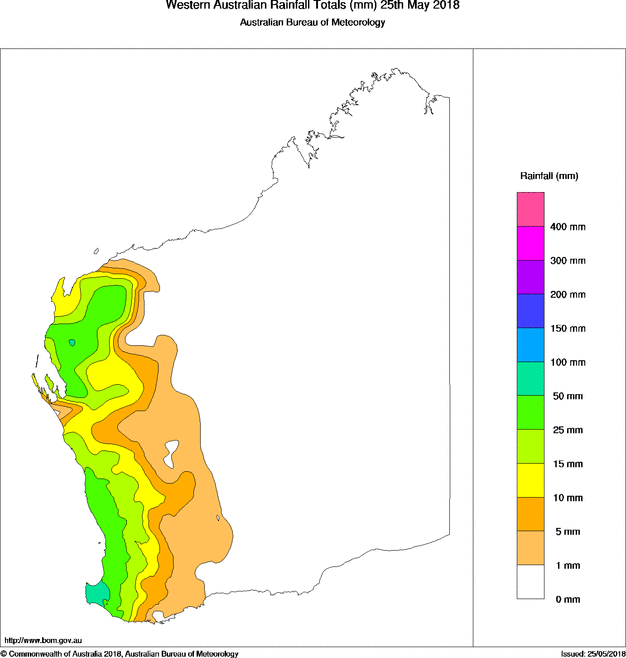 Vigorous cold front to snap record warmth in southwest WA
23 May, 2018
The run of record May warmth over southwest WA is set to be snapped late tomorrow as a strong cold front sweeps across the region, bringing damaging winds, thunderstorms and heavy rainfall.
Southwest parts of Western Australia have been enjoying well above average temperatures for much of the month, with Perth now experiencing 15 consecutive days above 24 degrees (16 by tomorrow).
It has also been very dry, with only 6.2mm falling the state?s capital so far this month. Although this has been great for beach goers, May is typically the time of year where rainfall increases as cold fronts become more active.
However, things will take a sharp turn tomorrow as a deep low pressure system and associated cold front approach the area.
Ahead of the system, it will be very warm with maximum temperatures pushing into the high 20s, and northerly winds becoming strong and gusty, elevating fire danger.
The front will impact the west coast by late in the afternoon, causing heavy rainfall, the risk of thunderstorms, and winds to increase further with gusts reaching 90-110km/h, with localised stronger gusts possible in any showers and thunderstorms. These conditions will spread east across the state into Thursday evening and Friday.
Widespread totals of 20-to-40mm are likely, with some areas likely to receive 50-to-60mm, with potential for flash flooding.
Temperatures will plummet in the wake of the change, with maximum temperatures in the mid-to-high teens expected across the southwest on Friday, before returning close to average over the weekend.
Image: Wind gusts and pressure chart for southwest Western Australia early Friday morning (Source: Windy.com)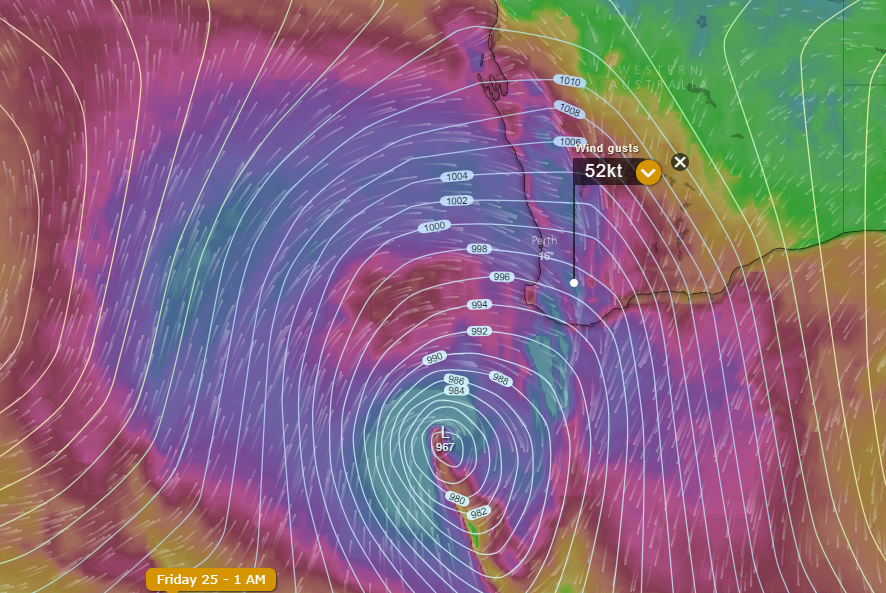 Destructive winds lash Tasmania
22 May, 2018
A vigorous cold front swept through Tasmania last night and this morning, causing significant damage as wind gusts clocked close to 150km/h.
The southeast of the state was hardest hit, with Hobart recording wind gusts of up to 113km/h (its strongest in almost two years), whilst Mt Wellington was buffeted by wind gusts of 148km/h around 10am this morning.
The winds led to significant damage, with boats breaking their moorings, rooves blown off, windows shattered and trees and powerlines being felled. Power was cut to more than 2500 homes.
A tight pressure gradient between a high over the Bight and the front contributed to the destructive winds experienced.
It has been a month of severe weather for some parts of Tasmania, with record May rainfall falling in several areas, including Hobart, just a week and a half ago. This has been very different to the remainder of Australia, that has been dominated by persistent dry weather.
Another front will cross the state tomorrow, producing potential for wind gusts of up to 90-120km/h in exposed coastal and elevated areas in the state?s south, however the wind gusts are unlikely to be as widespread or sustained, meaning damage potential will be much lower.
Images: Wind gusts and pressure gradient chart for southern Australia (Source: Windy.com)
Winter weather outlook
19 May, 2018
The Bureau of Meteorology released its winter weather outlook yesterday, revealing a mixed bag for the country during the next few months.
The nation?s main climate drivers ? the El Nino Southern Oscillation and Indian Ocean Dipole, are both currently neutral, meaning there is no strong indication towards a wetter or drier (or warmer or cooler) winter for most of the country.
However, warm temperatures over the Tasman Sea may lead to enhanced rainfall over eastern Victoria and eastern Tasmania, whilst rainfall is expected to be lower over southwest Western Australia due to weaker than average westerly winds.
Meanwhile, temperatures are expected to be warmer than average across southwest and southeastern Australia due to high pressure expected to lie further south than normal, leading to reduced frontal activity. However, cooler than average night time temperatures are more likely in northern Queensland.
With the background warming trend across the country, those in neutral areas are more likely to see temperatures warmer than average rather than cooler than average.
Images: Temperature and rainfall outlooks for the June-August Period (Australia Bureau of Meteorology)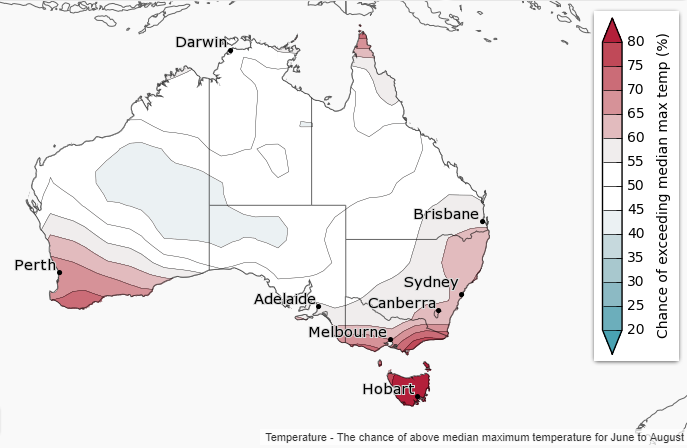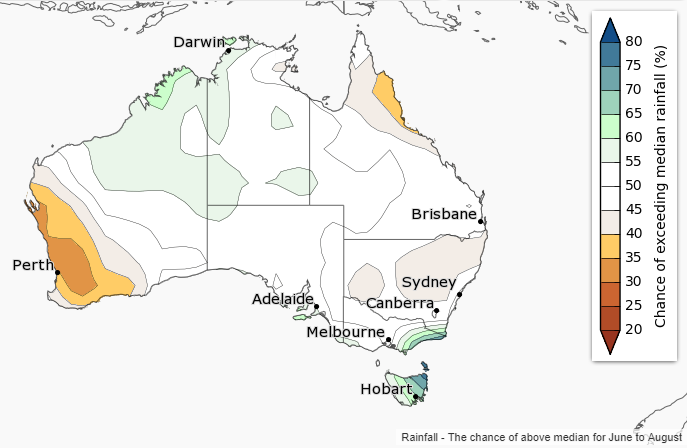 ---
Perth?s turn to cop record late autumn warmth
17 May, 2018
Whilst the east of the nation has finally cooled to near-average May temperatures, the west of the nation is basking in record warmth this late in autumn.
Perth will record its ninth consecutive day of 24 degrees and above today, a record for this late in autumn. And the end of this spell not in sight until at least next Wednesday or Thursday, making the spell likely to last at least 15 or 16 days.
This spell included 32.7 degrees last Saturday, record heat for this late in May.
The warmth is being caused by a prolonged period of high pressure, leading to a lack of any frontal activity. Generally at this time of the year, cold fronts become more active in the southwest, keeping warmth in the north of the state.
Whilst beach goers won?t be complaining, this lack of frontal activity also means the city is enduring very dry conditions, with only 6.2mm recorded so far, amongst the driest on record.
Models indicate a cold front will push through from next Thursday, bringing cooler conditions and hopefully some decent rain.
Image: Maximum temperature anomalies for Western Australia across the last seven days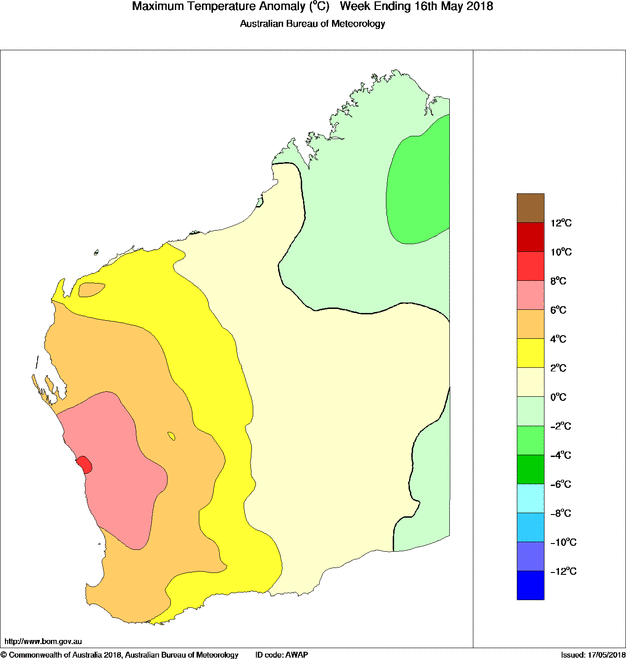 ---
Cut-off low to bring highland snow, heavy rain and strong winds to southeastern Australia
8 May, 2018
Southeastern Australia is about to cop a wintry blast as a cut-off low pressure system impacts the region mid-to-late this week.
Cut-off lows in Australia are defined as low pressure systems that have broken away and become displaced from the main belt of low pressure (and westerly winds) which lie to the south of the nation.
The system will be associated with temperatures more typical of mid-winter, highland snow, heavy rainfall and strong winds, and will be felt as early as Wednesday evening across Tasmania, southern Victoria and southeastern parts of South Australia. These conditions will then spread across the remainder of southeastern Australia throughout Thursday and Friday.
There is potential for the coldest temperatures this early in the year for several decades in some areas, with Melbourne struggling to reach 13-14 degrees on Thursday and Friday, Canberra 9 degrees on Friday, whilst Sydney will struggle to reach the high teens on Friday and Saturday. Wind chill will make it feel even colder than this.
Ample amounts of moisture will mean the ski resorts will see a significant dumping of snow, whilst snow will fall as low as 900 metres in New South Wales, which has potential to extend as far north as the Northern Tablelands (although less likely to settle).
The cold air will spread all the way up to Queensland, with the persistent humid, showery conditions on the coast of recent times set to be replaced by much drier westerly winds. Brisbane will chill below 10 degrees each night over the weekend (the coolest since September), whilst Mackay will dip into the low teens.
Depending on the formation of a surface low, there could also be significant rainfall, particularly across southern NSW, eastern VIC and eastern TAS where some models indicate potential for more than 50-100mm across several days.
Conditions will gradually improve from Sunday onwards as the system moves east and is replaced by a high pressure region.
Image: Synoptic chart and forecast precipitation for Australia at 00z Friday 11 May, 2018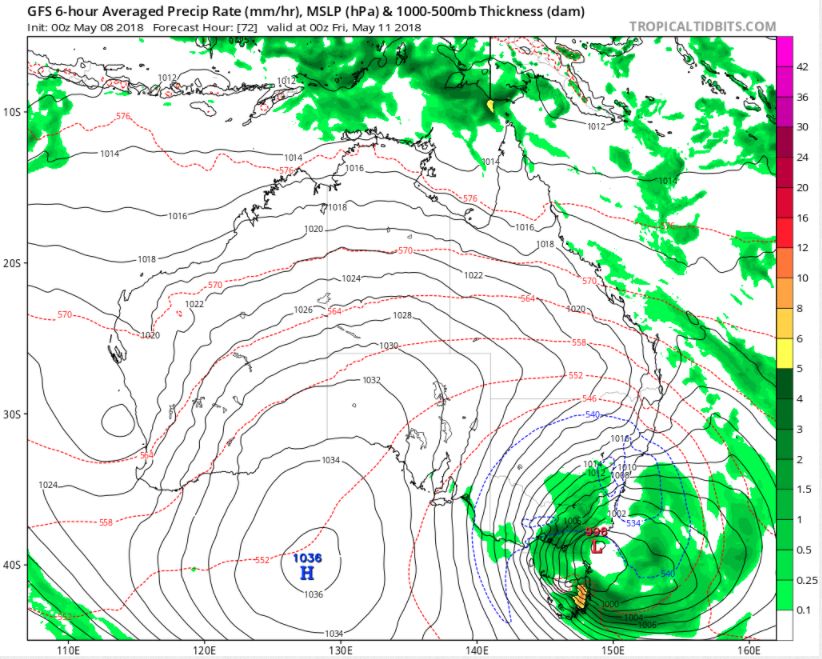 ---
Back to Latest Severe Weather News